Case Study
Agricultural equipment company uses Simcenter software and services to develop high-performance crop sprayer
Siemens Digital Industries Software solutions enable AGCO to surpass industry standards and enhance its Challenger brand
AGCO Corporation
AGCO Corporation offers a full line of tractors, combines, hay tools, sprayers, tillage equipment, implements, and replacement parts. AGCO agricultural products are sold under the core brands of Challenger, Fendt, Massey Ferguson and Valtra, and are distributed through more than 2,800 independent dealers and distributors in more than 140 countries.
http://www.challenger-ag.com
Headquarters:

Grubbenvorst , Netherlands

Products:

Simcenter 3D Software, Simcenter Products, SCADAS System, Simcenter Testlab

Industry Sector:

Heavy equipment
Developing a productive farming machine
Farming is big business. When you are managing hundreds of acres of crops, equipment productivity and efficiency go hand-in-hand with profitability and sustainability, and in some cases, survival. To prevent getting literally plowed under, farmers today must work faster than ever while implementing the latest farming methods.
With modern farming methods, yields have practically tripled over the past 60 years. This higher output efficiency stems from many factors: improved soil additives, advanced seed genetics, better planting strategies, and highly productive agricultural equipment. All of these improve year-after-year, and this constant improvement is why AGCO Corporation's engineers in the Netherlands decided to abandon conventional thinking and radically redesign the newest self-propelled crop sprayer, the Challenger RoGator 600 series.
The Challenger RoGator 600 travels at 30 kilometers (km) per hour with an impressive boom length of up to 36 meters. This easily translates to a reach of more than 200 hectares (494 acres) per day. Additional features, such as unprecedented boom stability, cab-controlled chassis height, track-width adjustment and superb operator comfort, all contribute to a practically perfect spray performance, which is good news for farming productivity, capacity, and environmental sustainability.
"This Challenger RoGator 600 impressed me in many ways and will help me be more environmentally efficient," says Jerome Lavisse, farming professional in Cher, France, who owns one of the first RoGator 600 models. "But the real dealmaker was when I took the machine for a test drive. The ride comfort is simply outstanding and sets the industry benchmark."
A smooth ride on rough terrain
Crop sprayers play a vital role in professional farm management. Farmers and farming contractors need to put exact amounts of nutrients and protectants on hundreds of acres at the right time as evenly as possible. Plus, there is more and more environmental pressure to minimize the use of fertilizers and other additives. It is not as easy as it sounds: chemicals are pumped from tanks with capacities of thousands of liters to tiny nozzles along wide booms spanning dozens of meters across rows of crops.
One major problem, however, is that the long boom arms that stretch from both sides of the tractor can bend, twist and flop around as the vehicle traverses bumps, ruts, slopes and other common farm field terrain. There is also the need to maneuver sharp turns at the end of crop rows.
Not only can big bumps cause fatigue cracks in the equipment, but even the smallest amplitude movement can produce a bad bounce and cause uneven or spotty spray.
"We spoke to large-scale farmers and contractors from all over Europe before we started redesigning," stated Joris Hiddema, engineering manager of sprayers at AGCO in Grubbenvorst, Netherlands, where the Challenger RoGator 600 is manufactured. "We wanted to hear firsthand what they expected from a sprayer. What we heard was that a smooth ride was essential to spray performance without compromising on speed and boom reach. We realized that just touching-up our old design wouldn't work. We needed an unconventional design approach. This resulted in the new RoGator 600 Series, a radical new direction for agricultural sprayers."
To achieve that all-important silky-smooth ride that minimizes vehicle-induced boom vibrations, the RoGator 600 sprayer has a unified single-beam chassis on four wheels with oversized tires. It can be adjusted from the cab, and each wheel has a fully independent hydro-pneumatic suspension attached to double wishbones and shock absorbers to handle tricky terrain and bouncy maneuvers.
Designing stable boom arms
"The single unified beam chassis isn't the only design innovation on the RoGator 600," says Hiddema. "There is also the new boom suspension system working from the all-steel central frame structure. The cantilevered truss beams are made of tubular aluminum to save weight. Independent hydraulic cylinders move the arms from their stowed positions to a deployed configuration of 36 meters. From an engineering perspective, this is more than impressive."
It is especially impressive when you consider that there are numerous other farmer-friendly features: the boom elevation is electronically adjustable from the cab for different crop heights and ground slopes, and sensors automatically adjust the boom height when driving over hills. The real engineering work was in the details.
"To meet strategic milestones for the RoGator 600, we worked with Simcenter Engineering experts from Siemens Digital Industries Software to tune each spring-damper pair for ideal handling of extreme horizontal, vertical and yaw boom movements," explained Hiddema. "As you can imagine, the project required detailed evaluation of the boom suspension as well as all vehicle dynamics. This was absolutely critical for ideal boom stability. Simcenter Engineering clearly was up to this complex task. They came right in, rolled up their sleeves and began work immediately."
Creating an accurate simulation model
The Simcenter Engineering services team extracted the dimensions and mass of the boom arms, the central frame and pendulum suspension. Then they used motion simulation solution from the Simcenter portfolio to create a multi-body model of the central frame and the pendulum suspension. Subsequently, they created a finite element (FE) model of the boom arms and a modal analysis was performed. To verify the model's accuracy, a physical test was also performed by securing the boom arm to a rigid wall, striking it at key points with an instrumented impact hammer and measuring the response vibrations. Experimental test and simulated FE modal analysis results were compared in correlation solution from Simcenter, which automatically generates color-coded modal assurance criterion (MAC) graphs that identify where test and analysis results match and diverge.
Seeing a slight mismatch in results, the Simcenter team readjusted the FE model to include additional liquid mass in the sprayer along the boom arm and the mass of spring-damper pairs in the boom suspension. This adjustment resulted in closer correlation. The FE boom model results were imported into motion simulation solution from the Simcenter portfolio for further multi-body modeling and simulation, including flexible body components.
"We needed to consider vibrations from the tractor, so the entire vehicle was modeled, including independent wheel suspensions, the steering system, the cabin and all the joints: spherical, revolute and cylindrical ones," says Hiddema. "Mass and inertial properties were calculated from CAD data. Tires were represented in a model with motion simulation solution from the Simcenter portfolio to determine tire-induced vibrations. Pendulum suspension kinematics were checked for potential interference such as joint lockups. We were very thorough."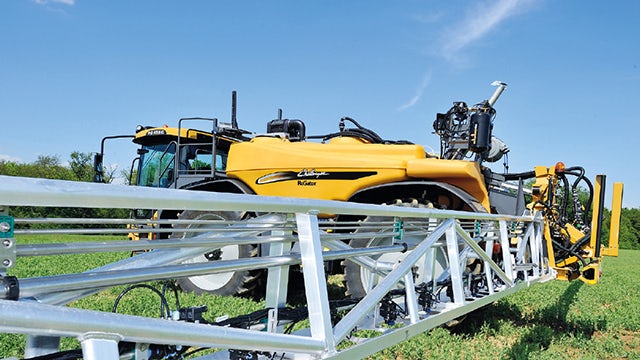 Virtual refinement and validation
After that, it was time to get the model rolling. Using field profile data from AGCO, a multi-body simulation was performed in motion simulation solution from the Simcenter portfolio to check the boom response at various speeds and maneuvers. The virtual RoGator 600 was put through its paces just like a real prototype; traversing bumps and ruts, executing turns, braking and accelerating.
This initial simulation provided Simcenter Engineering experts with the right information to fine-tune the dampers and springs and best position the components. The ideal design option turned out to be customized levers for each spring-damper pair to increase the damping accuracy and effectiveness on the pendulum suspension and central boom frame. The team studied the feasibility from the supply side and arrived at an optimal configuration.
Next, it was time to build the vehicle prototype. Performance traits were measured using Simcenter™ SCADAS™ Mobile hardware for data acquisition and Simcenter™ Testlab™ software for data analysis. The entire team was pleased to hear that the horizontal, vertical and yaw displacements closely matched those predicted with multi-body dynamics simulation.
"One of our main goals was to significantly reduce the coefficient of variation of the spray distribution pattern," says Hiddema. "There is a rating system from the Julius Kühn Institute in Germany in which a coefficient of variation below 15 or 20 is regarded as acceptable and below 10 is considered exceptional."
It is not surprising that farmers keep a close eye on Julius Kühn Institute (JKI) ratings. It is necessary to receive JKI approval to sell agricultural equipment in Germany. According to Siemens Digital Industries Software and AGCO Challenger measurements, the optimization project by Simcenter Engineering radically dropped the coefficient of variation (CV) to about 5 percent.
"Such a coefficient of variation rating definitely strengthens our competitive advantage and adds considerable customer value to the Challenger RoGator 600 series and the overall Challenger brand," concludes Hiddema.