고객사례
Industrializing additive manufacturing with integrated design, manufacturing, and quality assurance
NX helps AM specialist reduce development time from weeks to days
Lightway
Lightway GmbH & Co. KG is an innovative full-service partner for 3D metal printing, supporting customers with specific 3D printing design, creation of optimized CAD files, and CNC finishing.
http://www.lightway-3d.de/
본사:

Niederzissen, Germany

제품:

Manufacturing Additive
Specialists in additive manufacturing
Lightway is a young, dynamic and innovative company located in Niederzissen, Germany. One of the few companies in Germany to offer in-house expertise in design, 3D metal printing, CNC machining, and robotics, Lightway is uniquely positioned to provide precision parts to its customers.
"3D metal printing inspires us every day with its incredible design freedom and possibilities for weight reduction," says Thomas Hilger, managing director and owner of Lightway. "Customers come to us with problems or questions about additive manufacturing. Lightway helps with the entire process from the first idea to the final optimized design for additive manufacturing, as well as the final machining and finishing. We advise each customer individually on each project and offer the complete process chain of additive manufacturing from a single source."
The team of experts at Lightway apply their knowledge, experience, and technical expertise to industrializing additive manufacturing (AM). Lightway engineers, technicians, and project managers enjoy the challenge of innovative projects and are fully committed to the development of alternative areas for application of AM technology.
Lightway's customers come from a wide variety of industries, including mechanical and plant engineering, electrical engineering, automotive, toolmaking, aerospace, and medical technologies. Many of the components Lightway processes are mechanical parts used for cooling, heating, or media routing (for example, nozzles or complex housings), and the company also manufactures many aerospace and automotive components such as holders, sensors, hinge elements, prototype parts and components for motorsports racing cars.
Combining additive manufacturing with CNC machining
Lightway's process combines 3D printing with computer numerical control (CNC) machining, which can make even better use of the advantages and possibilities of the additive process. To deliver dynamic processing and short delivery times, Lightway's manufacturing facility is equipped with high-performance AM systems from EOS, a major supplier of 3D printing equipment, and with advanced 5-axis machining centers from DMG MORI.
For AM and computer-aided design and manufacturing (CAD/CAM), Lightway relies on NX™ software, which is part of the Siemens Xcelerator business platform of software, hardware and services.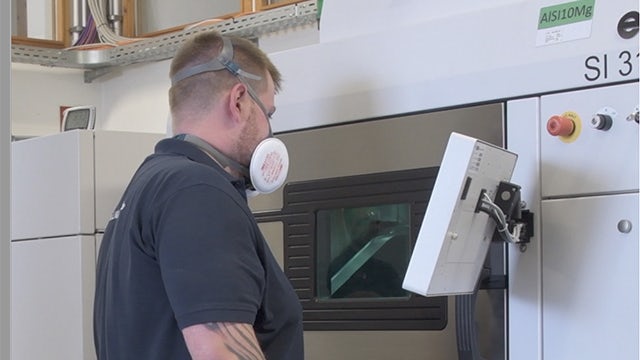 Integrated solutions for the entire process chain
With AM-specific capabilities and integrated CNC programming tools, NX fully supports Lightway's integrated in-house process chain. "We use Siemens NX for the entire process," says Ingo Müller, project engineer at Lightway. "We are very impressed with the design capabilities for additive manufacturing. From the simplest geometry to the most complex components, with topology optimization, lattice structures, and freeform surfaces, all can be done within just one single software."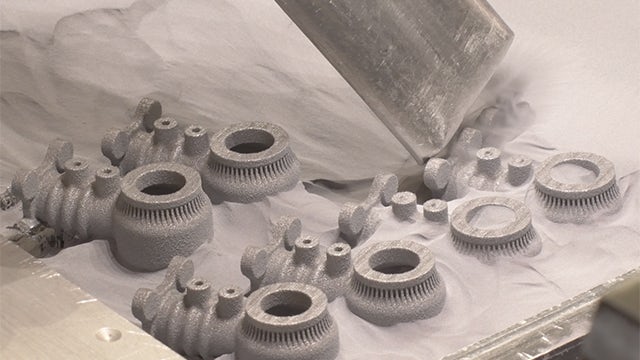 Design for additive manufacturing
NX includes tools that help Lightway adapt designs for the additive process, including design rule checks that identify issues such as overhangs and areas of the design that need support structures. The integrated lattice tool makes it easy to use lattice structures as part of the design to deliver lightweight components without compromising structural integrity. NX generative design and topology optimization technologies enable Lightway to engineer complex shapes that fulfill parameters like strength-to-weight ratios, efficient material usage and temperature, pressure, and force ranges. Many Lightway customer designs are impossible to manufacture using traditional production technologies.
"Siemens is one of the pioneers in the field of software solutions for additive manufacturing," says Hilger. "We use this expertise and work with state-of-the-art NX software from Siemens right from the start."
"We clearly see the advantage of the NX AM module, with support structure generation for component patterning and associative component updates for production," says Pascal Shäfer, technical manager at Lightway. "If small changes occur we don't have to re-do everything, it just automatically updates."
Lightway uses a Siemens-developed software module that integrates NX AM with the company's 3D printers, enabling engineers to prepare print jobs specifically for EOS equipment without leaving the NX AM environment. Users can select an EOS printer, add, position, orient, and support NX components, specify build strategies, and generate printer-specific job files. "The EOS print integration accelerates our process enormously," says Shäfer.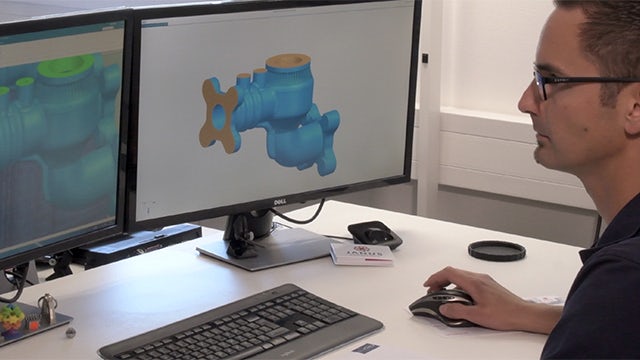 Finishing with CNC milling
For Lightway, CNC is the perfect complement to metal 3D printing. With machining in-house, the company can influence the quality of postprocessing and offer faster delivery times for its customers. One of its CNC machining centers is a universal milling machine for 5-axis simultaneous machining. Rapid traverses and high rotary swivel speeds ensure dynamic processing and short manufacturing times.
Lightway engineers use the leading-edge NC programming tools of NX to generate programs for finish machining of the components produced using AM. "To remove support structures on the milling machine, we use the most modern technologies like simultaneous 5-axis machining, which Siemens NX supports," says Shäfer. "This lets us easily adopt the most advanced milling processes possible. For additive manufacturing, we also feature unmanned production. For this, we use NX robotics to prepare the right robotics overnight for the milling machine."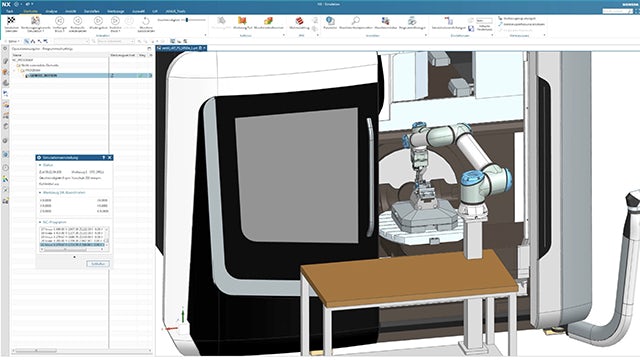 Focus on quality
Lightway regards quality assurance as one of its most important tasks. Because the quality requirements for complex components are demanding, the company uses advanced optical and tactile coordinate measuring machines (CMMs) to inspect components after finishing. NX supports the emphasis on quality with automated inspection programming capabilities. The software reads part geometry and annotations on 3D models and recognizes features and tolerances to efficiently create and validate inspection programs.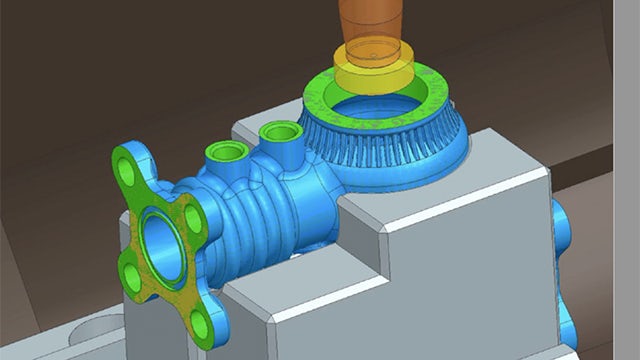 Faster response to customer requests
"By using NX throughout the entire process chain, we are much more flexible in component production," says Schäfer. "We can react faster to customer requests. All of our data is automatically connected. The devices, the AM module, the CAM programming – everything is updated automatically."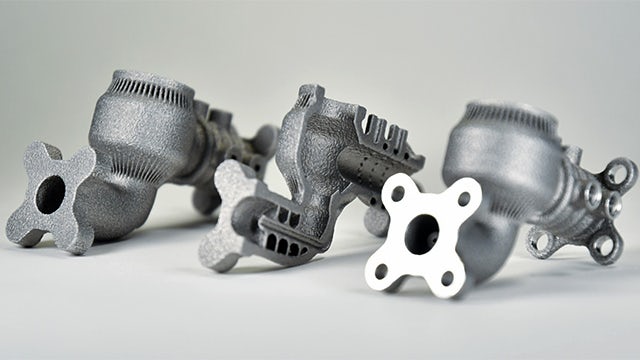 From weeks to days
"With NX, we are able to map the entire manufacturing process, from design and CAM programming to additive manufacturing and quality assurance, with just one software," says Hilger. "We can develop components that would not be possible with other CAD programs. We were able to create a new component from the first idea to a ready-to-use part within 10 days. With our former process, this would have taken several weeks."