Case Study
ZF TRW develops world's first exclusive NVH steering system bench
Siemens Digital Industries Software products and services help ZF TRW to position steering systems NVH at the front of their development V-cycle
ZF TRW
ZF Friedrichshafen AG is a global leader in driveline and chassis technology as well as active and passive safety technology. The company has a global workforce of around 137,000 with approximately 230 locations in some 40 countries. In 2016, ZF TRW achieved sales of €35.2 billion. ZF TRW annually invests about six percent of its sales in research & development – ensuring continued success through the design and engineering of innovative technologies. ZF TRW is one of the largest automotive suppliers worldwide. ZF TRW enables vehicles to see, think and act. With its technologies, the company is striving for
Vision Zero – a world of mobility without accidents and emissions. With its broad portfolio, ZF TRW is advancing mobility and services in the automobile, truck and industrial technology sectors.
http://www.zf.com
Headquarters:

Friedrichshafen, Germany

Products:

Simcenter 3D Software, Simcenter Products

Industry Sector:

Automotive & transportation
Leading Automotive Supplier
In the race to boost comfort, original equipment manufacturers (OEMs) are doing everything they can to reduce unwanted cabin sound and vibration. Leaving out the internal combustion engine (ICE), albeit periodically or entirely, goes a long way in this respect. However, eliminating the combustion process, which is the main culprit for cabin nuisance, has its consequences. The noise, vibration and harshness (NVH) levels of other mechatronic systems including those of the steering systems become audible in the relative silence produced during an engine stop event. Therefore, their transmitted noise and vibration will need to drop accordingly.
At the same time, these systems are becoming more complex. Despite efforts to reduce car weight over the past decade, an average car still totals around 1,500 to 2,000 kilograms. In order to steer all that mass in one direction, OEMs have invented myriad aids to make the experience as effortless and smooth as possible, all the while consuming less energy. By swapping traditional hydraulic systems for electric alternatives they have redefined the architecture of today's steering systems. Consequently, these systems now become a real challenge for NVH engineers, prompting the emergence of dedicated departments fully devoted to steering system NVH across the industry.
Such has been the case at ZF TRW, the Active & Passive Safety Technology division of ZF Friedrichshafen AG. ZF TRW is one of the largest automotive suppliers worldwide. The company has a global workforce of around 137,000 with approximately 230 locations in some 40 countries. In 2016, ZF TRW achieved sales of €35.2 billion. ZF TRW annually invests about six percent of its sales in research & development – ensuring continued success through the design and engineering of innovative technologies.
Each type of steering system, as well as its unique integration within a particular vehicle body model, poses a set of unique issues for the NVH engineering department at ZF TRW. For instance, when dealing with electrically assisted power steering systems (EPS/EPAS), resolving torque ripple is a key acceptance criterion for the OEM. In addition, the EPS motor, as well as connected mechanisms and controls, can produce a level of noise that is audible when serving a hybrid or fully electric car in electric-only mode. Gear rattle remains a challenge for column-mounted and rack-drive steering systems to consider. While the solutions have all but standardized, each different combination of a car and steering system presents its own particular set of integration challenges.
A long history of collaboration
Over the course of two years, Simcenter™ Engineering experts have assisted the ZF TRW Steering NVH team with the successful realization of several consecutive NVH projects; firstly, through troubleshooting campaigns on steering systems dedicated to root cause analysis, establishing clarity with regards to the transfer paths of noise and vibration radiation and relative level of contribution from the steering system and vehicle. Next, Simcenter Engineering services consulted on ways to predict NVH with computer-aided engineering (CAE) solutions, including Simcenter 3D, part of Siemens' Simcenter portfolio of simulation and test solutions. This enabled ZF TRW to identify issues before they are in the product development process and to select the optimal setup and combination of subsystems and components.
For ZF TRW, the choice for Simcenter Engineering services was a logical one. "Simcenter Engineering is an established player in the world of NVH," explains Christian Landsberg, global chief engineer NVH at ZF TRW. "We've worked with them previously and the majority of our NVH equipment comes from them. Simcenter engineers are always open-minded. If you are really interested to know how or why things are working the way they are, they will always be able to tell you."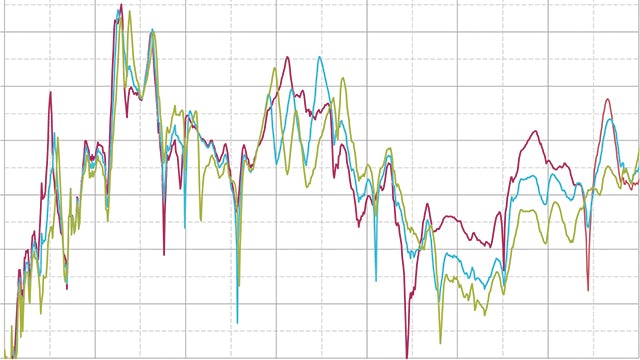 Weighing in on the balancing scale
The NVH experts at ZF TRW realize that they fit within a bigger development and manufacturing cycle. Indeed, steering NVH has to be balanced with conflicting performance parameters, such as handling, performance, energy requirements, safety and other NVH considerations. Landsberg testifies to the difficulty of this task: "We could always design a heavy product that is quiet, but we realized that we are not the only ones on the planet. Other targets from other departments matter as well. For many people noise is subjective anyway."
Convinced by a holistic approach, over the past two years Landsberg and his team have successfully reformed day-to-day operations to be more comprehensive and collaborative. NVH is now high on the agenda and considered early in the steering system development. "In order to safeguard the NVH quality of our products, we needed a complete turnaround of our steering systems development process," he says. "Thanks to the help from Simcenter Engineering, that happened. We can now give our NVH recommendations back into real requirements earlier on in the V-cycle. Previously, it was really up to the project managers whether to include NVH considerations. But now, our NVH team has the ownership and responsibility to deliver. As a result, people are now coming to us upfront, instead of after prototype launch."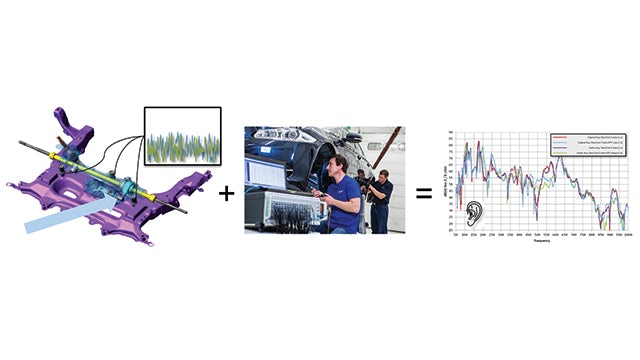 Objectifying NVH as a key differentiator
For NVH to be included at the very early stages of the development cycle, and to move away from mere subjective evaluation in late-stage troubleshooting campaigns, ZF TRW had to rethink some of the core guiding principles of its steering systems development cycle. Most importantly, the noise and vibration radiation deliverables of steering systems needed to be objectified, and as such, put into quantifiable measures and repeatable results. To frontload steering system NVH to the very early stages of development, alongside model-based-systems engineering (MBSE), steering systems NVH would have to be predictive as well.
After successful completion of the previous projects, ZF TRW approached Simcenter Engineering for the big one: the design and development of a unique wheel-towheel test rig, dedicated to predictive and objective steering system NVH output. This bench reaches an unprecedented level of objectivity and predictability for steering systems NVH in the process.
"Our bench can achieve the same stiffness values as the vehicle, or at least we know how to translate values to be representative on the bench," says Landsberg. "With our test rig, we can now get rid of on-the-vehicle testing, which is more expensive, difficult and less repeatable. This way we can represent realistic virtual loads and compute accurate noise and vibration predictions. We can establish exactly how much force we are allowed to introduce to a particular car to stay below a given NVH target, and we find that our customers like this approach a lot."
Reaping the harvest of change
Thanks to the objectivity, predictability and repeatability of the new wheel-to-wheel test rig, ZF TRW's NVH department is now able to try out changes to steering system design before having to develop it upfront. By targeted testing on predecessor systems, characterizing data can be gathered with an unprecedented level of accuracy. Such output is of invaluable importance for predicting and resolving potential NVH issues of steering systems at the earliest stages of the design process. Landsberg confirms: "With the right input provided by our rig, virtual software such as provided by the Siemens Simcenter portfolio can now point out problem areas and come up with an improved proposal, instead of running trial-and-error troubleshooting campaigns."
Moreover, ZF TRW engineers can now better predict the impact of changing the design characteristics of mounts, bushings and bolts to the steering systems integration. Also, in close collaboration with the ZF TRW virtual teams, they can recommend informed modifications with regards to vehicle dynamic stiffness to their customers.
Last but not least, the new approach enables ZF TRW to estimate the resources of NVH resolution with unprecedented accuracy. Landsberg resumes: "By frontloading steering systems NVH, we can better predict the resources needed at different stages of the project. It is often more difficult, time-consuming and expensive to troubleshoot NVH after prototype availability."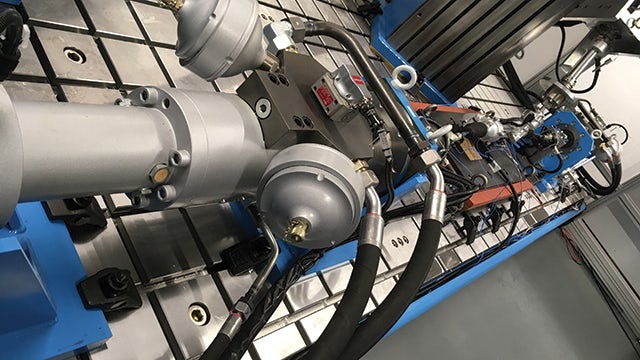 Happy customers
The customers, it turns out, are more than satisfied: "The first feedback of OEMs on our wheel-to-wheel test rig is excellent. They like the output data, as well as the approach that is used to gather it. They especially like how we can include them to detect possible mitigations upfront." In addition, the rig is scalable. "It is developing constantly. For each project a team of NVH specialists comes together and feeds the requirements back to the infrastructure. This allows us to deliver tailored, yet repeatable objective data output", says Landsberg. He goes on to conclude that "the effort to convince customers of the ZF TRW added value has reduced a lot."
ZF TRW and Simcenter Engineering expect to remain close collaboration partners. With its revolutionary test rig now up and running, ZF TRW's opportunities for further steering system development have just multiplied. Next steps are already being taken, including the consolidation of the newly retrievable data with predictive 1D and 3D modeling. Together, ZF TRW and Siemens Digital Industries Software are setting a new benchmark for the industry, effectively raising the stakes for steering systems NVH.