Case Study
Unique web platform and zero-touch production approach enables next-day delivery
YouniQ Machining uses Siemens solutions to create a completely new business model
YouniQ Machining
YouniQ Machining developed a unique workflow that transforms 3D models into high-quality workpieces with outstanding customer service and unmatched agility and speed.
http://youniqmachining.com/
Headquarters:

Zonhoven, Belgium

Products:

NX

Industry Sector:

Industrial machinery
Reducing lead times for small machined parts
YouniQ Machining was founded in November 2017 to address a severe limitation in the machining of small fixtures and parts that are primarily used for testing and measuring. The production of such parts is typically outsourced, but production facilities are not well equipped to handle the requests. Manufacturing of single pieces typically requires eight to 12 weeks when produced with conventional machining processes. In contrast, many parts can be produced with 3D printing processes that reduce lead time to only two working days. YouniQ Machining considered whether a similar lead time reduction was possible for the machining industry.
Additive manufacturing/3D printing technologies emerged in a period when online platforms were commonly accepted; the business models of most companies that offered 3D printing services was very much focused on web-based platforms from the beginning. Industrial machining is far more conservative, but after investigating the possibilities and limitations, YouniQ Machining could not determine why time to market could not be significantly reduced.
The only limiting factors the company identified were the dimensional tolerances, which are typically much lower for machining. After some research it became evident that these tolerances are almost never a showstopper: most machine shops determine tolerances based on 2D technical drawings that specify generic and excessively tight tolerance grades from the ISO system of limits and fits that result in a tight fit. Other reasons for long lead times include overloaded production funnels, a lack of skilled personnel, unnecessarily conservative processes, and material unavailability.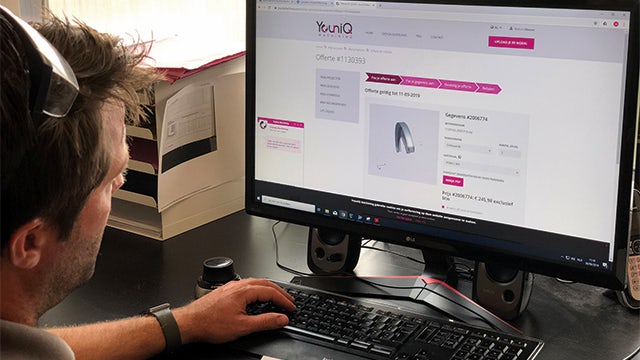 Solving the problem through digitalization
YouniQ Machining's primary challenge was to create a completely new business model to disrupt production of single- to fewpiece, one-time deliveries of machined parts. The company abandoned traditional approaches and reimagined the entire process from scratch, from order intake, order assessment and production to delivery. The only way to realize the new approach was by digitalizing every element in the process.
Envisioning a web-based machine shop
YouniQ Machining envisioned a digital flow that could streamline and accelerate the order-to-production cycle – a webbased machine shop that could bring the efficiency and speed of 3D printing services to machining processes. The digital flow begins with the customer preparing a 3D model of the desired component on any computer-aided design (CAD) program, then uploading the CAD file to a web portal. Once uploaded, YouniQ could apply automated routines that analyze the model for manufacturability and create a quote based on simulated machining time and material. The company could provide the customer with a downloadable 3D model of the part with the expected machining results, which the customer could use, for example, to verify its fit in an assembly. Customers could adjust the quote based on material, quantity, delivery and post-machining requirements, then place the order. Then, using computer-generated programs, the YouniQ staff and the company's modern machine shop could produce the workpieces and arrange delivery at the time and place specified by the customer.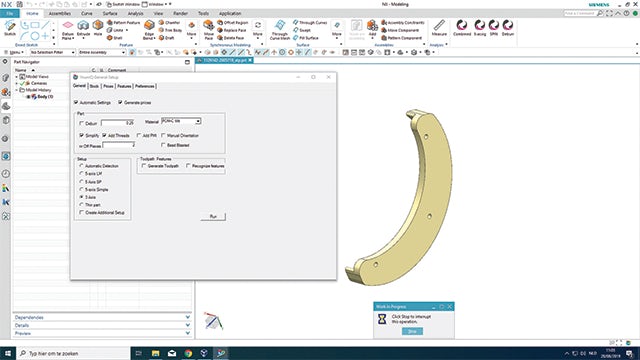 Selecting the tools
One of the key challenges to realizing the web-based machine shop was connecting the web environment with computer-aided design and manufacturing (CAD/CAM) solutions. Because no out-of-the-box solution was available, YouniQ needed to program everything manually. A CAD/CAM solution with a powerful application programming interface (API) was critical.
YouniQ Machining initially worked with a CAD/CAM solution provider that offered good web integration, but the vendor was unable to fulfill the API requirements. Another CAM solution provider offered a strong API, but failed on web integration and CAD capability. The company then engaged Siemens Digital Industries Software, which offered solutions that fulfilled all of YouniQ Machining's requirements.
Through its NX™ product development software, Siemens offered best-in-class capabilities in CAD/CAM integration and application programming that quickly exceeded those of the other suppliers and was fully open with endless possibilities. Capabilities of NX that closed all the gaps were web integration of the JT™ data format and the NX Open API for programming and customization. Together these key elements offered an open environment, great programming possibilities and a very strong CAD connection, which became increasingly important over time.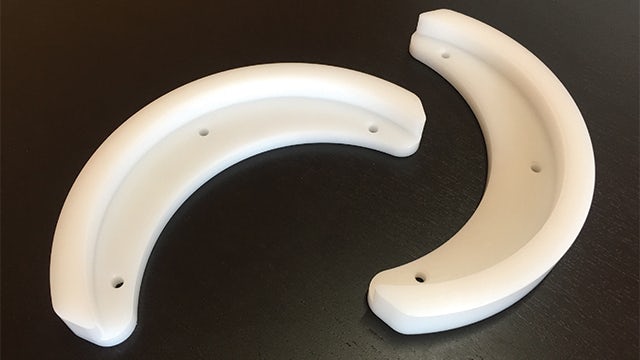 Realizing the vision through digitalization
YouniQ used the Siemens solution to redesign the conventional processes through end-to-end digitalization. The result is a process that offers customers transparent pricing, direct feedback regarding producibility, finishing alternatives and design modifications that reduce costs and lead times. Most importantly, the streamlined and digitalized process reduced delivery times from eight to 12 weeks to as little as two days. In addition, the process does not require customers to provide extensive 2D technical drawings.
Synchronous modeling accelerates design modifications
One key capability of the NX solution that enabled the reimagined process is synchronous modeling, a technology that enables direct editing of component geometry regardless of its source CAD system. Synchronous modeling removed the need to manually modify the original CAD design; with NX, YouniQ Machining can easily redesign the part to make sure all specifications and tolerances match the requirements.
Automating NC programming with machining
The feature-based machining capabilities of NX CAM were also critical to the digital flow. With feature-based machining, numerical control (NC) programs can be created automatically based on features in the component model. A capability called the machine knowledge editor (MKE) enabled YouniQ engineers to record all rules and tools used in machining the features to capture knowledge and data that drives the automated NC programming.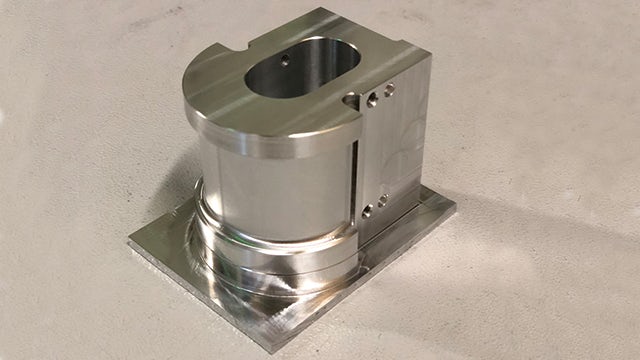 Results
With the web-based machine shop capability and the automated, hands-off workflow, YouniQ Machining has been able to reduce time to market from the typical eight to 12 weeks of competitors to two days (fast delivery). The company also offers additional delivery options that reduce costs – normal delivery of five working days and budget delivery of 15 working days.
With its completely digitalized workflow, YouniQ Machining has also realized higher margins than competitors, enabling investments in future innovations. The company has also reduced its reliance on highly skilled experts and decreased its administrative burden, enabling the company to focus on its core machining business. With processes defined and programmed in NX, the company has standardized its development processes and enabled standardization of its production hardware. Although the Siemens NX CAM solution was a key element in achieving these remarkable results, the highly professional support and consultation of cards PLM Solutions was a great contributor as well.
With its in-depth knowledge of Siemens NX CAD/CAM, automation and postprocessing and its profound industry insights the Siemens Platinum business partner was able to translate the YouniQ Machining business needs into concrete, tangible proposals and solutions. With their extensive experience of supporting customers in demanding environments with high-end technical solutions, cards PLM Solutions was able to realize a fast and frictionless implementation, limiting down times and other disruptions. In addition, cards PLM Solutions offers a continuous feedback loop in order to identify and solve any future challenges and developments.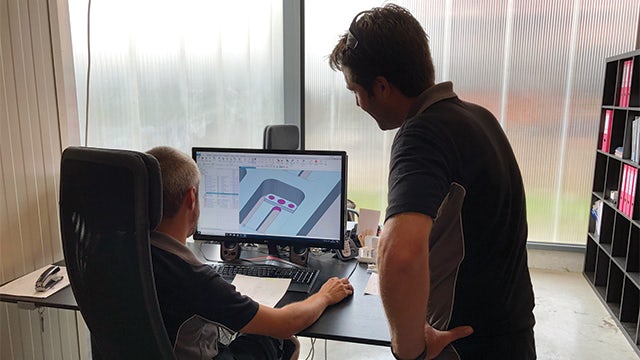 Future plans
In the future, YouniQ Machining seeks to add more interactivity to its web environment, including the ability of customers to add tolerances without 2D drawings, and to eliminate manual product approval through the use of advanced algorithms. The company also aims to automate processing of product and manufacturing information (PMI – 3D annotations in part models) to support model-based design, and to offer a larger variety of materials.