Case Study
Automated mold production system helps dramatically reduce time, costs and effort
Using NX, Yamagata Casio cuts production time by up 80 percent
Yamagata Casio
Yamagata Casio provides comprehensive product development services, including product design, mold design and fabrication, circuit board mounting, and assembly.
http://www.yamagata-casio.co.jp
Headquarters:

Higashine City, Yamagata, Japan

Products:

NX

Industry Sector:

Industrial machinery
A leading mold maker in Japan
Yamagata Casio, Co., Ltd. (Yamagata Casio) was established in 1979 as a wholly owned subsidiary of Casio Computer, Ltd. for the production of Casio products. The company subsequently developed independent business operations for the manufacture and sales of precision mold and injection-molded products as well as the design, manufacture and sales of special parts of automotive devices. This enables Yamagata Casio to work with customers other than Casio, making such products as covers for cell phones, specialized parts for in-car equipment and plastic formed parts for precision instruments.
"We started doing precision molding and plastic forming in 1983, but up until about 1990 we had nothing but trouble," says Kietsu Satake, who works in the plastic device production department at Yamagata Casio. "It was a time when the lifecycle for products was shortening, but we didn't have an effective way to notably shorten lead times, improve quality, or reduce costs. So, we decided to develop a new production system to automate and streamline mold production."
In the past, mold production was heavily dependent on craftsmanship. More recently, the accelerated speed of design and related processes through the use of computer-aided design (CAD) has prompted the need to digitize the mold development process.
"For example, Casio G-SHOCK watches and cell phones have freeform surfaces," says Satake. "Previously, we used a simple 3D automatically programmed tool (APT) to make complicated shapes, but we were unable to machine freeform surfaces using that tool precisely. Right from the start, we aimed to automate mold manufacturing, but it was difficult to do so using a 2D-based CAD system."
Automation for competitive edge in the market
With the goal of gaining a competitive advantage in the market through automation, Yamagata Casio developed its digital networks to manage data for machine tools, molding machines and instruments. Fifteen years of mold production data had been accumulated and had to be taken into consideration. The company initiated development of its automated mold production system through a trialand-error process, ultimately setting a highly productive course toward its goal through the use of product lifecycle management (PLM) technology, specifically 3D CAD.
"In 1993, Siemens Digital Industries Software's NX (at that time called Unigraphics) already had solid modeling capabilities," says Satake. "Among the various 3D tools we validated and benchmarked, NX was the best for freeform surfaces. We also decided NX had the best performance and NX continues to be the most advanced solution available."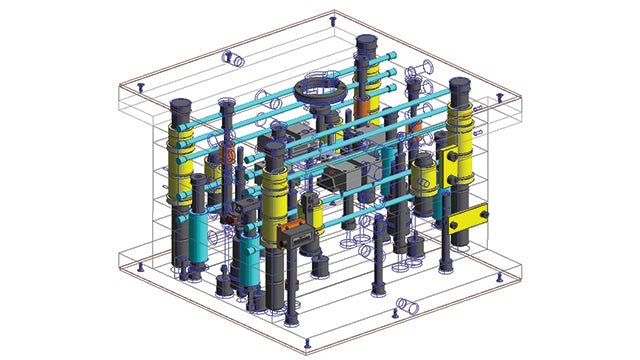 HINET mold production system based on NX
After implementing NX™ software, Yamagata Casio started revising its production processes with a view towards developing an original, automated mold production system, called "HINET molding," which was developed based on the CAD and computer-aided manufacturing (CAM) functions of NX. Prior to the system development, a huge amount of data containing the company's know-how and experience in mold production was thoroughly analyzed, studied and standardized. Then, by utilizing the technology of NX, the company developed a system for automatically creating mold designs and mold processing data. The company aimed to shorten the lead time for total mold production – from order received through design and delivery of the product to the customer – through this automated system.
Using NX, Yamagata Casio accelerated its automated process, extending it to the procedures related to the draft angles and parting lines essential in molds, for which the judgment of well-skilled mold designers had previously been necessary.
"Draft angle analysis was essential," says Satake. "For example, the parting lines for freeform surfaces had previously been designed using a 3D automatic programmer, but after a certain point, the skill of mold designers was needed. Process digitalization was impossible at that time. But using NX, the digitalization of freeform surfaces made it feasible to produce molds without relying on the skill of designers."
HINET, uniquely developed by Yamagata Casio, is used in close cooperation with the company's networks. After the implementation of NX in 1993, the company's CAD and CAM systems were integrated, and in 2000 a complete 3D-based system and networked facilities were established. Looking back on the infrastructure at the time, this system could be considered "groundbreaking." In addition, a production system that did not require a mold blueprint was established in 2004, with full-scale operation of the HINET automatic mold production system based on utilization of the CAD/CAM technologies of NX starting in 2012.
The technology that drives process advantage
NX technology helps enable the mold production processes, especially CAD/CAM processes that take place in HINET. The use of the synchronous technology capability of NX helps Yamagata Casio to seamlessly link data from other CAD systems. Because of this capability, all design data is easily and quickly converted for use by NX and shared over the network.
The high degree of design freedom enabled by NX supports the complicated design processes used in mold production. Using NX, the company has experienced significantly improved reliability in molding. This was achieved by automating the modeling of mold components, mold bases, slide units, ejector pins, cavity layouts, and mold/core cavity units, and by evaluating the deflection strength and buckling of plates and ejector pins.
In the CAM process, the high-level programming capabilities of NX CAM enable automated recognition of shapes and attributes, process allocation, path creation as well as conducting electric process instruction by electrode modeling and electrical discharge machining. In this way, NX provides a thorough response to processes that have been customized for the mold production flow used in HINET. This can be said to fully demonstrate the high flexibility and functionality that NX has.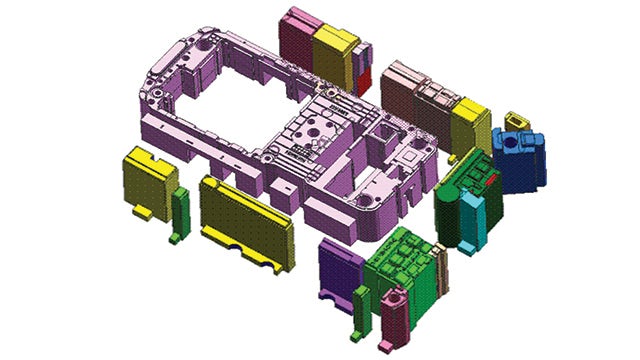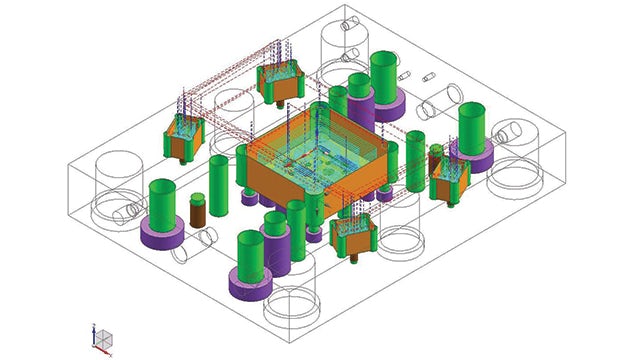 Lead times reduced by up to 80 percent
With HINET, the mold process is completely automated, from order received to delivery. For example, "automatic mold base design" is a system for the automated design of the mold base using a parametric design process. Through this capability, a mold base can be created simply by entering numbers into a dialog box. The procedure for choosing a base and arranging control components is significantly shortened and lead times can be cut by approximately one full working day.
HINET covers comprehensive mold development, including the automatic replacement of cutting tools and tool management software, automatic inspection of the dimensions of mold components, and production without a blueprint. Automated mold design and machining has resulted in a 50 to 80 percent reduction in the time needed to complete tasks, compared to the prior process.
Additional benefits are sought. "The automation efficiency of HINET was intended to cut existing procedures by 80 percent, but we are still not satisfied," says Satake. "Depending on the product, there is a notable variation in automation efficiency. Efficiency decreases due to the random nature of the products ordered. In the future, we want to improve automation efficiency through understanding the mold architecture for each product."
Why Yamagata Casio continues to use NX
As a result of the full-scale operation of HINET, Yamagata Casio has reduced the lead time for a first trial for mold production from 60 days to 20 days, and the time to the start of mass production from six months to 45 to 60 days. There has also been a significant reduction in design errors and improved quality in terms of fewer defects.
How does Yamagata Casio evaluate these results?
"When you think about automation including CAM, without a doubt NX is an advanced tool unlike any other," says Hiroyuki Misawa, Yamagata Casio's leader of sales engineering for plastic devices. "If other tools were superior to NX, then our company's automatic mold production system would be ineffective and we'd lose our competitive edge. We are continuously assessing other CAD systems, and re-assessing NX. We do so with a keen focus on utilizing the best technology available for our requirements. We continue to find NX to be the best solution to help give us a true competitive advantage."