Case Study
Leading manufacturer of custom-made prostheses significantly bolsters process efficiency and technological innovation using NX and Teamcenter
Comprehensive PLM solution provides horizontally and vertically integrated processes that advance product quality initiatives and enable immediate compliance with ISO and EN standards
Waldemar LINK
LINK develops and manufactures endoprostheses, surgical instruments and medical auxiliaries for the world market.
http://www.linkhh.de
Headquarters:

Hamburg, Germany

Products:

NX, Teamcenter

Industry Sector:

Medical devices & pharmaceuticals
Innovation under high-pressure conditions
Founded in 1948 in Hamburg, Germany, as a shop for hospital care products, Waldemar Link GmbH & Co. KG (LINK) evolved into a leading international company, producing orthopedic implants and surgical instruments. About 500 employees constantly strive for innovation in modern endoprosthetics. Working in close cooperation with leading medical clinics and specialized bodies, the company provides entire implant systems for hip and knee joints, the lumbar and cervical spine as well as megaprostheses or custommade implants, such as for tumor patients.
The latest developments in biomechanics, metallurgy, polymer technology, tribology and kinematics lead to innovations like the femoral-neck-preserving LINK C.F.P.®/T.O.P.® Hip System, which reduces any distress of surgery on the patient by requiring only a small surgical incision and sustaining more bone substance than standard prostheses.
Such innovations have to meet the strictest regulatory requirements. Additional business challenges include moving a substantial number of product development and serial production projects through the queue while facing increasing pressure to get individual implants to market faster. It is not uncommon for surgeries to be scheduled before the prosthesis has been completely defined.
Success not only demands maximum performance from all employees, but also modern equipment and technology. Therefore, LINK implants are created under high-tech conditions in the individual research and development (R&D) departments, which are responsible for such critical areas as design, finite element modeling (FEM calculation), simulation, optimization, and machining and production.
Integrated PLM environment
Until 2003, the 3D computer-aided design/computer-aided engineering/computer-aided manufacturing (CAD/CAM/CAE) system, NX™ I-deas™ software from Siemens Digital Industries Software, was used to form all product models, drawings and calculations. NX I-deas was linked with a product data management (PDM) solution. In 2011, Siemens Digital Industries Software partner, MAIT Germany GmbH, implemented NX, Siemens Digital Industries Software's comprehensive and integrated next-generation product development system. The highly experienced information technology (IT) service provider conducted a virtually flawless software implementation, including installing appropriate hardware, and then delivered comprehensive training and support. MAIT Germany GmbH also met LINK's objective of making the company's comprehensive legacy data available for re-use by successfully migrating its extensive databases.
In 2005, MAIT Germany GmbH implemented Siemens Digital Industries Software's digital lifecycle management system, Teamcenter® software, throughout LINK. Use of Teamcenter enables the company to document every development and manufacturing step and, importantly, supports International Organization for Standardization (ISO) 13485, ISO 9001:1994, and European Standards (EN) 46001:1996.
In 2009, Teamcenter was linked between LINK and its sister company, DERU. In 2010, LINK and DERU migrated to the unified architecture of Teamenter. In doing so, the organization achieved an entirely integrated development and manufacturing environment, with 25 Teamcenter users, 14 CAD workplaces, 8 CAM stations and 1 CAE license.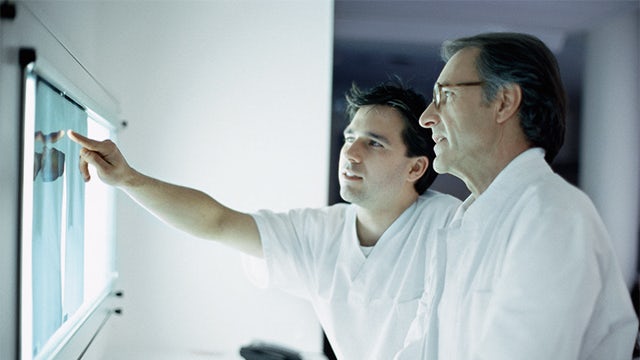 Associative models, end-to-end processes
For LINK, having entirely integrated development and manufacturing processes is one of the most important results of the end-to-end solution approach. Each implant system for hip joint replacements includes surgical instruments, for example, for opening the femoral medullary cavity as well as a set of hip joint prostheses in various sizes.
By using a master model of appropriate designs, the representations and variants can be derived intelligently. Changes at later process stages are easily transferred to all associated variants. Iteration loops of CAE calculations take place without any detours via interfaces and with no need to re-model. Modified parts can immediately be reviewed with the stored environmental conditions. In addition, kinematic analyses of the new model versions can be performed immediately. Even changes made in mechanical manufacturing, the last stage of the process, are smoothly executed due to associativity with the original models. An update effects secure and correct changes across every link in the product development process, including the programs for state-of-the-art computer numerical control (CNC) machining centers.
With prosthesis production requiring titanium and other high-grade materials to be processed and refined in many manufacturing stages, industrial robots are used for perfect surface finishing. Only the acutely accurate sensor system of computercontrolled and 6-axes moveable robot arms can assure that form and structure are repeatedly achieved at high quality levels. Here, the product data management (PDM) capabilities of Teamcenter are instrumental in effectively managing the complex, 3D geometry as well as the required procedures and programs for robot processing.
Use of Teamcenter ensures the proper handling of all iteration processes, delivering information in workflows to involved employees and ensuring formal compliance. All processes are logged and documented, and all data is versioned and stored in the prepared structures. Despite complex correlations and strict guidelines for documentation and storage, through the use of Teamcenter, the administrative effort is minimized. The efficient development processes enabled by the use of Teamcenter, in fact, help strengthen the company's capacity to innovate and accelerate the transfer of scientific findings to market-ready product systems.
CAD-based manufacturing of customized implants
With customization so critical to successful implant development, an easy-to-use interface and advanced CAD/CAE/CAM capabilities are essential. Here, the use of NX delivers a powerful combination of simplicity and sophistication, enabling the fast and individual design and manufacturing of special-purpose prostheses like the ComForm® endosystem, especially when compensation is required for large bone defects. First, the condition of the affected bone and body region is recorded via digital imaging techniques. To reconstruct the body shape, the images are digitally morphed and the contours factorially calculated, resulting in an accurate copy with usable data.
Using NX, a life-size 3D bone model is created as point of origin and reference. The highly graphic situation models are used for individual prosthesis design, with the data drawn for custom manufacturing. The models are a critical part of surgical planning, enabling the surgeon to gain in-depth insight into all preconditions, even for the most complex medical operations.
New initiatives
Using NX and Teamcenter, LINK has achieved end-to-end processes that run concurrently rather than sequentially. The company has also attained a high level of process reliability, especially important in the areas of documentation and quality management. The result is a highly efficient product development environment that is the foundation for an exceptional product line, continuous innovation and future growth. "Those who only focus on conventional means will not rise above mediocrity," says Helmut D. Link, the company's owner.
Dr. Hans-Joachim Fischer, development and design director at LINK adds, "The technical progress that we have achieved with our CAD/CAE/CAM and PLM systems is clearly demonstrated by our computer-based ComForm® endosystem."
Now, the organization is pursuing new productivity/efficiency initiatives to support its holistic product development approach, with MAIT Germany GmbH continuing to deliver PLM software support. "We are providing, modifying and implementing a specialized Teamcenter module," says Helmut Pietsch, project manager at MAIT Germany GmbH. As part of planned improvements, the company's remaining 2D software will be upgraded to NX. Pietsch adds, "Furthermore, we will be delivering additional features for quality management."