Case Study
Company markedly improves innovation, quality and time-to-market using integrated product development system: NX
Neuson uses NX from design through manufacture to deliver agile construction equipment and machinery; new product lines a big success with customers
Wacker Neuson
Wacker Neuson manufactures construction equipment and light construction machinery.
http://www.wackerneuson.com
Headquarters:

Prague, Czech Republic

Products:

NX

Industry Sector:

Heavy equipment
Efficiency and collaboration are key elements in gaining competitive advantage
Wacker Neuson is a global company and a leading manufacturer of construction devices and compact construction machines. It designs, manufactures and sells equipment, including rollers, wheel loaders, chop saws, hammers, pumps and hydronic heaters, which allow the construction workers to work with concrete even under low exterior temperatures.
The company is pervasive in the Czech Republic market as well. It has its design facility in Prague, with sales offices in Chomutov, Hradec Králové, České Budějovice, Olomouc and Ostrava. The company's Czech designers have been using Siemens Digital Industries Software's integrated design, engineering and manufacturing technology, NX™ software, for more than ten years. Wacker Neuson started with four licenses of NX in 2000 and by 2012, the company had nine licenses. Pavel Cais, chief designer of the Prague subsidiary, explains the reasons for the expansion:
"We chose NX for our shift from 2D to 3D. We use NX for construction, that is, from the first drafts to kinetic and force analysis to assemblies and details."
According to Cais, the shift from 2D to 3D was mainly a response to the increasing requirements of customers, especially their emphasis on design. "In today's market, the products are sold not so much by technical excellence as by design," says Cais. "Thanks to the implementation of NX, the design of our products is much more impressive in terms of both aesthetics and quality; we could not have delivered such improvements using 2D."
Using the advanced digital product development solution, NX, brings much more than just the possibility of creating striking, high-quality designs. Its use enables higher transparency across a company's processes, makes it easier to work with data and, especially important for a global company, allows easy collaboration among geographically dispersed studios and with suppliers. "The plans on paper have long lost their uniqueness and importance," says Cais. "Moreover, we use NX from the very beginning of our processes. We have CAD (computer-aided design) sites even in our prototype workshops and the advanced software is used by the assembly engineers. Using NX naturally leads to a higher work efficiency and brings both direct and indirect savings, as it is not necessary to rework the models due to outstanding visualization and the timely discovery of collisions in the assemblies.
Use of NX also enables better time-to-market and competitive advantages as well."
As a manager responsible for engineering groups, Cais' quick and effective communication with product managers is critical to project success. Cais notes the powerful communications tools and data transparency of NX are particularly beneficial: "Even if the shift from 2D to 3D was a notable investment in terms of both software and workstations, the higher-quality, more detailed technical documentation we now produce in itself is a tremendous benefit."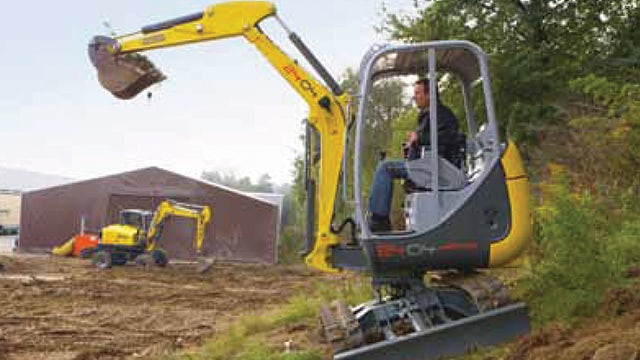 Use of NX helps deliver extensive product portfolio
Use of NX is playing an important role in the success of Wacker Neuson's wide portfolio of products for the construction industry – products characterized not only by attractive design, but also by technical excellence. Innovative equipment and machinery designs, including parts, meet the most rigorous quality standards and load requirements. Among successful lines, the company is very strong in the wheel loaders segment. Wheel loaders are indispensable helpers on construction sites. Designed using NX, this equipment is marked by great attention to detail and excellent maneuverability. Customers can select different driver settings, as well as choose a complete cabin with a comfortable view, a roof that protects the driver against falling objects or a protective frame for driving in low-ceiling environments. Unique design characteristics include easy access to the engine, hydraulic systems and electronics, enabling everyday and regular maintenance to be done quickly and comfortably. This tangibly reduces downtime so that wheel loaders and other Wacker Neuson products perform with minimal interruption. Designers utilize the powerful visualization capabilities of NX to help deliver these traits.
The company's land works equipment, such as its vertical digging system (VDS) excavator, is also designed using NX. Customers really like the VDS excavator's user-friendly controls and ability to compensate for differences on uneven terrain. Compared to similar excavators, Wacker Neuson's products offer higher productivity, greater precision and more efficient earth removal, reflected in up to a 25 percent time and material savings. Cais concludes, "Competitive designs can only be effectively created with the help of quality 3D tools, such as NX."