Case Study
German rail vehicle component supplier reduces development time and costs of hybrid powertrains with Simcenter Amesim
Simcenter Amesim enables Voith Turbo to study innovative propulsion solutions for diesel-driven railway vehicles
Voith Turbo (Rail Vehicle Hybridization)
Voith Turbo, a division of the Voith GmbH group, manufactures intelligent drive systems for the oil and gas, energy, mining and mechanical engineering, marine, rail and commercial vehicle industries. Founded in 1867, Voith employs more than 39,000 people, generates €5.3 billion in sales, operates in more than 50 countries and is one of the largest family-owned companies in Europe.
http://www.voith.com
Headquarters:

Heidenheim , Germany

Products:

Simcenter Products, Simcenter Amesim, Sysdm

Industry Sector:

Automotive & transportation
Voith Turbo Case Study (Rail Vehicle Hybridization)
Although the first electrified rail vehicles appeared in the 1880s, today only 35 percent of the world's railway networks have been electrified. Many European countries still have about 50 percent of non-electrified rail tracks where only trains with a traditional diesel-based drive system can carry passengers and goods. The railway electrification rate is even lower in Africa and North America: about 20 percent and one percent, respectively. Due to high expenditures associated with its installation, electrification is not an economically viable solution for rarely used railway routes. For this reason, diesel-powered trains will remain in service in the following decades.
To improve the quality of life in urban areas and enable railway vehicles with an electrified drive train to also use non-electrified lines, it is crucial to find alternative drive system solutions. In this context, developing innovative hybrid powertrain concepts is one of the main concerns of the Voith Turbo rail business division.
Headquartered in Heidenheim, Germany, Voith Turbo manufactures world-class diesel engines, transmissions, cooling systems, couplings, gear units and wheelsets for high-speed trains, trainsets, monorails, locomotives, special rail vehicles, trams and metros. Voith Turbo's customers include major rail market players such as Siemens, Bom Sinal, Pesa, ZOS Vrutky, Gleisbaumechanik Brandenburg and Matisa.
Hybrid rail vehicle drives
To stay ahead of competitors and meet the market demand for eco-friendly and cost-efficient propulsion solutions for diesel-driven vehicles, Voith Turbo is currently studying different powertrain configurations.
Developing hybrid concepts is even more challenging than designing fully electric powertrains. There are many energy storage system alternatives, including batteries, flywheels and double-layer capacitors, and many options for juggling between two energy sources to find out the optimal energy management solution to ensure the economic and technical viability of the project. Engineers must evaluate how hybrid technology contributes to reducing energy consumption and carbon dioxide (CO2) emissions, and determine how to adapt the energy storage system to the longer vehicle lifecycles in rail transportation. They must also select charging and refueling strategies that meet rail timetable constraints.
Indeed, hybrid technologies imply bringing together several physical domains. This is where Simcenter Amesim™ software from product lifecycle management (PLM) specialist Siemens Digital Industries Software comes into the picture.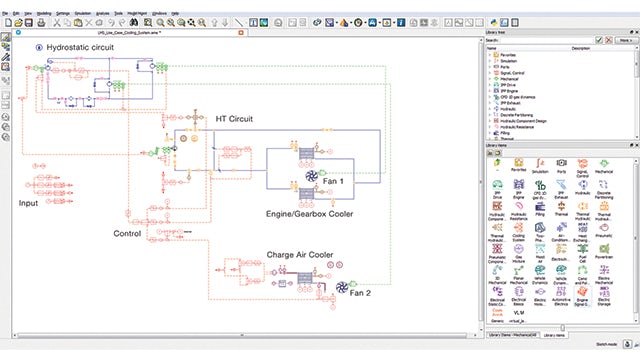 Addressing multi-domain system complexity
Voith Turbo started using Simcenter Amesim in 2007. The Siemens Digital Industries Software simulation solution has found applications in multiple engineering projects performed by the rail and commercial vehicle divisions and focused on the development of bus transmissions, heat recovery systems, train cooling systems and powertrains.
Using Simcenter Amesim, engineers in the rail division easily simulate the interactions between rail vehicle systems comprising components from different physical domains such as cooling systems, combustion engines, hydraulic circuits, hydrodynamic gearboxes and hydrostatically driven onboard system generators. With the extensive Simcenter Amesim component libraries, Voith Turbo specialists seamlessly design mechatronic systems and integrate controls design in early development phases. Some specific components are programmed in C-code with the Simcenter Amesim submodel editing tool that allows users to develop their own components. In addition, Voith Turbo engineers adapt standard Simcenter Amesim components by using the Simcenter Amesim model customization functionality.
"I really like the bond graph modeling approach Simcenter Amesim is based on," says Sebastian Schmid, a research and development engineer in the Voith Turbo rail business division. "Compared to a simulation solution I had previously worked with, Simcenter Amesim allows me to save time – to build up a purely signal-based model of a complex train hydraulic system would require much more effort. Simcenter Amesim offers an intuitive interface and validated hydraulic, cooling system and energy storage components, which are of great interest for Voith Turbo."
"In the past, Voith Turbo had to perform many tests to optimize products by modifying various component parameters," Schmid explains. "Now, real physical representation with Simcenter Amesim enables us to understand how the system behaves when we change a parameter even before a real system has been produced, and in certain cases we can even avoid testing. As a result, we have reduced the time and costs we need for new development and optimization of our existing products."
Voith Turbo values the broad capability and ease-of-use of Simcenter Amesim. "I believe that among major benefits of Simcenter Amesim are great pre- and postprocessing features such as the performance analyzer or the design of experiments analysis tool, support of the Python programming language and an impressive range of libraries," Schmid says. "The latter have evolved considerably over the years, making it easier to work on innovative concepts. It's very hard to find a component or a system which would be impossible to model with Simcenter Amesim."
The model-based systems engineering approach at Voith Turbo is supported by Simcenter Sysdm software, a team-oriented model management solution that helps specialists efficiently manage model variants.
"With Simcenter Amesim and Simcenter Sysdm, Siemens Digital Industries Software provides development engineers with a powerful platform for mechatronic system design," says Schmid. "Moreover, we are very satisfied with the support Siemens Digital Industries Software provides to our innovative projects by offering excellent advice when it comes to our specific development tasks."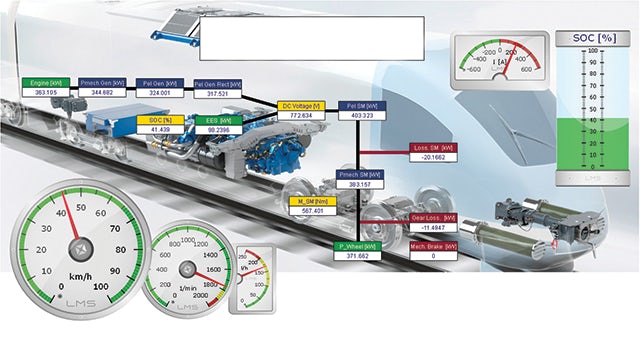 Investigating innovative concepts
Not only has Simcenter Amesim helped the rail division improve the quality of existing conventional diesel multiple units (DMUs) but it has also enabled engineers to shorten the development cycle when dealing with innovative hybrid powertrain concepts. "When developing hybrid powertrain systems with Simcenter Amesim, it's very easy to analyze the efficiency of energy storage systems such as a battery or a double-layer capacitor," says Schmid.
Voith Turbo engineers build up multi-domain rail vehicle models with Simcenter Amesim, add hybrid components to the conventional powertrain and perform drive simulations. With this approach, they can configure hybrid components under various objective functions such as battery lifetime, fuel consumption or vehicle performance, and predict lifecycle cost savings for given vehicle and track characteristics, including the engine output, the weight and length of the train, speed limits, track gradients, curvatures and timetables.
"Using the electric motors and drives and electric storage libraries of Simcenter Amesim in combination with Python scripts for energy storage lifetime calculations, we came to the conclusion that current battery technologies still need to be improved in terms of lifetime to enable a global breakthrough for hybrid rail vehicles," says Schmid.