Case Study
Vibration qualification testing lab uses a flexible data acquisition solution to fulfill diverse customer testing requirements
VIBMEC leverages Simcenter to achieve faster validation for a wide range of applications
VIBMEC
VIBMEC is an innovative company providing vibration qualification testing at all stages of product design. The firm investigates the dynamic behavior of a component or design to identify overstressed points or find defects. VIBMEC specializes in vibration and thermal tests and is an established consultancy to the Italian manufacturing sector.
http://www.vibmec.it/en
Headquarters:

Sassuolo, Modena, Italy

Products:

Simcenter Products, SCADAS System, Simcenter Testlab

Industry Sector:

Automotive & transportation
Meeting stringent requirements
The digital age is the era of artificial intelligence (AI), the internet of things (IoT) and 5G, which have all impacted the way we live. But the digital could not exist without the analog. In the world of test engineering, engineers must resolve noise and vibration issues and acknowledge the combined power of physical testing and simulation – especially when the pair provide insights that one or the other could not do on its own. Reproducing real-world conditions in less time and coping with products of increasing complexity is an ever-growing challenge for engineers worldwide, and Italian engineers are no exception.
"Customers come to us when they are in big trouble," says Ramona Fagiani, Ph.D., chief executive officer (CEO) and mechanical engineer, VIBMEC. Located in the industrial heart of Italy, VIBMEC is a consultancy service provider specializing in dynamic physical testing, offering measurement and specialized services. VIBMEC is an established consultant to the Italian manufacturing sector, especially the automotive industry, providing mechanical environmental testing of product vibrations at all stages of design. They investigate the dynamic behavior of a component or design to identify overstressed points, improve vibration comfort or find potential defects before they occur. They specialize in vibration tests – both in the laboratory and in the field – and thermal tests.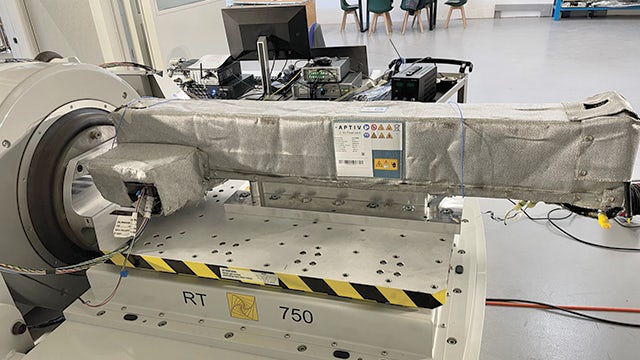 Simulation becomes commonplace
Simulation has become more accepted and common in the industrial world, where physical testing is sometimes seen as an unnecessary extra cost. But when a product fails or falls short of expectations, manufacturers turn to VIBMEC. "We know that physical testing gives quick and outstanding results and can also be used to validate and optimize the numerical simulation," states Fagiani. Simulation has limitations for characterizing material properties, such as damping, so physical testing is a critical tool for helping engineers fully understand the performance of their products. If you base your product design only on simulations, you risk problems once your product is on the market and being used by your customers. This involves a high cost and a risk of brand image damage. At that moment, physical testing is the most efficient way to troubleshoot and fix the issue. The fact this happens too often in the industry today is illustrated by the number of customers that turn to VIBMEC for help.
Fagiani continues, "Once a customer understands the importance of physical testing, they always come back to us for further measurements, and they start to think to include those measurements as an essential part of the product development process."
Marco Barbieri, Ph.D. and cofounder, states: "We think measurements and simulation should talk more." With Simcenter™ software, engineering groups can correlate simulation models to better match experimental dynamic results, which ultimately helps build even better simulation models.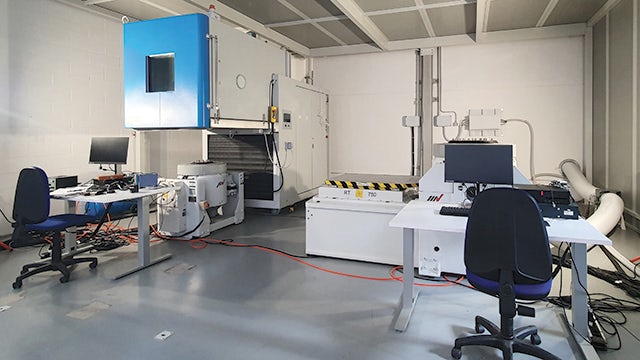 Providing more than software
VIBMEC's specialty is in vibration testing, and its laboratory is equipped with three shaker tables of different sizes. The biggest one is a 40-kilonewton (kN) shaker with a slip table and expander for testing bigger objects. For testing components like electronics, a 16kN shaker is available that goes up to 3 kilohertz (kHz) and 125g (gravity). The 16kN shaker is used to make sure the components will survive real-life vibrations. Both of those shakers are equipped with a climatic chamber to combine the vibration tests with changing humidity and temperature. This is essential when testing electronic components.
Additionally, there is a 3kN shaker for even smaller components.
To control the shakers and acquire data during the tests, VIBMEC relies on Simcenter SCADAS™ hardware and Simcenter Testlab™ software, which are part of the Siemens Xcelerator business platform of software, hardware and services.
VIBMEC uses two Simcenter SCADAS Mobile hardware frames to control the shakers in a closed loop and perform environmental tests. Those measurement systems are also used for in-field testing and to collect physical operational vibrations the equipment undergoes during tests.
Next to controlling the shakers and measuring the vibration sensors on the test object, some additional inputs are available on Simcenter SCADAS.
Strain gauge inputs are used during the vibration shaker test to guarantee the excitation levels correspond to the real-life operational vibrations measured in the field.
For example, a CAN bus input on Simcenter SCADAS enables testing battery packs and measuring their internal temperature and voltage along with the applied vibrations.
Further, using Simcenter SCADAS systems, modal analysis with hammer excitation can be performed to better understand the natural resonances of the components and to have a clear view of the damping values that serve as input to improve the simulation models. In addition, thanks to operational modal analysis, natural resonances and normal modes can be identified even if input forces cannot be measured. This allows for performing experimental modal analysis on large structures and on vehicles in operating conditions.
"We cover everything with just one kind of measuring system," says Barbieri, which makes it easier to train their lab technicians. "We can use these devices for both in-lab testing and outdoor measurements."
"We chose Simcenter for several reasons," says Fagiani. "We had already used it and had a good experience with it in our previous company and at the university. Most companies in the Motor Valley (home to six Italian carmakers and a haven for racing) use Simcenter, and since they are our customers, it's very easy to exchange files, raw data and signal processing. Simcenter is a comprehensive software. It enables us to handle everything from the easier things to do, like the fast fourier transform, to the more complicated tasks during analysis, like waterfall analysis.
"We also liked the compatibility of the Simcenter SCADAS with the shakers. Finally, Simcenter Testlab offers a wide range of possibilities for modifying testing parameters."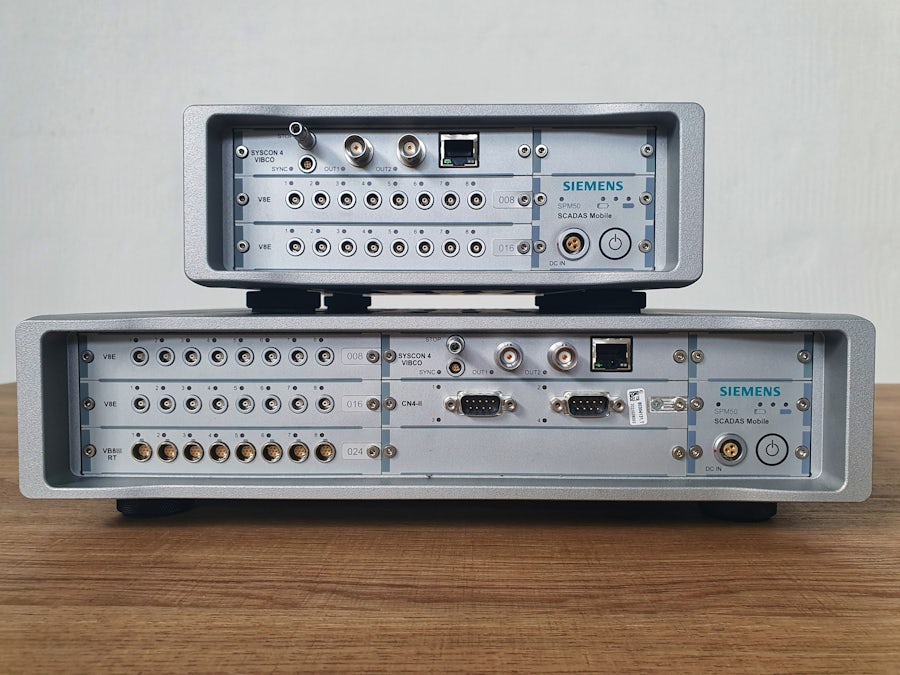 Validating performance
VIBMEC has validated performance for a wide range of customers and applications in its laboratory.
For example, one customer wanted to validate the design for a new patented method for cleaning a filter inside a machine. In normal cases, filters are cleaned by vibrating the entire filter. But with this new method, instead of vibrating the entire filter, the machine creates a vibration excitation by periodically impacting the structure. As a result, the dust is maximally removed from the filter much more efficiently with minimal excitation energy.
Examining natural resonances and mode shapes is crucial for optimizing the shape and mass of the filter chassis so impact energy is maximally effective in enhancing filter cleanup. "We developed an experimental modal analysis to see which are the most important natural frequencies in the filter structure and how the structure deforms: where does it move most as this is the optimal location for the excitation during the cleaning of the filter," says Fagiani. "Being able to visualize the modes shapes makes it easy to select this location. Being able to share these results via active pictures greatly improves the reporting efficiency and the technical discussions with the customer."
Another case was a company that wanted to redesign a Coriolis flow meter. This kind of device relies on measuring time delay in the response of two sensors for evaluating mass flow in a pipe. VIBMEC performed measurements on the device, collecting data simultaneously from the embedded Hall effect position sensors and from Interactive Productive Environment Platform (IEPE) piezoelectric accelerometers.
Using Simcenter SCADAS Mobile from the laboratory and Simcenter Testlab, time histories of all sensors were measured and analyzed by evaluating cross correlation between signals. In addition, Simcenter Testlab Phase Referenced Spectra was used to get a faster measure of time delay between two signals. Thanks to the 100 kHz aliasing-free bandwidth, it was possible to properly identify time delays of a few microseconds. The results of the measures and analyses allow for a much faster optimization of the devices compared to conventional measurements performed using oscilloscopes.
Looking ahead
Companies consult with VIBMEC to tackle complex cases and special applications. VIBMEC's goal is to consolidate the company's market position and extend its work into more standardized tests. "I think our bigger challenge is bringing experimental tests and the experimental world into the Italian industrial culture," says Fagiani. "This is our goal."
VIBMEC plans on expanding its facilities by introducing more standardized applications and offering more testing capabilities, including transfer path analysis (TPA) using blocked forces, pyrotechnic shock testing with spring instead of explosion and investing in more sensors, such as micro electromechanical system (MEMS) accelerometers.
Running this variety of tests will also require different software modules, but thanks to the concept of tokens used by Siemens Digital Industries Software, no additional investments are needed. VIBMEC plans on using the full Simcenter testing portfolio. Even applications like TPA, which are not currently used by the company, are available and VIBMEC plans on using them in the future.
Fagiani says, "We can do practically everything with the Simcenter solutions. We have close to no limitations!"