Case Study
Advanced 3D invigorates leading AEC software product
With Parasolid as its geometry kernel, Vectorworks software offers faster modeling operations and a "no-limits" approach to 3D
Vectorworks, Inc.
Vectorworks, Inc. is an award-winning design and BIM software provider serving the architecture, landscape architecture and entertainment industries in 85 countries. Creating intuitive software since 1985, we've become the preeminent software built to manage the entire design process. Globally more than 685,000 users are creating, connecting and influencing the next generation of design with Vectorworks on Mac and Windows. Headquartered in Columbia, Maryland, with offices in Atlanta, Georgia, Newbury and London, England and Vancouver, Canada, Vectorworks is a part of the Nemetschek Group. Learn how we empower designers to create experiences that transform the world at vectorworks.net or follow @Vectorworks
Headquarters:

Columbia, Maryland, United States

Products:

Parasolid, PLM Components
AEC needs 3D
Since its inception more than 30 years ago, Vectorworks, Inc. (formerly Nemetschek Vectorworks) has been a leader in incorporating advanced modeling functionality into its architecture, engineering and construction (AEC) software. The company's Vectorworks product line, for example, has long been aimed at letting design professionals model anything they can imagine – which obviously isn't restricted to 2D elements or items with straight lines. An architect's design is a holistic solution that ranges from the overall shape of the building, down to custom pieces of furniture for a specific space. Designs often include shapes that are difficult or impossible to represent in 2D, such as curvilinear roofs, custom windows with unusually shaped borders cut into curved walls, or perhaps a double-skin façade for a nonorthogonal building. There may also be compound-curved furniture elements, plumbing fixtures, accent lighting fixtures and door hardware. 
With more than half of its user base incorporating 3D into daily workflows, it was important to Vectorworks to provide fast and accurate 3D modeling functionality in its product line. The company's strategy for doing this was to take advantage of the advanced software technology that is available to the manufacturing industry.
"We believe the best way to build a strong modeling platform is to leverage the investment the manufacturing industry has made in software development," says Dr. Biplab Sarkar, CEO at Vectorworks. "That is why we decided to build Vectorworks on the mature modeling software engine, Parasolid, from Siemens Digital Industries Software. For years the mechanical CAD industry has been taking advantage of the robustness that the Parasolid modeling kernel provides. The use of Parasolid establishes Vectorworks as a best-in-class architectural 3D solution."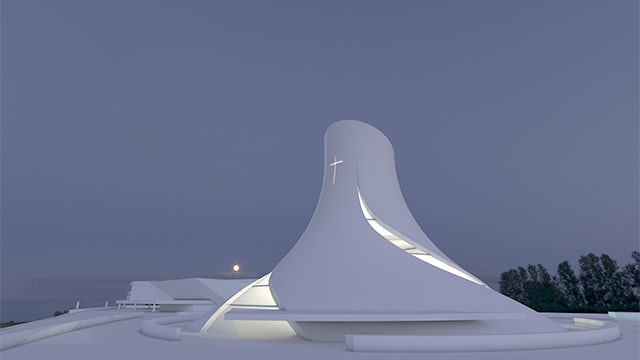 Image of Santuário Papa João Paulo II courtesy of Caique Niemeyer Arquitetura & Design.
Effective transition
The incorporation of Parasolid® software into Vectorworks went smoothly in 2008, according to then CEO Sean Flaherty. "We selected Parasolid because of Siemens Digital Industries Software's reputation for high-quality components and its proven record of supporting open solutions," said Flaherty. "Integrating Parasolid into all modules of the Vectorworks suite was the key focus. The transition was achieved smoothly, thanks to excellent technology and support from Siemens Digital Industries Software." 
As Flaherty noted, Parasolid is the engine for the entire Vectorworks product line, including Designer, Architect, Landmark, Spotlight, and Fundamentals. With the Parasolid foundation, these programs can handle larger and more complex models and support higher levels of modeling automation. Parasolid also brings functionality for managing data accurately and consistently, and for providing the interoperability necessary to facilitate the seamless exchange of data through all phases of a project.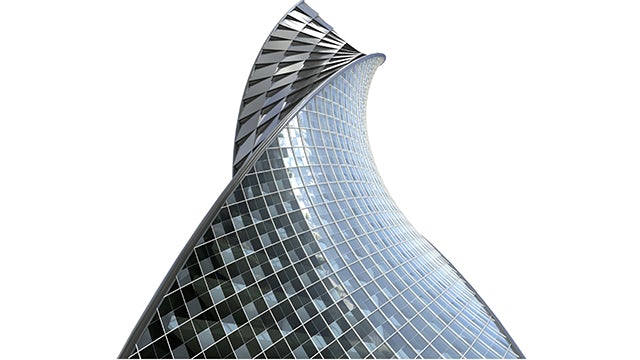 Image courtesy of Vectorworks, Inc.
Faster and better
Design efficiencies inherent in the Parasolid kernel, as well as its sophisticated multiprocessor techniques, make Vectorworks the application of choice for any size project.
Other Parasolid advantages include robust feature modeling (extrusions, filleting, chamfering and shells are speedy and bullet-proof) and non-uniform rational B-spline (NURBS) surfaces (projections, lofting, interpolated and draped surfaces as well as contouring are all improved by the robust Parasolid engine and provide resolution-independent, smooth-curved surfaces). Parasolid also brings combined NURBS and solid modeling. Solid geometry can be decomposed into its surfaces for NURBS deformations, and NURBS surfaces can be stitched and trimmed into freeform solid shapes.
"With the industry's leading 3D modeling kernel at its core, Vectorworks lets a designer spend less time working on tedious details, such as verifying accuracy and completeness, and more time actually designing," says Sarkar. "Unlike other AEC applications, Vectorworks at its heart is an architect's application. Whether the focus is on simple, clean design or incorporating the most technically challenging geometric shapes into a design work, Vectorworks lets a designer realize his most inspired visions."
With the adoption of Building Information Modeling (BIM), architects are demanding a much higher level of accuracy and integrity from their models. They have become impatient with poorly integrated systems and error-prone manual processes that limit their flexibility to explore changes quickly and confidently.
"One of the greatest Parasolid benefits to our customers is the interactivity including push/pull actions, Boolean operations and more," said Steve Johnson, vice president of product development. "We knew about the 3D modeling power initially, but we didn't foresee just how well it would perform when supporting our solutions that provide direct, real-time interactivity with the 3D model."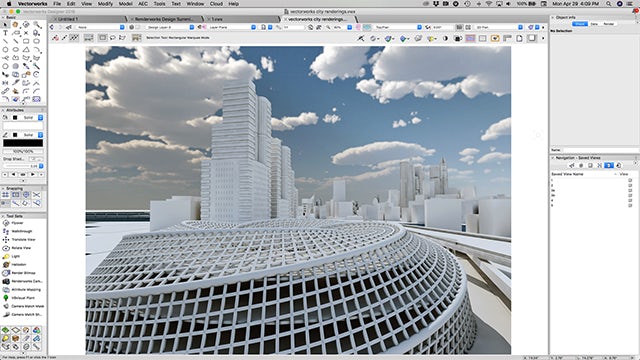 Image courtesy of Vectorworks, Inc.