Case Study
Mold specialist reduces the time from concept to part order by 40 percent; significantly increases customer collaboration and new business
Unifying 3D environment using NX enables Uyama to substantially improve product development process
Uyama Mold Factory
Uyama provides mold design and production services across a number of product areas, including small electronic appliances, rechargeable batteries, automotive, semiconductors, medical equipment and injection molded parts.
http://www.uyama-mold.co.jp/
Headquarters:

Fushimi-ku, Kyoto Prefecture, Japan

Products:

NX, NX CAM

Industry Sector:

Industrial machinery
Striving to be competitive in the global market
Established in the historical district of Fushimi-ku of Kyoto, Japan, the Uyama Mold Factory (Uyama) has been in the mold production business since 1962. Uyama's main focus is mold design and production. The company's customer base covers a number of industries that require high-precision production, including small electronic appliances, automotive, semiconductor and medical equipment. Since the company's founding, Uyama has been very aggressive in implementing the latest equipment and tools. As part of its business expansion, Uyama opened a new facility for parts production in 2002.
Despite the company's strength and success, Uyama was facing a variety of challenges. First, the United States recession of 2007-2009 caused a decline in business. Second, foreign competitors increased production capacity, putting downward pressure on pricing. Third, customer requirements were getting more difficult to meet. In addition, the company faced the prospect of replacing a number of experienced engineers who were preparing to retire.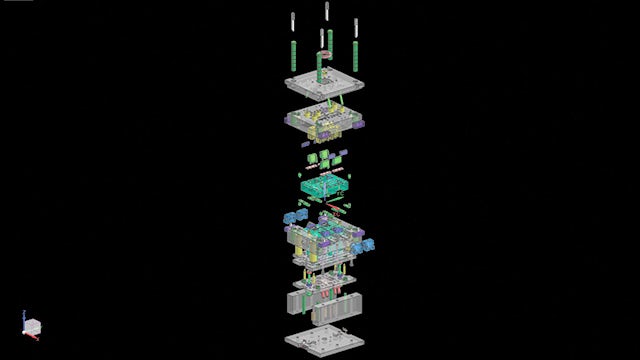 To overcome these challenges and increase sales, Uyama established three goals: develop a new customer base, improve the efficiency of its mold development processes and differentiate its services from those of competing companies.
"To achieve those goals, we undertook three tasks," says Akira Kokubo, president of Uyama. "We automated production, cross-trained our engineers and increased sales capacity."
Uyama knew it needed a top-notch 3D computer-aided design (CAD)/computer-aided manufacturing (CAM) system to reach these goals, so after a thorough evaluation of a number of solutions, Uyama chose NX™ software from Siemens Digital Industries Software.
Fully utilizing NX
Uyama simultaneously undertook the necessary tasks to accomplish its goals, especially the aggressive use of 3D. In recent years, most of the design data that came from customers was in the form of 3D CAD data, including 3D data changes from surface data to solid data, rather than 2D drawings. To have a smooth data exchange, Uyama needed to change its modeling environment as well.
Furthermore, it was difficult to perform conceptual design or mold base design in 2D and execute parting in 3D. Moreover, doing so was time-consuming and duplicated effort. Uyama needed to change the process to improve efficiency and determined everything had to be done in 3D. The management team found that the 3D system that best meets such mold design requirements is NX, with parametric design capabilities, a rich library and other important functionality that Uyama required. To achieve an efficient end-to-end mold design to machine path generation, Uyama implemented NX in 2002.
At the onset, Uyama designers mainly worked on mold parts. To significantly improve operational efficiency and achieve the company's motto of "High precision, short delivery time, high added value" and, importantly, differentiate itself from its competitors, Uyama needed to more fully utilize the comprehensive functionality of NX.
To facilitate the successful launch of a fully engaged, 3D-based product development environment, Uyama decided to work with its partner, ISID, for implementation support. With ISID's help, Uyama deployed an assembly design methodology, parametric mold design and customized parts library. Those efforts have made it possible to share an inventory of mold bases, and notably shortened delivery time to customers. Uyama also automated the creation of bills of materials (BOM) and order forms, significantly reducing human error and enabling greater production efficiency.
Now the entire process – from conceptual design to part order – is conducted in 3D and, as a result, the overall development time has decreased by 40 percent.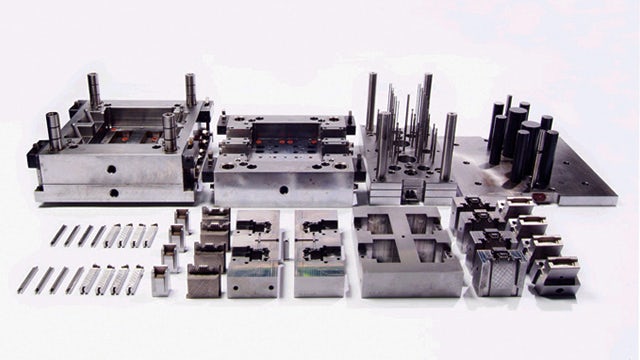 Unifying the 3D environment
"I was pleased with our improvement in mold design efficiency," says Kokubo. "However, I thought we could do more to improve our overall efficiency. To achieve that, we had to unify our CAD and CAM environments. We wanted even more mold design efficiency and to do that, we needed to cross-train engineers."
"On the production floor, we already had an environment to follow-up on each other," adds Teppei Yoshikawa, head of engineering at Uyama. "However, between designers and CAM operators, because of system differences, they couldn't support each other. The design engineers were using NX, but CAM operators were using a domestic CAM system. The barrier between the two systems was actually quite high."
To completely streamline the process, it was necessary to have cross-trained engineers with knowledge of the entire mold design process. That led Uyama to seek to unify the system, to bridge design and manufacturing, which triggered an evaluation of NX for CAM use.
Uyama evaluated NX CAM for surface finish, machining time, and NC programming efficiency.
During the benchmark process it was clear that NX satisfied the machining quality and cycle time requirements. The existing domestic CAM system, developed with Japanese engineers in mind, had provided excellent surface finishing and a short turnaround. "After comparing the machined parts completed with NX to those completed with the existing domestic system, we found that the quality was the same," says Yoshikawa. "Also, the actual machining time was virtually identical."
The key advantage of NX CAM is its programming efficiency, which is superior to the existing CAM system.
The entire NC programming process has been streamlined and simplified. To quickly prepare the part model for CAM programming, engineers now use the design tools of NX. The advanced NC programming capabilities of the software enable Uyama to create highly accurate toolpaths with a minimum number of supporting elements. Yoshikawa notes, "Using NX, the company has reduced the number of NC programs necessary to machine parts, thus optimizing the manufacturing process. In addition, the computational time needed to generate the programs has been significantly shortened. By leveraging the capabilities of NX CAM, we have reduced the NC programming time of a typical part by 30 percent."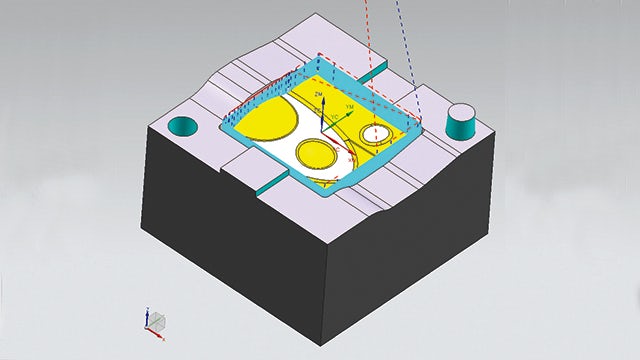 Increased sales
Yoshikawa points out that, by using NX to establish the company's entire mold production process, Uyama has achieved a smooth data exchange process with customers, achieved consistent high-quality design deliverables and markedly improved its collaboration with customers. As a result, Uyama has increased its business volume; in fact, the new design environment with NX has helped Uyama realize its increased sales goals.