Case Study
Fine-tuning sailing performance with Siemens solutions
NX and Simcenter STAR-CCM+ help US Sailing Team understand hydrodynamics of Olympic sailing
US Sailing
The United States Sailing Association is the national governing body for sailing in the United States. Founded in 1897, U.S. Sailing is a 501 nonprofit organization.
http://www.ussailing.org
Headquarters:

Bristol, Rhode Island, United States

Products:

NX, Simcenter Products, Simcenter STAR-CCM+, Xcelerator Academy

Industry Sector:

Marine
Competing in the Olympic games
As the national governing body for sailing, the United States Sailing Association (US Sailing) is responsible for selecting and supporting the members of Team USA, many or all of whom are drawn from the US Sailing Team, the annually-selected national team that competes at events around the world throughout the four-year Olympic cycle. The team of athletes recently completed the Tokyo 2020 Olympics, held in the summer of 2021 in ten classes of competition.
Through US Sailing and its sponsors, athletes on the Olympic path receive financial, logistical, coaching, technical, fitness, marketing and communications support. Siemens became a sponsor of US Sailing in 2019, providing advanced-capability technologies for modeling and simulation that help the team understand and optimize the tuning and setup of Olympic sailing boats. The solutions include NX™ software for computer-aided design (CAD) and Simcenter™ STAR-CCM+™ software for computational fluid dynamics (CFD), both from the Siemens Xcelerator business platform of software, hardware and services.
"I have been using Simcenter STAR-CCM+ software since around 2007," says Riley Schutt, head of technology at US Olympic Sailing. Schutt holds a Ph.D. degree in aerospace engineering and fluid dynamics and has extensive experience with America's Cup racing teams. "I joined US Sailing in 2017. I wanted to develop in-house engineering, modeling and simulation capabilities to help win sailboat races – that's what motivates me."
Schutt is a full-time employee of US Sailing, and works with preferred contractors, interns and volunteer engineers on specific projects. "Our sailors' primary role is to sail boats, but several have engineering backgrounds and we give them access to the Siemens tools," Schutt explains.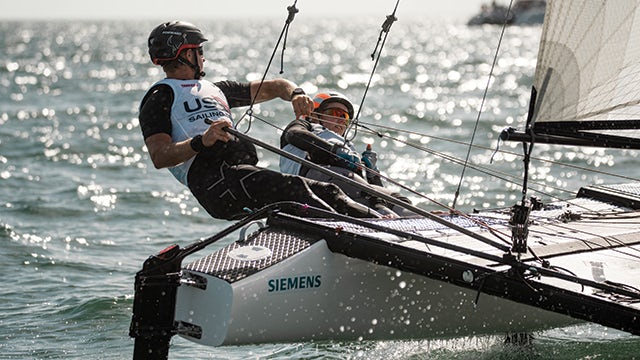 Photo Credit: Allison Chenard, US Sailing Team
Self-paced training builds proficiency quickly
For a team that includes volunteers, contract engineers and sailors, US Sailing relies on Siemens' Xcelerator Academy, an e-learning portal with rich self-paced training tools, to quickly build proficiency in the use of Siemens solutions. "For our workflow and team structure, Siemens Xcelerator Academy has been a great resource to get up to speed with the tools quickly and make contributions to our projects," Schutt says.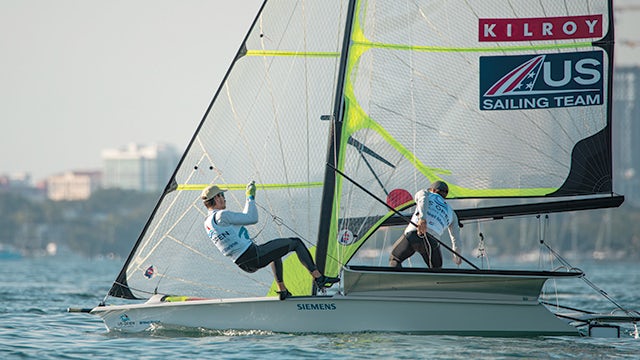 Photo Credit: Allison Chenard, US Sailing Team
NX for computer-aided design
US Sailing is on a long-term quest to build digital twin models for all its Olympic racing classes. "Earlier this year we started using NX as our main CAD tool," Schutt says. "For a couple of the classes we have CAD models that are a combination of models that we have built in NX and models imported from other sources."
The design capabilities of NX support US Sailing's focus on better performance. Advanced surface design capabilities enable rapid modeling of complex geometries such as compound-curve hull shapes. With reverse engineering tools, the team can leverage scanned data to quickly model components. With NX additive manufacturing, US Sailing can rapidly design and produce components like mounting brackets using in-house 3D printers or carbon fiber additive machines.
Adding numbers to feelings with CFD
All 10 of the Olympic sailing classes are regulated by class rules that keep the manufactured equipment virtually identical and closely constrain engineering optimization efforts. "We don't have much leeway to redesign the boat," Schutt explains. "Our goals are to understand the pre-designed Olympic equipment. There is some room to optimize parts in some of the classes, but we are largely using the Siemens portfolio as an educational tool for sailors and coaches to help them understand the details of different boat parts and setups. They are all world-class expert sailors, and most of the time their feelings about what works well are true, but understanding the fluid flow physics adds numbers to their feelings which goes a long way as an aid to training. It gives our sailors confidence that the homework has been done."
As a long-term user of Simcenter STAR-CCM+, Schutt affirms the software's advantage over other CFD codes. "I have used it, and so have many others, in racing sailboat simulations," Schutt says. "It has a proven track record. It has advanced meshing and can simulate structural deflection and transitions – you can do it all in STAR-CCM+ and don't have to use other software. We can be confident that we're getting the right answers."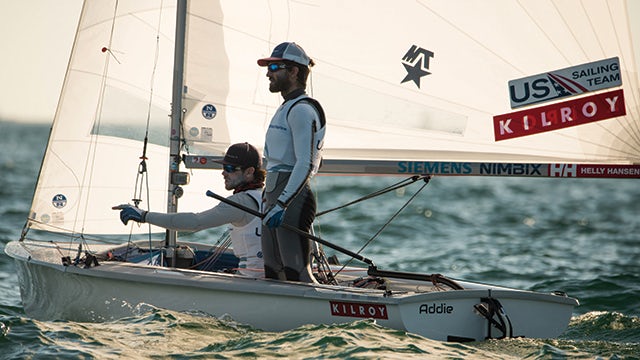 Photo Credit: Allison Chenard, US Sailing Team
Fine-tuning boat setup
The Nacra 17 is a performance catamaran used as the Olympic multihull equipment since the 2016 Olympics. For the Tokyo games, the Nacra 17 was converted to a sailing hydrofoil, making it a very dynamic platform. "There is a lot that goes into boat setup with the Nacra," Schutt explains. "It has four different hydrofoils in the water that the boat flies on when sailing, and there are many ways that you can set the angles on those hydrofoils to affect your speed. STAR-CCM+ CFD simulation enables us to identify the drag and lift forces on the individual components and get a much more detailed picture of how changes can make a difference."
High-performance computing in the cloud
Another US Sailing sponsor is Nimbix, a provider of on-demand high-performance computing (HPC) in the cloud. "We entered into our agreements with Siemens and Nimbix at about the same time because we knew we needed both the software and the hardware for bigger CFD simulations," says Schutt. "Most of the people on the US Sailing Team work remotely, so having an on-premise cluster was never going to be an option for us. Cloud HPC is designed to be remote – I can access from my home, from a regatta, or while we're training. It abstracts away the IT overhead and makes it possible for a small engineering team to harness that power. We would be running much smaller simulations if we were using in-house hardware."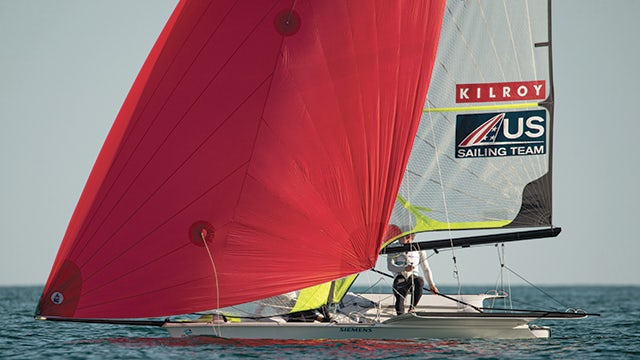 Photo Credit: Allison Chenard, US Sailing Team
Looking to the future
The Tokyo Games introduced the first hydrofoiling boat in Olympic competition. "In 2024, we'll have five hydrofoiling classes," Schutt says. "It's something that the Olympic world needs to understand better, which makes it interesting. We're scratching the surface of where we want to be in 2024. The more data and insights we can give to our coaches and sailors, the faster they will go."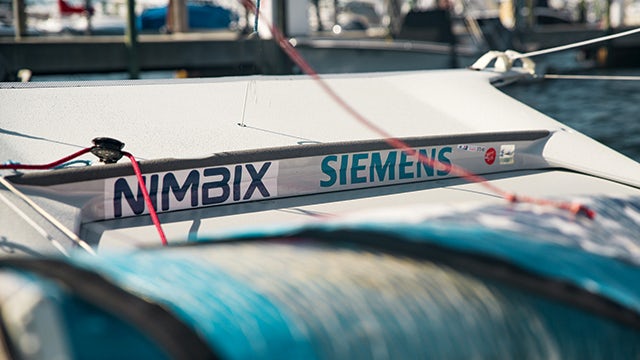 Photo Credit: Allison Chenard, US Sailing Team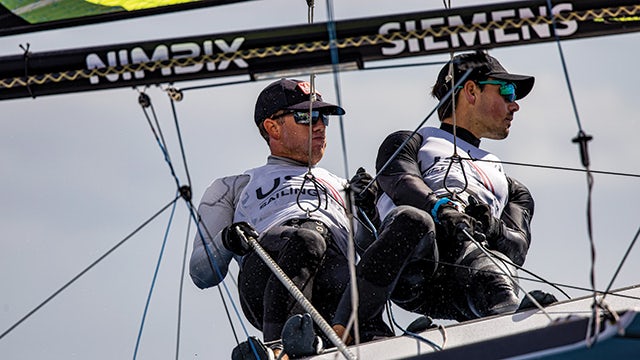 Photo Credit: Sailing Energy