Case Study
Preparing the workforce of the future with Siemens solutions
University of Queensland uses NX, Simcenter STAR-CCM+, Teamcenter and Mendix in curricula, research, and student competitions
University of Queensland
The University of Queensland is a public research university located primarily in Brisbane, Australia. Founded in 1909 by the state parliament, UQ is classed as one of the six sandstone universities and is ranked second in Australia based on the average of four major global league tables.
http://www.uq.edu.au/
Headquarters:

Brisbane, Queensland, Australia

Products:

Mendix, NX, Simcenter Products, Simcenter STAR-CCM+, Teamcenter
Ranked in the world's top 50, The University of Queensland (UQ) is one of Australia's leading research and teaching institutions. Founded in 1909 by the state parliament, UQ is classed as one of Australia's eight leading research-intensive universities and is ranked second in Australia based on the average of four major global standings. In 2018, UQ and Siemens Digital Industries Software formed a partnership aimed at preparing students for the future of manufacturing using next-generation digital technologies.
Industry 4.0 testlab network
The Australian government, Siemens, and a group of six strategic universities in Australia partnered to form an Industry 4.0 testlab network. This concept was drawn from similar testlab networks that were developed first in Germany and adopted worldwide. The testlabs will play a central role in improving the competitiveness of Australian manufacturing industries through the adoption of Industry 4.0 technologies and workforce transformation.
The Australian government provides support for the development of each testlab facility. Each university chose a different industry focus for their testlabs – UQ selected energy management. The universities accepted software grants from Siemens Digital Industries Software to equip the testlabs with leading-edge technology. The software grant to UQ was announced in December 2018.
"For Australia to take advantage of the opportunities that come with the fourth industrial revolution, we need to build a future workforce now, with the skills needed to participate – and that's exactly what this grant is about," says Jeff Connolly, chairman and CEO of Siemens Australia. "Partnerships such as this with the University of Queensland are critical to giving students exposure to digital technologies being used by leading companies globally."
Closing the loop between industry and academic partners
Siemens Digital Industries Software is working to close the loop between its industry and academic partners. Recently, a collaboration between HeliMods, an aerospace technology company and a Siemens customer, and UQ student competition teams led to industry workshops, guest lectures, and internship opportunities for UQ Space and UQ Racing students. The collaboration enhances student learning experience through real-world projects and curriculum and creates a pipeline of young engineers trained in Siemens software.
In March 2020, HeliMods engaged in a ten-week program with the student competition teams to transform the traditional classroom and empower students to own the context of their learning, and incorporate industry and software knowledge into their engineering challenges. Initially, face-to-face classroom sessions were held at UQ in which HeliMods provided workshops based on engineering concepts to support the student competition projects.
Following the rapid global outbreak of coronavirus and its travel restrictions, HeliMods quickly adapted to online learning sessions for students. After a number of iterations, HeliMods successfully transformed the classroom with amazing outcomes. HeliMods first recorded their own training sessions using the Siemens software and provided those videos and supporting files to the students.
Students can then watch the videos, download the files and try the challenge before the next session, even translating the learning into their student projects. In the next session, some students presented the concepts in the training video for a more engaging and interactive style of teaching. Students replicate the concepts in their own projects, freeing up time to discuss the results. With the Siemens software as a learning tool, HeliMods was able to quickly adapt to online learning and address the challenge at hand.
"The HeliMods team enjoyed supporting the UQ student competition teams accelerate their learning and achieve success by providing industry best practice guidance on how to use Siemens software," says James Helsham, an aerospace engineer at HeliMods.
Siemens software in curricula, student competition teams and research
Siemens solutions are employed throughout the university in curricula and research projects. Simcenter™ STAR-CCM+™ software for computational fluid dynamics (CFD) is taught to more than 900 first-year engineering students through the application in two projects – wing modeling and two-phase mixing modeling. Students can use Learning Advantage, Siemens' self-paced instructional solution, to build their proficiency in using the software. With a connection to the government-supported Pawsey facility for high-performance computing (HPC), students have access to a supercomputer for running computationally intensive CFD simulations.
Around 300 students taking an introductory course in mechanical design and manufacturing are using NX™ software for computer-aided design. Students also use NX and Simcenter STAR-CCM+ in second and third-year engineering classes, and there is the possibility of utilizing Active Workspace of Teamcenter® software as a framework for teaching industry-standard product lifecycle management (PLM) concepts. The software is supporting multiple undergraduate theses, one masters and two Ph.D. student projects, and is also used in student extracurricular activities including in UQ Racing and UQ Space.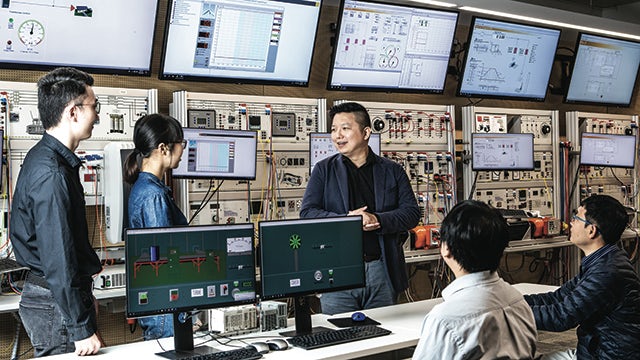 Application development with Mendix
The UQ Business School has also integrated Siemens' Mendix platform, the leading low-code application development solution that uses visual development to create web and mobile applications more quickly and easily than with traditional programming. Mendix is being taught by Dr. Sabine Matook in the Business Information Systems Analysis and Design course to a cohort of over 300 postgraduate students. "I give them scenarios of real-world cases that range from creating solutions for fitness studios, how you could book your gym sessions," says Dr. Matook. "They're getting real scenarios as they would get in the industry, and then they are asked to work through it." Nuria Koeppel, one of Dr. Matook's students, says "Being an actual user of the Mendix low-code platform has taught me that low-code is more than just a buzzword."
Aerodynamics simulations in motorsports competition
The motorsport student competition team, UQ Racing, is also using Simcenter STAR-CCM+ for aerodynamic simulations. "As head of UQ Racing's internal combustion aerodynamics team I am responsible for designing, optimizing, and validating all aerodynamic components," says student William Idoine. "UQ Racing and all the software that we use fits perfectly with everything I do in my degree. In every course, I use Siemens software to get the best GPA possible."
Supporting advanced research
UQ is also supporting advanced research with Siemens solutions. The Queensland Brain Institute (QBI) was established in 2003 at the university and is home to more than 450 scientists and 42 laboratory leaders. These researchers have made important advances in fundamental neuroscience and in diseases such as aging dementia, schizophrenia, and motor neuron disease. QBI plans to use Teamcenter for document management.
The Sustainable Minerals Institute at the university is a research institute focused on understanding and implementing the principles of sustainable development through engagement with industry contacts from geology to mining, processing, and disposal. SMI is using Simcenter STAR-CCM+ to facilitate single-phase simulations, with the aim of expanding to a comprehensive digital twin of a mine.
Planning for the future
The UQ-Siemens partnership began in 2018 and is already realizing tangible outcomes. The University of Queensland has access to other solutions in the Siemens Xcelerator business platform of software, hardware and services. Current plans include expanding the use of Teamcenter in curricula, expanding the use of the Simcenter portfolio, establishing opportunities for Opcenter™ software for manufacturing operations management, and adopting the MindSphere® industrial IoT as a service solution.