Case Study
Turkish Aerospace Industries expands expertise to wind energy
Simcenter Samcef helps global aerospace firm develop wind turbines
Turkish Aerospace Industries
Turkish Aerospace Industries, Inc. (TAI) is Turkey's center of technology in design, development, modernization, manufacturing, integration and lifecycle support of integrated aerospace systems, from fixed and rotary wing air platforms to UAVs and satellites.
http://www.tai.com.tr/
Headquarters:

Ankara, Turkey

Products:

Samcef Wind Turbines, Simcenter Products

Industry Sector:

Aerospace & defense
From aerospace and defense to wind energy
Turkish Aerospace Industries (TAI) traces its roots to 1973, when the company was founded with the support of the Ministry of Industry and Technology in order to reduce the foreign dependency of the defense industry in Turkey. Today, the company develops aerostructures, aircraft, helicopters, unmanned aerial vehicles and satellites, and also provides integrated logistics services for its products.
Located in Ankara, TAI operates a 300,000 square meter industrial facility furnished with state-of-the-art machinery and equipment, providing extensive manufacturing capabilities ranging from parts manufacturing to aircraft assembly, flight tests and delivery. TAI ranks among the top 100 global companies in aerospace and defense. In 2009, the National Wind Energy Systems and Prototype Turbine Production (MILRES) consortium was formed to support the Turkish Ministry of Energy's quest for cleaner and less expensive forms of energy.
As one of the largest research and development projects in Turkey's history, MILRES lays the foundation for a local wind energy industry, and hopes to match the aerospace industry's contribution to the Turkish economy. TAI is a MILRES project partner, joining a team of experts and scientists from the Scientific and Technological Research Council of Turkey, Sabanci University, Istanbul Technical University, and Istanbul Ulasim.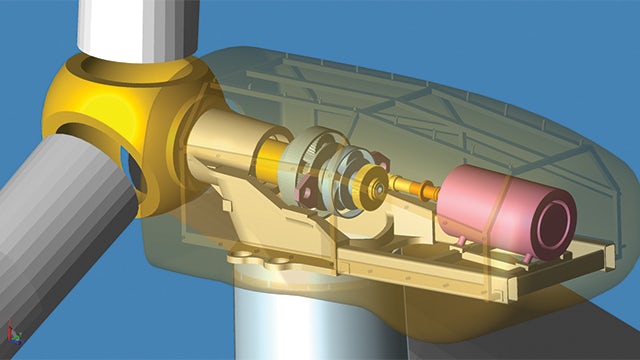 Specialized solution for wind turbine design
TAI team members working on the MILRES project use Simcenter Samcef™ Wind Turbines software from product lifecycle management (PLM) specialist Siemens Digital Industries Software. The simulation solution offers a unique global environment covering the entire product design cycle, from predesign to detailed design and certification. Simcenter Samcef Wind Turbines incorporates decades of experience in modeling large flexible machines and vast expertise in wind energy in a platform fully dedicated to wind turbine simulations.
As a numerical simulation tool, Simcenter Samcef Wind Turbines delivers noticeable advantages to TAI, helping turbine designers virtually test and compare concepts and design options. "Faster design and simulation lead to productivity gains, making it possible for us to identify and solve problems appearing even at early stages in the turbine design," says Suleyman Demir, head design engineer at TAI.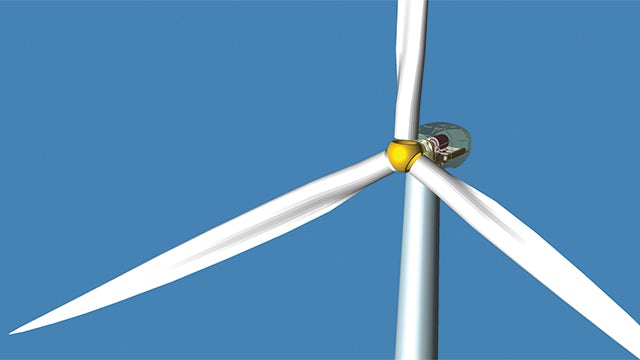 Time is critical
"Our critical issue in designing a wind turbine is to obtain optimal values for design parameters used in the selection of the turbine components," explains Demir. "Cost of the turbine is for the moment of secondary importance. Our main challenge is that we would like to manufacture the first domestic wind turbine in Turkey. The only key factor for our design is time."
Given the emphasis on speed and efficiency, TAI especially appreciates the ease of use and fast calculation of Simcenter Samcef Wind Turbines. "User-friendliness and fast solution times make it possible to develop a new machine in a very short time, fitting with our schedule," says Yavuz Gulec, project manager at TAI.
Versatile solution solves many issues
Simcenter Samcef Wind Turbines provides a highly coupled approach using a nonlinear finite element method (FEM) solver including multibody simulation (MBS) features. TAI uses Simcenter Samcef Wind Turbines to solve a variety of issues in design.
"The Simcenter Samcef highperformance solver allows simulation of flexible dynamics phenomena with great accuracy, making the predesign model realistic enough to guide us to the right decisions", says Demir. "Thanks to the software, we could perform vibration analysis, transient analysis and extreme load analysis to obtain design criteria for components like the yaw and gearbox."
The TAI team also analyzed loads on the gear unit and performed torque deflection computations for the gear box bushing and damping simulation on the generator bed. In addition, TAI used the software for structural analyses of the wind turbine to verify design parameters, simulated turbine blade vibration transferred by the tower to the ground, and used finite element analysis to simulate stresses on the hub.
The Siemens Digital Industries Software technology yields significant advantages.
"The coupled FEM-MBS approach is a huge advantage compared to previous solutions," says Demir. "Simcenter Samcef for Wind Turbines makes it possible to calculate very accurately the load distribution acting on each and every component of the machine. Those boundary conditions can then be used for easy and fast design of each of those components, and each component can then be reassembled in the global machine and the global dynamics checked easily and accurately."