case study
Siemens Digital Industries Software solutions prepare students to enter manufacturing industries with high-level skills
Tsinghua University training students for manufacturing success...
Tsinghua University
The Fundamental Industry Training Center of Tsinghua University is an engineering training base for students and a support platform for technology innovation. The center offers high-level scientific research with an emphasis on engineering training for topclass innovation skills.
http://www.tsinghua.edu.cn/publish/thu2018/index.html
Headquarters:

Beijing, China

Products:

NX, Teamcenter, Tecnomatix
Located in the northwestern suburbs of Beijing, Tsinghua University is one of the top universities in China and is an important base for the development of high-level academic talent and scientific research. In response to the continued development and technological changes of the manufacturing industry, resources are growing steadily while the talent structure, quality and education system keep improving, leading to new progress in developing manufacturing skills. The "Made in China 2025" initiative emphasizes the talent training system from research and development (R&D), transformation, production, to management for the manufacturing sector and developing talent for China's transformation from "Factory of the World" into a global manufacturing superpower.
Siemens Digital Industries Software is integrating digitalization into different industries and continuing its cooperation with companies in China to promote "Made in China 2025." Siemens Digital Industries Software is also committed to society and education. Siemens Digital Industries Software Academic Partner Program is its global strategic project for the education of digital technical skills. Academic Partner Program works with engineering colleges in China to promote design, manufacturing, engineering education and more to train high-quality digital talents.
"Digital technology represents the direction that development is taking in the future of industry, so it is necessary to introduce related engineering software to education and combine virtualization with reality in teaching," says Jianmei Wang, a professor at the Fundamental Industry Training Center of Tsinghua University.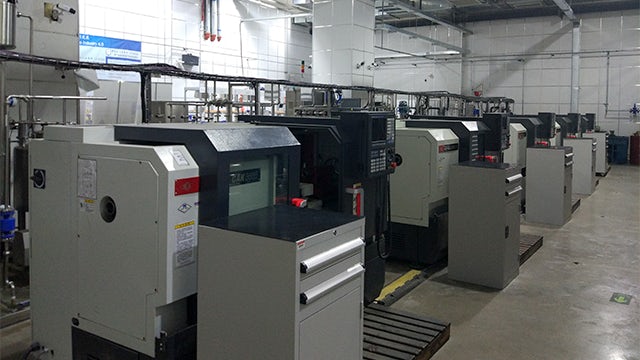 Rise in response to times and staying relevant
Against the backdrop of a booming economy featuring new technologies, business types and industries, colleges are expected to educate students and provide a greater understanding of engineering practice, innovation and interdisciplinary integration.
In December 2016, China's Ministry of Education, Ministry of Human Resources and Social Security and Ministry of Industry and Information Technology jointly issued the "Talent Development Plan Guide for the Manufacturing Industry." In February 2017, the Ministry of Education issued a notification on the implementation of new engineering research and practices. These ministries seek to deepen engineering education reform and improve the knowledge base of technology students for problems among engineering education, emerging industry, the new economy development and realworld business requirements.
With the influx of students into the manufacturing industry, the structure, quality and education system for engineering talent are gradually improving as manufacturing companies are playing a significant role in the training of high-end skills. For this endeavor, Tsinghua University is a partner with Siemens Digital Industries Software.
Tsinghua University promotes education and course development in cooperation with companies. The Fundamental Industry Training Center of Tsinghua University conducts research into the comprehensive improvement of students' practical competencies, innovation skills and interdisciplinary education under the new economic trends. The main work of the training center includes continuously introducing new technologies in educational content, exploring new fields such as additive manufacturing, robotics and big data, and integrating information through practical instruction. The new educational practices can inspire innovative thinking and produce better response in students.
The center promotes engineering culture and quality education for students at Tsinghua University including comprehensive engineering education, general education and innovation education, allowing the center to train top-notch engineers.
For the teaching system, the training center complies with the Tsinghua University mission of "four integration" and its innovation and venture philosophy of "one body and two wings" implementation path. Under the leadership of the academic affairs division, multiple institutes and departments partnered to found the technology innovation minor program in September 2016, the first minor program for the double-innovation teaching in China that aims at systematic innovation and venture education.
"Based on the advantages of using Siemens Digital Industries software products in the automation field, the center can provide a feasible solution for teaching virtualization at Tsinghua University," says Wang.
Siemens Digital Industries Software is a leading proponent of Industry 4.0 and promotes the digital twin for the fusion of the virtual and physical worlds. Its products include a broad portfolio of solutions that address the entire development process, from product design through manufacturing. The Fundamental Industry Training Center first introduced Siemens Digital Industries software producst in 2016 to demonstrate the lifecycle value chain from design to manufacturing. Driven by specific products, the center enables students to participate in the R&D process and systematically consider the manufacturing process.
Introducing leading-edge software solutions
The Fundamental Industry Training Center plans and implements teaching of related scientific research work and continuously explores how to introduce digital platforms and virtual simulation technologies. By combining virtualization and reality, the center pays significant attention to the combination of practical experience and simulation. With simulation, the abstract concepts can assist students who understand operation principles and can grasp theoretical knowledge. With practical experience, students can apply the knowledge to deepen understanding. With this combination, students can double their practical knowledge and avoid pitfalls of inexperience. Based on the requirements of preparing students for digital plants, Tsinghua University introduced software platforms from Siemens Digital Industries Software.
Tsinghua uses Siemens Digital Industries Software products, including NX™ software, the Teamcenter® portfolio and the Tecnomatix® portfolio. as integral parts. NX software is a solution integrating product design, engineering and manufacturing and is the complete, flexible and effective solution for product development. As a unified product lifecycle management platform, Teamcenter seamlessly combines people, processes and knowledge to accelerate development, improve productivity and strengthen collaboration inside and outside companies. The Tecnomatix digital manufacturing solution associates different manufacturing disciplines from process layout planning and design to process simulation and verification, manufacturing execution and production engineering. The three stages combine to simulate and verify product design, manufacturing, simulation, workshop production layout and equipment operation conditions of the product lifecycle.
The Fundamental Industry Training Center has used Siemens Digital Industries Software since 2016. The Siemens robot simulation software Tecnomatix is being used for mechanical manufacturing practices of undergraduates. Other courses based on this software platform are under development. Tecnomatix is installed on the computers in the training center's public computer rooms and exhibition hall. Students can use the software to conduct multiple scientific research activities, including coursework, research projects, competitions and innovation and venture activities.
The center has established an industrial robot simulation and experimental unit. Students have realized motion control, motion path planning and tool operations of industrial robots using Tecnomatix software. Based on one simple case, abstract content can be intuitively displayed to assist students in understanding basic concepts and implementation methods such as coordinate systems, posture, path planning and operation space. Based on this knowledge foundation, students can quickly comprehend and operate robots, using teach-mode and offline programming.
As part of the education project, Siemens Digital Industries Software provides comprehensive support services including teaching materials, lecture notes and Siemens developed courses. The center trains teachers to use the software applications and provides training-related documents for teachers to use in instruction. Siemens and its partners also assists teachers in developing cases based on the software platform, and provide materials and support for course development.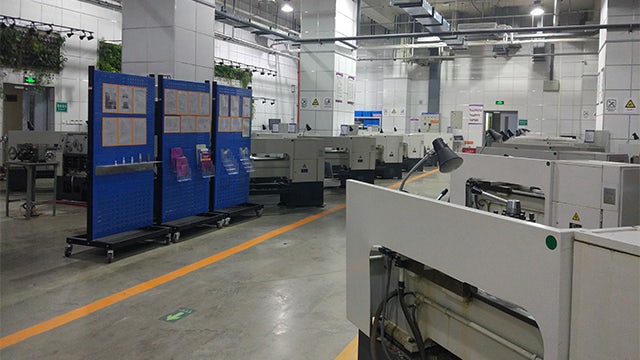 Educating engineers for digital plants
With the fusion of digitalization and industrialization, manufacturing technologies have transformed from material to information manufacturing. The value of knowledge is increasing, as reflected in products and their lifecycles, especially in their production and manufacturing steps. Under situations of new talent demand, colleges carry out purposeful discipline construction and course reform. and carry out purposeful discipline construction and course reform.
The Fundamental Industry Training Center recognizes the importance of cooperation among companies and colleges, and has explored ways to foster it. The center welcomes companies to participate in developing engineering coursework, and has attracted multiple global companies that have provided support for hardware and software instruction. Renowned entrepreneurs teach and guide students in courses on innovation and business ventures. In addition, students are encouraged to get practical industry experience through multiple visits to companies.
Besides the instructional courses based on Siemens Digital Industries Software products, students have also begun to use the software in independent scientific research activities using the software platform. The partnership between Siemens Digital Industries Software and Tsinghua University is expected to continue, with plans to study related courses such as precision online detection technologies and applications in smart manufacturing, Digital Industries in digital manufacturing and 3D technologies in the medical industry.