Case Study
Accelerating development of CAD, CAM and ERP applications
TOPSOLID uses Parasolid to deliver innovative technologies that address new markets
TOPSOLID
TOPSOLID is a leading publisher of CAD/CAM software. With 38 years of experience, the company mainly targets the mechanical sector, sheet metal work and the wood industry. Its product range is fresh, comprehensive and unique on the market.
https://www.topsolid.com/en
Headquarters:

Evry, France

Products:

Parasolid, PLM Components
A top 10 CAD/CAM vendor
TOPSOLID is a leading global supplier of computer-aided design (CAD), computer-aided manufacturing (CAM) and enterprise resource planning (ERP) solutions. It is ranked the second top CAD/CAM supplier in France and is one of the top 10 suppliers worldwide. Today, more than 110,000 TOPSOLID licenses are in use and approximately 70 percent of all licenses are sold internationally. The company employs 380 people and runs four development centers. TOPSOLID products are sold and supported via branches in Belgium, China, Czeck Republic, Italy, Switzerland and the United States and has 86 resellers worldwide located in Europe, Asia Pacific, North and South America.
The company provides an integrated software solution for product design, manufacturing and data management. A success factor for TOPSOLID is its broad line of vertical applications for mold tool design, CAM, furniture design, progressive die design, sheet metal applications and more. TOPSOLID's developers consistently work to ensure these applications deliver leading-edge functionality. Additionally, TOPSOLID must ensure its software is compatible with all leading CAD programs.
Parasolid – the clear leader
TOPSOLID has been using Parasolid® software as the geometry engine for its CAD/CAM applications since 1994. Parasolid is part of the Siemens Xcelerator business platform of software, hardware and services. TOPSOLID has made a long-term commitment to continue using Parasolid as the 3D geometry foundation for all its applications.
According to Richard Lamure, chief executive officer (CEO) of TOPSOLID, "there are many areas where Parasolid stands out. In terms of product quality and innovation, Parasolid has the latest advances in geometric modeling with excellent performance and reliability." TOPSOLID was among the first Parasolid customers to integrate Parasolid with Convergent Modeling™ technology to support users who work with classic B-rep and facetted mesh representations. The ability to mix exact and polyhedric models has given TOPSOLID the required flexibility to address new markets. Another aspect of Parasolid that appeals to TOPSOLID is how open the technology is to developers. "Siemens opens the entire body of the geometric modeler and publishes the numerical data, which is an advantage for us compared to its competitors," states Lamure.
There is a broad industry acceptance of Parasolid that now exceeds five million users and it is trusted across the world. "When we say our kernel is Parasolid, people know it is the de facto standard," states Patrice Tiberi, director of innovation at TOPSOLID. "It is a strong part of our sales presentation." Lamure adds, "geometric compatibility is important to our customers. They are conscious of the proven compatibilities of Parasolid, which is also a selling point."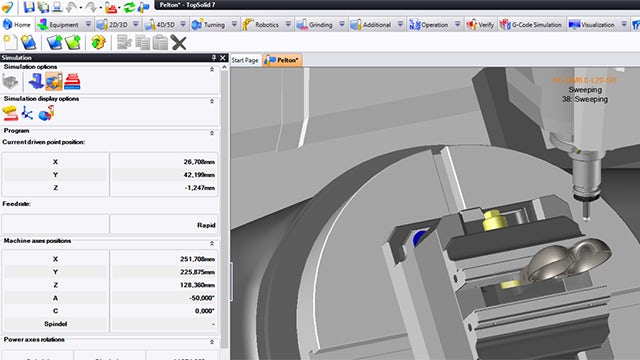 Machining of a Pelton Turbine Blade in TopSolid'Cam.
Siemens – a first-class partner
Another factor contributing to the confidence in Parasolid is the consistently positive experience TOPSOLID has with Siemens as a stable and long-term supplier who delivers excellent technical support.
"Siemens is continually improving Parasolid," states Tiberi. "We always have the latest in modeling technology, which is important to our customers." Siemens is responsive to TOPSOLID's requests for enhancements to the geometric modeling kernel. "When we submit improvement requests, they are typically delivered in the subsequent release," Tiberi adds.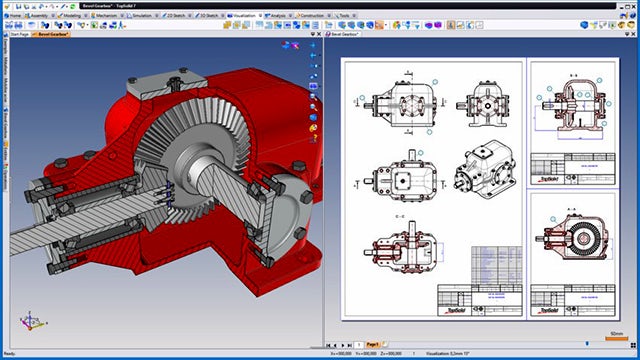 Bevel gear box modeling in TopSolid'Design.
Customers' benefit
Parasolid is used to support the breadth of TOPSOLID's vertical applications, giving the company the economy and simplicity of using one geometric modeler for all its applications. The Parasolid foundation benefits TOPSOLID's customers due to the continual advancements in their applications. "The time we would spend on developing the geometric modeling kernel can now be focused on developing the added value applications our customers need," says Tiberi. "Parasolid enables us to develop vertical applications faster and get enhancements to market sooner while maintaining compatibility with existing software."
Siemens is committed to making sure everyone using Parasolid-based software products continues to have all the tools necessary to produce, analyze and manufacture the world's most innovative products. TOPSOLID's experience provides evidence that Siemens is delivering on this commitment.