Case Study
Leading CNC press brake manufacturer uses Solid Edge to improve design capability
Toong-woei simulates innovations with 3D to accelerate design, reduce production errors and customize products for high-end markets
Toong-woei
Toong-woei Machine Industrial Co., Ltd. specializes in CNC hydraulic press brake technolo-gies, holds many national patents for mature design and manufacturing technologies, and delivers rapid after-sale service. The company's product family includes hydraulic press brakes, hydraulic shears, hydraulic notching machines, hydraulic punching machines, hydraulic copper plate bending machines, deep drawing form-ing machines and others.
https://www.toongwoei.com
Headquarters:

Taoyuan City, Taiwan

Products:

Solid Edge

Industry Sector:

Industrial machinery
Leading CNC brake manufacturer aims at higher-end market by adding value to products
Established more than 30 years ago, Toong-woei started out producing brakes and shears for sheet metal fabrication. Since introducing computer numerical control (CNC) hydraulic press brake technology in the early 1990s, Toong-woei has become a leading representative of Taiwan's CNC brake market by continuously differentiating and increasing the added value of its products.
In order to continuously improve research and development (R&D) quality and throughput, and to expand the high-value-added customer base, in 2015 Toong-woei implemented Solid Edge® software, a 3D computer-aided design (CAD) system from product lifecycle management (PLM) specialist Siemens Digital Industries Software. As expected, the new design solution has not only enabled the company to improve its overall design capability but also to seamlessly integrate its production and assembly workflows, completely transforming the entire process from ideation and design simulation to production and assembly.
High-quality 3D software: the key to improving design capability
The CNC hydraulic press brake is mainly used to cut large pieces of sheet metal and reshape them as predefined. The primary customer base consists of iron and steel plants, computer casing makers, and others.
Toong-woei specializes in research and development of large-sized brakes, and focuses on custom design of all kinds of optional accessories. For example, the CNC brake's adjustable laser angular measurement enables adapting the outgoing angle to different requirements; use of the manual crowning adjustment enables the bending angle of metal sheets to be consistent and flexible for fine adjustment. Use of the hydraulic manifold's compact piping system reduces the risk of leakage and enables higher stability in combination with precise servo valves. Use of hydraulic adaptor devices enable quick changing of punches and dies, without requiring adjustment of clamping tools after the change, so that production can begin immediately.
An overview of the drawing and design tools used throughout Toong-woei's history reveals that the company first used robot arms to make drawings, and later applied 2D drawing software, but was confronted with problems such as overlapping lines and unintelligible three-view drawings. Chen Yongming, vice president of Toong-woei, recalled that every time he saw a 2D drawing, he would wonder, "Is this really practicable?" However, to answer that question, he had to wait until the design had made its way onto the production and assembly floor.
"One of the most common problems we faced back then was incorrect part sizes that required repeated modifications," Chen says. "Though we managed to go about our business as the brake structures in those early days were relatively simple, we had to innovate and develop new products with increasingly complex structures and designs in order to survive and thrive. Time-consuming, costly and inefficient operations such as these had to be eliminated."
That's when Chen started considering 3D design software to achieve greater design capability. Upon comprehensive consideration of Siemens's brand value, as well as presentations and commitments made by Siemens Digital Industries Software partner CADEX Technology, Toong-woei chose on Solid Edge as a new milestone. In the meantime, Chen hired Solid Edge experts to head the design team, and required the team to use 3D animation exclusively when demonstrating new functions and new designs to customers.
Compelling 3D animations amaze customers and help win orders
"Solid Edge has enabled product development breakthroughs in our company," says Chen. "With 3D animation and simulation, I can be fairly certain whether a new idea is practicable without even leaving my chair." The company's efforts gradually paid off. Now when bidding for a new order, Toong-woei can display 3D animated demonstrations that have high visual appeal and communicate product details better than the 2D drawings still commonly used in the industry.
Chen realized that small-to-medium enterprises (SMEs), such as Toong-woei itself, must think strategically and act accordingly in order to thrive. He illustrated that at the Taipei International Machine Tool Show, when Toong-woei was the first and only hydraulic brake manufacturer from Taiwan that used 3D animation for demonstrations that were fully comparable to demonstrations of leading companies from Germany and Japan also attending the show.
"The decision to invest in 3D software marks the company's determination to switch to advanced technology, and to not let convention interfere with future development," Chen says. "This is a highly competitive market, so we must advance or lag behind and head for extinction. Yet, it takes time to transform a company's operational and cultural environment, to develop new values. We need time to learn from past experience, and for us, implementing Siemens Digital Industries Software is a critical step in the right direction."
Solid Edge is also the key that opens the door to high-end customers. Since brakes are standard equipment, in order to improve their appeal to customers, they must be much easier to use and equipped with better optional accessories.
"Now, whenever we've got a new idea, we use Solid Edge for design simulation, and provide customers with animated demos," Chen notes. "High-end users who are accustomed to German and Japanese technologies are experts themselves – they know the value embedded in these features. As long as we meet all of their requirements, the negotiation will move along, all the way down to sample testing and quotation."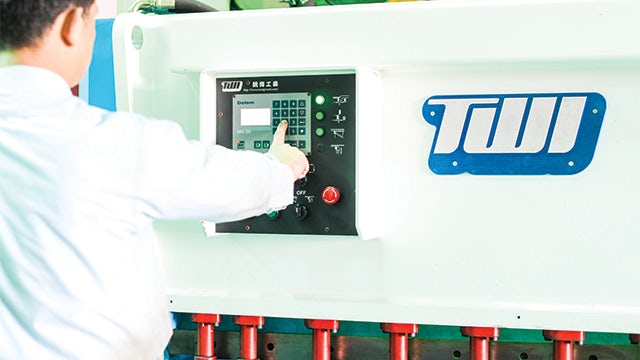 Reducing design time and assembly errors
As expected, about a year into the implementation of Solid Edge, Toong-woei effectively improved its new product design in terms of both quality and efficiency. In the past, completing the design of a CNC brake using 2D design software took seven to eight working days. Even if the design only involved modifying an old drawing, the company was forced to do a comprehensive redesign, and could only ascertain the new drawing's manufacturability after completing the manufacturing and assembly process. "Now, with the synchronous technology of Solid Edge, we have cut the average design cycle by half and significantly reduced production errors," says Wu Yongfu, head of the company's design department.
With Solid Edge, Toong-woei has also improved its assembly process, especially in terms of accuracy. For example, 3D exploded assembly views created using Solid Edge now clearly indicate what each component in the product looks like before assembly. Senior assembly workers can easily determine the correct assembly process. Use of detailed exploded views not only helps reduce errors but also makes it easier for less experienced employees on the floor to learn more quickly and accurately.
In addition to the existing library of standard parts in Solid Edge, such as bearings and screws, Wu has made dedicated efforts to create Toong-woei's own 3D parts library for components like servo motors and spiral bevel gears that are unique to brakes.
Shorter time-to-market, transitioning to high value-added business
A substantially shorter time required from ideation to simulation helps Toong-woei develop new and more competitive products more quickly. Chen cites a new in-process product as an example: a servo-electric press brake. "There are already some energy-saving press brakes on the market, but I came up with a new idea to help save even more energy," Chen says. "So I asked designers to draw it with Solid Edge and do some experimentation. After we made sure that it was feasible, we applied for a patent and went into production at the same time."
Because energy-saving is the widespread trend, the new model uses dual servo motors and a ball screw to control the Y-axis positioning, thus improving productivity. In addition, in the absence of a hydraulic system, the model consumes approximately 50 percent less electricity compared to German competitors' models of the same grade, and is free from any leakage, helping maintain a cleaner and better working environment.
Another example given by Chen is a bending support device, an optional accessory supporting a connecting rod. Two-dimensional drawings can neither simulate its back-and-forth mobile path nor indicate where it might jam. However, with Solid Edge, engineers can conduct complete simulation to eliminate any mobility barrier, saving both time and effort.
Solid Edge has also changed Toong-woei's marketing approach. Today, if a new idea is proven to be practicable using Solid Edge, Chen posts the relevant animated demonstrations in the online customer community, so that interested customers can contact the company directly. In this way the company is marketing continuously and is no longer limited to international machine tool shows that are held periodically.
Toong-woei is currently trying to break from price wars. With improved strengths in design, the company now launches two sets of new products every year while aggressively pursuing innovation and exploration of niche markets through customization.
Chen concludes, "We have significantly improved our creativity and capability to customize our products according to customer requirements. We are no longer solely sales-oriented, but more focused on driving up the profitability of every machine, distancing ourselves from low-price competition and pressing on with the realization of high value-added business."