Case Study
End-to-end simulation and virtual commissioning facilitate cost-effective and convenient implementation of complex and efficient automobile production facilities
Using solutions from Siemens Digital Industries Software, TMS develops reliable production lines, allowing automobile manufacturers to achieve their ambitious time-to-market goals
TMS Turnkey Manufacturing Solutions
TMS Turnkey Manufacturing Solutions GmbH, a member of the Canadian VALIANT group, is a leading manufacturer of innovative production solutions for automobile manufacturers and automotive suppliers across the globe. The company designs and builds turnkey lines for the production of car bodies and truck cabins. TMS also has a rich host of experience in integrating new models with existing production facilities, even during operations, with only minimal standstill..
http://www.tms-at.com
Headquarters:

Linz, Austria

Products:

NX, Teamcenter, Tecnomatix

Industry Sector:

Automotive & transportation
Individualization of automobile production
Until recently, many automobile manufacturers built the bodies-in-white of each type of car on production lines dedicated to the individual model. Their product ranges have grown, and accelerated development cycles have led to shorter production lives of the individual models. This is why in recent years different types of automobile bodies have been produced on a single line. Mixing up to six types on one line has become commonplace. TMS Turnkey Manufacturing Solutions (TMS), headquartered in Linz, Austria, was substantially involved in this development. Established in 1984 as a branch of VA Steinel and part of the Canadian Valiant group since 2006, the company manufactures materials handling, assembly and part cleaning equipment. In its most significant business area, TMS plans and erects turnkey solutions for body-in-white production.
TMS was among the first equipment manufacturers worldwide to create production lines that accommodate several models in various batches, all the way down to a lot size of one. Furthermore, TMS has ample experience in integrating new models with existing production lines. Such modifications enhance the flexibility of the production plants, allowing automobile manufacturers to react swiftly to unforeseen changes in demand. Upgrading an existing production line so it can accommodate an additional model is also much more costeffective than erecting a new production plant for every single model.
Production reliability
"Without an in-depth simulation of the entire production plant with all its components, plant reconfiguration would not be possible without prolonged standstills," says Harald Ecker, head of the Simulation/ Digital Factory team within the TMS Body Manufacturing Systems business unit. "At TMS, it is therefore common practice to digitally design, test and commission each plant all the way to customer approval, including offline robot programming and details down to the individual screws." This is the only risk-free way to facilitate physical reconfiguration of a plant without reducing its production capacity successively – cell by cell – during brief shutdown periods.
All major automobile manufacturers have demanded comprehensive kinematic simulations of their production facilities prior to installation for some time. Simulation provides them with the certainty that during operations, the plants' production efficiency will meet requirements. As a trailblazer in this line of business, TMS has been developing production plants for the automotive industry using simulation for some 30 years. The company was among the very first users worldwide of the systems preceding the Tecnomatix® portfolio of software products for the digital factory.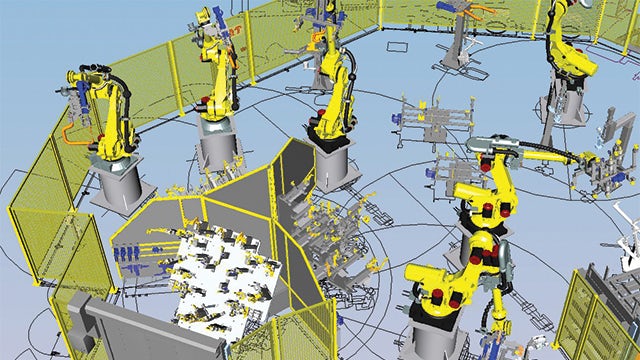 Automotive equipment manufacturer TMS performs design and validation of the production lines in the virtual world of computer simulations using Process Designer and Process Simulate.
Digital twin for simulation using point cloud data
Meanwhile, TMS is using the Plant Simulation solution in the Tecnomatix portfolio from Siemens Digital Industries Software to create plant concepts as early as the proposal phase and Process Designer as well as the Process Simulate solution in the Tecnomatix portfolio for detailed planning. In design and development, TMS engineers are using NX™ software. The equipment's product lifecycle management is carried out using Teamcenter® software.
TMS's leading position in re-tooling existing facilities for new automobile models can be attributed in part to its practice of not relying on planning data. It is standard procedure within TMS to incorporate the as-is situation using point clouds from 3D scans in the simulation model. In the case of a production line with 30 robots, a project would include eight individual scans. Ecker explains, "Until recently, we needed to enter each of these to the simulation models by hand. Nowadays, they are imported quickly by referencing the entire scan project using the point cloud integration module in Process Simulate. In accordance with its traditional role as a trailblazer, TMS was the very first Siemens Digital Industries Software customer to use this module. "This allows us to make preparatory modifications to the existing facility, substantially enhances planning dependability and saves costs for additional on-site assignments for rectification work," says Ecker.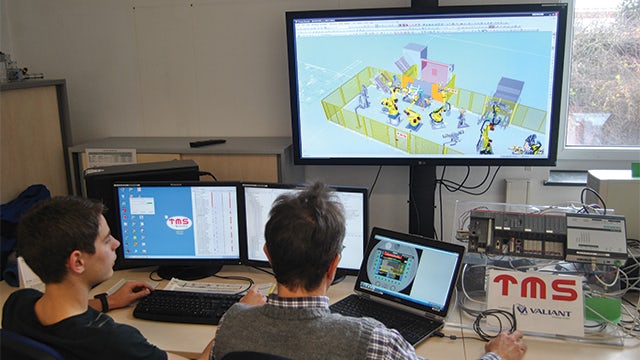 To deliver a smooth start-up of the production facility, TMS engineers perform virtual commissioning. For this purpose, they connect the simulation model to the real control system. Early verification and optimization of the programming significantly enhances software quality and cuts the time spent on site during the final commissioning phases by up to 75 percent.
Parallelized development work
Design and verification of the production facilities in the virtual world start with the design of complex manufacturing processes using the Process Designer solution in the Tecnomatix portfolio. Offline robot programming is also performed using this tool for the design, simulation and optimization of complex production equipment since TMS made the transition from using Robcad™ software in the Tecnomatix portfolio. Using Process Designer allows parallel development work in this early phase. Due to the software's vast range of functionalities, TMS resorts to this software for practically all of its line development tasks, starting with process definition. "Process Designer lends itself as a unified development environment for all processes within a plant," says Ecker. "As all of them are based on unified data models using JT format files throughout the system, interface problems have become a thing of the past."
TMS engineers optimize the results by simulating the production equipment in an iterative process using Process Simulate. In regular intervals, they pass the simulation results on to their customers for review and approval, and they make all necessary modifications directly in the simulation model. Thanks to the underlying database structures, all changes automatically appear in the data that make up the overall model. Without additional efforts, the automatic updates deliver consistency that results in higher quality.
TMS not only provides fully automated equipment, but also production lines in which many operations are performed manually. This is why its use of Process Simulate for plant simulation also extends to verification and optimization of ergonomics for the workers involved. For some years now, the plant design specialists have been utilizing the out-of-the-box options of that software to realistically simulate human action as well, using Jack™ software in the Tecnomatix® portfolio and its Jack and Jill avatars. "We initially integrated ergonomics simulation with Jack and Jill in our own interest, aiming at validation of the results," Ecker recalls. "Meanwhile, some OEMs request this type of simulation as part of the overall task."
From simulation to reality
Since 2010, the TMS simulation team in Linz grew from 10 to 23 members. "We intensified the use of the Siemens Digital Industries Software simulation products because it enables us to optimize lines prior to commissioning," says Ecker. "In several instances, this prompted OEMs to require a simulation using Process Simulate as part of the contract."
Verification of the development results in TMS is no longer confined to pure simulation. As soon as simulations are successfully completed, they are followed by virtual commissioning. For this purpose, the simulation model is connected to the actual control system, which has been programmed in parallel with plant optimization in the virtual world. This so-called 'hardware-in-the-loop' simulation incorporates the actual timing characteristics of all parts of the line. This allows the engineers not only to identify and eliminate programming errors, but also to further optimize time-critical processes.
"Virtual commissioning in Process Simulate is particularly comfortable when using Siemens control hardware, as this can easily be fully integrated including all input and output signals via the SIMBA box specifically designed by Siemens for this purpose," Ecker notes. "Our plant and software design engineers are relieved from all interface-related issues. Systems from other manufacturers are connected using the OPC interconnection protocol. From the next software release, Process Simulate will support the unified OPC UA standard, which will be even easier to handle."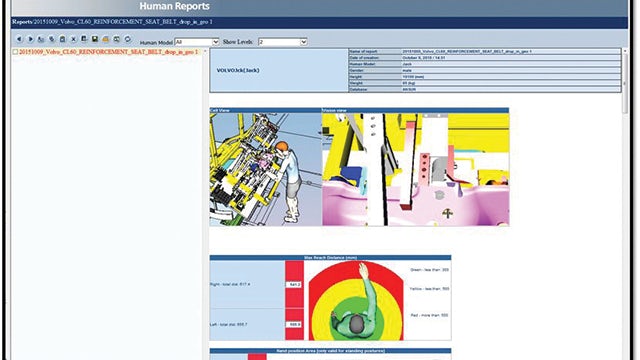 TMS engineers also verify and optimize ergonomics for the workers involved. They use Process Simulate to simulate human action as well, using the avatars Jack and Jill.
Comfort and stability due to virtual commissioning
Virtual commissioning allows improvement and optimization of the control system software, avoiding unpleasant surprises when loading it to the target system on site later. TMS customers can also train personnel before the production line is installed, enabling a fast production rampup. This frequently proves vital, as some of the parts required in the production process are often not available for real tests yet.
"Our customers love virtual commissioning because it yields a smooth start-up of the production facility," Ecker notes as a significant benefit of this method. "For us, it has the advantage that we can complete this two- or three-week diagnostic, correction and optimizing phase in our familiar office environment with its infrastructure." This is easier and notably more productive than work on a construction site, and it also cuts the time that the TMS staff needs to spend on site during the final commissioning phase from several weeks to a few days. It also helps eliminate misunderstanding between the equipment manufacturers and their customers, making it easier for TMS to achieve the ambitious time-to-market goals of the automobile manufacturers.