Case Study
Chinese OEM deploys Siemens solutions to respond to customers
Three-In-One Enterprises uses Solid Edge tools to reduce time and costs during design process
Three-In-One Enterprises Co.
Three-In-One Enterprises Co. has almost 50 years of experience as a designer, OEM manufacturer and assembler of tools. The company provides global businesses with OEM/custom production of vehicle testers, vehicle glass maintenance tools, optical refractometers, industrial endoscopes and medical endoscopes.
http://www.tioent.com
Headquarters:

New Taipei City, Taiwan

Products:

Solid Edge

Industry Sector:

Consumer products & retail
3D software allows for easy design changes
Three-In-One Enterprises (TIO), located at New Taipei Industrial Park, Taiwan, is a designer, original equipment manufacturer (OEM) and assembler of hand tools, industrial/medical endoscopes and vehicle test and maintenance tools.
In response to the transition from the traditional hand tool industry and diversified development, TIO has implemented new 3D software solutions featuring a full series of Siemens Digital Industries Software Solid Edge® software products. The company chose Solid Edge with an eye toward short-term improvement and longterm development.
Albert Chen, Executive specialist, TIO, leads the company's research and development (R&D) initiative. He says TIO selected Solid Edge Foundation for its ability to allow the company's business staff to deploy it and immediately assist customers. Solid Edge is part of Xcelerator, a comprehensive and integrated portfolio of software and services from Siemens Digital Industries Software.
"We initially wanted to use Solid Edge software to provide our business department with the software tools to directly change simple designs for customers," says Chen.
TIO's customers are primarily located in North America and Europe. When previously handling customer design changes, TIO business representatives often had to transmit customer requirements to Taiwan for revisions before transmitting the updated designs to customers. The number of iterations required before finalizing a design, combined with time zone differences, significantly increases the need for greater efficiency.
Chen suggested allowing TIO's business representatives to revise designs because most customer changes were trivial adjustments to trademarks, angles of objects, colors, etc. This allowed TIO to immediately respond to customer requests, offering significant time savings.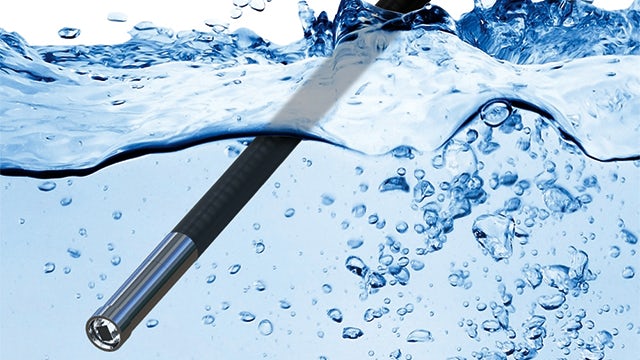 Establishing a 3D product development process
In addition to Solid Edge Foundation, TIO gradually imported Solid Edge Classic and Solid Edge Premium into two departments, mechanical design and electronic design, and has initiated a new process ranging from 3D design to prototyping that also deploys Solid Edge Design1™ software and KeyShot® 3D rendering software. This process significantly reduces operation time, saves considerable costs and enables engineers to conveniently establish a bill-of-materials (BOM).
"This process not only reduces the time needed for drawing revisions and prototyping activities by 50 percent, but it also cuts outsourcing costs," says Xie Minghan, product designer, TIO.
Once the customer approves the final design, TIO initiates the expensive die making and prototyping processes. Pilot production is performed to verify the assembly's precision.
This set of 3D operational processes applies to traditional hand tools as well as advanced industrial endoscopes. For example, if a customer chooses the mainframe functionality and styling of an existing endoscope but requires different color blending, TIO will use KeyShot to simulate colors and trademarks for customer inspection and finalization before production.
"In recent years, hand tools are showing a trend for diversified colors," says Chen. "We use a rendering software to make products with new color styles and propose the same to OEM customers. With the rendering software, colors imagined by engineers may be shown in 3D objects on the screen. Revised versions may also be produced based on a customer's preferences. This is an investment that enables TIO to further enhance its design capability."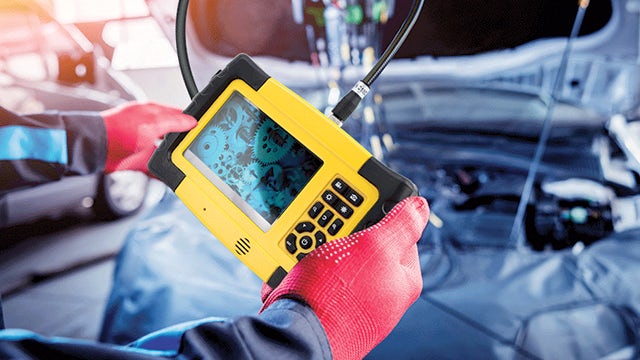 Establishing a digital foundation
TIO selected Solid Edge Premium to design more efficiently, help customers complete their projects faster and respond to the required hand tool materials. For example, when a customer requires a hand tool's ironware to meet specifications/requirements, TIO uses the material analysis function in Solid Edge Premium to create a data file.
"I require a complete file for the analysis data of each new material so that we can quickly copy such data and process orders for similar products in the future," says Chen.
Another major task for which TIO introduces 3D design software is for converting 2D drawings into 3D files.
"Conversions can, and sometimes will, damage drawings, so we have to spend time repairing them," says Chen. "In addition, some saved drawings are inconsistent with the versions saved by manufacturers. As a result, we spend time overcoming these inconsistencies. This step cannot be ignored as it is an important digital foundation for TIO's future product research and development work."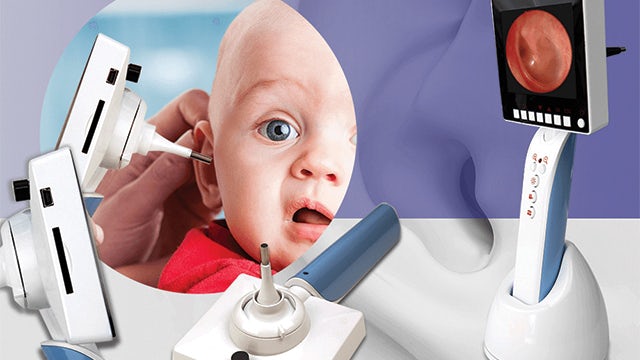 Diversifying automated manufacturing process design
Since introducing Solid Edge, TIO has reduced costs and enhanced responsiveness to design changes with less time spent on prototyping. Solid Edge has also improved project performance processes and facilitates project management.
"Solid Edge enables us to better control the progress of all stages, from design, simulation and modeling to prototyping," says Chen. "Solid Edge can identify problems such as assembly errors at the test and production stages, enabling us to promptly make changes without wasting unnecessary time and money. Our ability to respond faster to problems enhances our customer relationships."
By utilizing Solid Edge, TIO's business representatives can immediately communicate with customers. Chen encourages and trains business representatives and has established a file management system to retain original drawings.
"Now they are more confident in opening or revising drawings and they can directly handle simple changes requested by customers," says Chen.
TIO is planning to transition from traditional hand tools to digitalization as the company expands into electronics design, software development and semi-automated production.
"For semi-automated services, we provide production line models for customers," says Chen. "For pesticide packages, we initiate the process by using Solid Edge to produce prototypes and use them to simulate the production process. This enables the customer to predict and inspect a new production line's operation."
Most of the newly developed markets and customers are overseas. TIO will continue to focus on product design and software/ hardware development capabilities, while outsourcing production activities to appropriate producers to improve operational efficiency.