Case Study
Launching high-density space designs better and faster with stellar collaboration tools
TESAT
TESAT is a market leader in the field of telecommunication payloads for satellites and a technology leader in the field of laser communications. More than half of all communication satellites in orbit have TESAT equipment on board.
https://www.tesat.de/
Headquarters:

Backnang, Germany

Products:

HyperLynx SI/PI, Xcelerator Share HyperLynx SI/PI/Thermal, Xpedition Enterprise

Industry Sector:

Aerospace & defense
Siemens Xpedition flow reduces design time and ensures design quality
Over the course of six decades, TESAT (an independent subsidiary of the Airbus Group) has developed in-depth expertise in manufacturing of payload equipment for communication satellites, establishing itself as a market leader in telecommunication pay-loads and laser communications.
At its headquarters in Backnang, Germany, its roughly 1,000 employees have developed, assembled, integrated, and tested systems and equipment on more than 700 space projects. With over 30,000 units in orbit and over 650 million hours of operation total, TESAT has a venerable heritage in the space market, with deep business relationships with almost all satellite manufacturers worldwide.
Like so many other sectors, space communications is in a rapidly evolving state of change. The telecommunication satellite sector demands products with higher functionality and integration density at lower cost and accelerated time-to-market. This requires shorter development cycles and the introduction of commercial off-the-shelf parts in space.
Thus, a consistent challenge the TESAT electronic systems engineering team faces is getting their designs to market with a minimum number of iterations while ensuring design quality. To help them resolve these goals while designing more complex products, the TESAT development and design team (including Bastian Diehm, Methods and Processes - Development and Design, and Dominik Vogel, PCB Design Engineer) adopted the Xpedition™ software flow from Siemens EDA, a part of Siemens Digital Industries Software.
TESAT deploys a battery of Siemens systems design tools including Xpedition Enterprise, HyperLynx™ software, and NX™ — to reduce iterations, manage variants, support collaboration, facilitate concurrent engineering, and digitally transform electronic systems design and manufacturing.
The Xpedition family's superior support of concurrent design, and its integrated development database enable faster design iterations, while its integrated constraint management along with HyperLynx verification ensures design correctness. The resulting solution significantly reduces design time for TESAT's high-density space designs.
Siemens Xpedition key user team for development and design.
Launching high-speed PCBs
Since the majority of their products contain one or more TESAT-built PCBs, the 200 strong development and design department is essential to TESAT's success. Their main electronic systems focus is on high density interconnect (HDI) PCBs with high layer counts for data communication products. These are typically high-speed, impedance-controlled PCBs with low voltage differential signaling (LVDS) and serializer/de-serializer (SERDES) dominant layouts using ball grid array (BGA) and ceramic column grid array (CCGA) packages.
Heritage designs include PCBs for high power amplifier applications and ion propulsion, with a main focus on high voltage PCBs. Their RF-substrates are based on low temperature co-fired ceramic (LTCC) and PCB technologies (e.g., MEGTRON7N) for high frequency applications. Their designs include both rigid-flex PCBs (with up to 10 rigid layers and three flex layers) and thermomechanical-stress compensated PCB-boards (with ceramics and molybdenum inserts). These boards range up to 450 x 280 mm2 in size, with up to 24 layers and 4,000 parts per board, AC/DC voltage up to 20kV, RF up to 40 GHz, and data rates up to 10 GBit/s.
To successfully accomplish fast time-to-market with a minimum of iteration loops, TESAT needed state-of-the-art EDA tools to help them manage variants and constraints and embrace multi-discipline team collaboration.
TESAT has a huge range of products, each with many variants. Managing these variants exacerbates the urgency to reduce the number of respins that occur in repurposed IP for many reasons, primarily electrical design changes, component replacements, and comprehensive testing. This broad portfolio of products also results in a full assemblage of design domains, creating a critical demand for multi-discipline team collaboration. Depending on the product, this mix of heterogenous domains encompasses PCB (schematic and layout), mechanical, RF, manufacturing, and software teams. Additionally, systems integration, or systems-of-systems teams may be involved, as TESAT also delivers subsystems to its customers.
Xpedition gives multi-discipline design teams a laser focus
A recent project, the new laser communication terminal for constellations, was the first complete system designed by the TESAT team using the Xpedition tool set. This highly integrated, very complex product required elite engineering skills in terms of integration expertise and, because it was a cutting-edge design, had to be fast to market to win the competitive advantage. In these regards, it was a good proving ground for the best use of the new functionalities Xpedition put at their disposal.
"The high-density integration aspect of the design was particularly exciting," Diehm recalls. "For us, and also for the space community in general, this terminal has a very, very high-density integration, and it is very complex — up to 20 layers and 3,500 digital components. I think this level of integration and complexity is notable in the context of space business."
Multi-discipline collaboration
Handling this level of integration and complexity was made manageable by Xpedition's support of multi-discipline collaboration. "In the first iteration we used the review functionalities in Xpedition EDM," Diehm recalls. "For the schematic review, the designers were able to make notes and directly in the web browser, and the developer could do their review and make mark-ups directly in the browser as well, then mark them as done. This is possible because it's all integrated in the Xpedition EDM system, it's all in the same web browser. You can access it from anywhere, and you don't need to send emails or files. The Xpedition tools certainly helped us to do an unprecedented level of multi-discipline collaboration."
For TESAT's comprehensive design and production team, this kind of continuous management of electronic devices and systems is increasingly required in customer projects. A digital transformation of the entire design and manufacturing flow requires continuous and centralized data management, resulting in a single, live, and sharable source of design and library data: a single source of data — what Diehm and Vogel call a single source of truth. Among other things, a single source of truth preserves data integrity and speeds iterations.
"For us, one very important thing is that we really have one source of truth, a single source of data," Vogel says. "In the past we experienced problems regarding different data sources, which showed the same content but were inconsistent. For me one of the most important parts of this digital transformation is that it's truly seamless. There is no possibility of failure due to, for example, somebody forgetting to write their email or copying the wrong thing."
"Xpedition EDM helped us improve availability as well as traceability of design information. It made it easier to find a project and all the files and bring them together," Vogel continues.
Above and beyond this, Xpedition also supports collaboration between the PCB and the mechanical side, so they can advance together iterating back and forth to speed iterations.
"Repeated design checks in the Siemens NX mechanical tool also helped minimize design iterations," Vogel observes.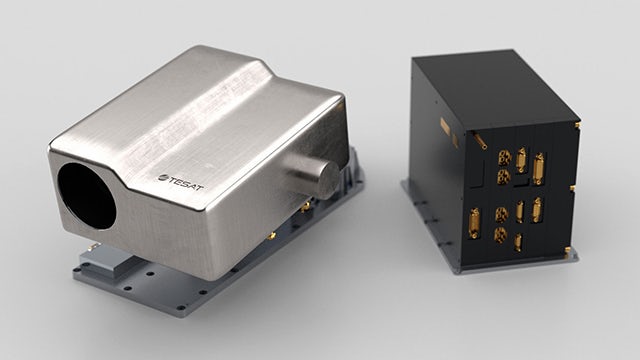 TESAT's constellation laser communication terminal (ConLCT).
Concurrent engineering
Whereas previous tools compelled them to design sequentially — schematic to layout to design — Xpedition enabled concurrent engineering by supporting parallel schematic design and layout development, which reduced development time from schematic entry to release of manufacturing data.
All of the layouts on the PCBs for this project were done with Xpedition. Its support of collaboration and data sharing between schematic and layout was important because although TESAT normally uses one designer for layout and one for the schematic, they also have designs with multiple schematic designers and one layout designer, and in either case they must work currently.
"We were able to meet our target design time goals due to extensive use of concurrent engineering enabled by the schematic, constraints, and layout features in Xpedition," Vogel reports. "The automated routing functionalities in Xpedition saved a considerable amount of time during the layout phase. And we are now trying to use more of the new functions and possibilities Xpedition delivers."
"With new products and tighter project plans, we are forced to start with the layout when the schematic is still evolving," Vogel observes. "We start by placing some of the finished parts of the schematic in the layout, and then the schematic evolves in parallel with layout as more parts are added. With Xpedition, doing layout and schematic design in parallel is more intuitive than in the past, its more collaborative and more concurrent."
Management of reusable circuits and constraints
TESAT can have up to 50 variants for one design. The high amount of design reuse in many TESAT products, including from one generation to the next, makes variant management especially important. So TESAT leverages the capabilities of Xpedition for managing the reuse of data for variants across all of their teams.
"For the newer generations of our products, we sometimes reuse functionality. Especially if you use a circuit often in the same PCB, it's a pretty cool Xpedition feature to be able to copy one part and correctly instantiate it maybe five, six, or seven times," Diehm reports.
The Xpedition constraint manager contributed also to reducing iteration cycles between the engineering and design teams and shortening the development time. This in part relates to having that single source of truth, in being able to communicate via digital means instantaneously rather than through emails or team meetings.
"In the past, we were able to have only a few constraints in our former tool," Diehm recalls. "Now we can include all of our constraints in the constraint manager. Because it's all digital and in a single tool cockpit, the schematic developer can look directly at the design any time, as it progresses, and change things if necessary; so we don't have that many iterations."
"By using the constraints manager, communication between the engineering and design departments was improved and the cost of non-quality due to misunderstandings was reduced," Vogel adds.
Additionally, the Xpedition EDM library management capabilities not only made it easier to map together elements of a component library but also helped improve the quality of designs.
"The library manager did more checks and was more intuitive to use than our old tool. instead of having to edit text files for mapping, the library manager allows us to do it in a graphical way. That's much easier," Vogel continues. "Also, the checks in the Xpedition EDM library manager are more complex, so they find more errors before the PCB is finished and sent to manufacturing. So you have correctness by library, or correctness by design."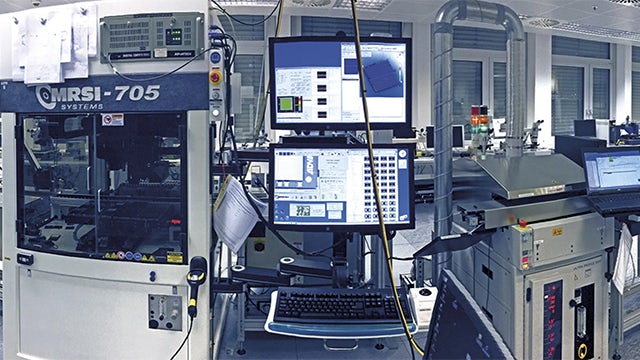 TESAT's hybrid manufacturing line.
Verification during design
One of the stickier challenges that arose in the development of their new laser communication terminal had to do with one of its PCBs that was using second generation DDR4 memory. Signal integrity, electrical, thermal, and radiation analysis, bolstered by Xpedition, supported concurrent engineering, helped them quickly resolve this challenge while eliminating design respins and improving design quality.
"It was a challenge to meet the requirements that the PCB DDR4 was running," Vogel recalls. "We used HyperLynx signal integrity analysis for the simulation and checked it during the design phase. That wouldn't have been possible with our old tool. HyperLynx helped us to meet all the requirements in the first design iteration."
"We also performed radiation analysis as part of our project flow," Diehm explains. "The radiation specialist makes sure that the schematic is recognized in terms of radiation. This is also a strong example of concurrent engineering, because typically the analyst is not only involved at the end when a radiation document for the customer has to be prepared, but also during the evolution of the schematic to find the best circuit options that are intolerant to radiation."
"The electrical and thermal simulations helped minimize the number of respins," Diehm adds. "Due to the development accompanied by stepwise simulations — electrical and thermal — we experienced further speedup in development time while reducing development cycles."
TESAT gets results
In summary, the Xpedition flow enabled faster design iterations through its concurrent design features and integrated database while its constraint management features ensured design correctness. Thus, TESAT was able to reduce the design time on their high-density space design.
"In the development of our new laser telecommunication terminal we experienced improved quality, fewer design changes between the breadboard and flight model, and higher design quality due to avoidance of design errors," Vogel reports.
They were also able to reach tight requirements regarding differential mode delays and fulfill a tight project schedule. With more efficient design activities, engineering throughput was increased — in other words, they were able to do more designs in the same amount of time.
"The Xpedition tools enabled us to do several things we weren't able to do with our old solutions, including easy and fast routing of differential pairs, integrated manufacturing data via ODB+, detailed constraint definition, and iteration between engineering and PCB design departments," Diehm summarizes. "Tool integration — schematic entry, layout, HDL definition, and RF design — was also very useful in our design process."
TESAT has an internal production error tracking system, which is also used to track errors related to engineering and design issues. This system found evidence of improved quality in the PCB design attributable to their new Xpedition solution based on fewer issues in the error tracking system. However, as they are in some cases still in the tool evaluation and introduction process regarding the Xpedition landscape, they have no precise figures on efficiency boost or cost reduction; this is noted in the bullets below using the word "expected." Still the realized and expected results are impressive.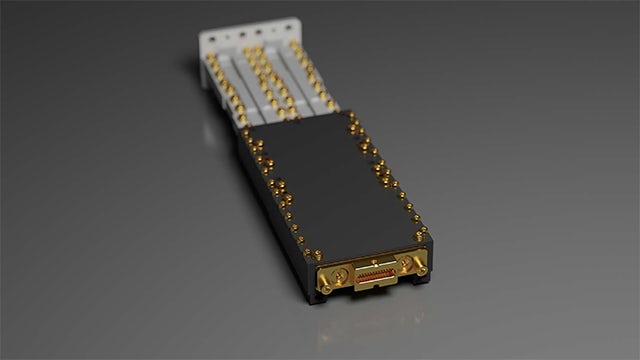 TESAT's HDI TR module.
Business benefits enabled by Xpedition
Engineering and design productivity increase by 20 percent

Reduction in cost of non-quality due to erroneous schematic and layout data by 35 percent

Reduction in cost of non-quality due to wrong data handling and better version management by 25 percent (expected)

Increase in productivity due to more efficient communication by 30 percent (expected)

Reduction in cost of non-quality due to inconsistent library information by 25 percent (expected)
"We are already telling others interested in this flow that Xpedition EDM alone is a great value when it comes to its traceability and collaboration features, and the integrated design database is a huge improvement for concurrent engineering," Vogel shares.
"Yet we are still only mid-way in exploring the whole Xpedition landscape," Diehm says. "In many areas we already see that we get much more capabilities by using this tool. We are excited about using these capabilities on our future products. For example, on the collaboration feature, the feedback I get from our engineers is 'That's really cool, I didn't now we had functionality like that!'"
"At our monthly key user meeting where we discuss our tools and of course the complete Xpedition tool suite, people are enthusiastic about the new functionalities," Diehm continues. "The collaboration feature in the web client of EDM, as I mentioned, is a very good thing that people are very enthusiastic about and are curious to use. Also, the functionality regarding design checks were rated very positively by the community."
With all its advantages and the enthusiasm generated, it doesn't take a rocket scientist to see that the Xpedition flow is taking off at TESAT. Backed by stellar support from Siemens, with online trainings, quick responses to questions, and Siemens Support Center, Xpedition is bound to have a long and successful trajectory at TESAT.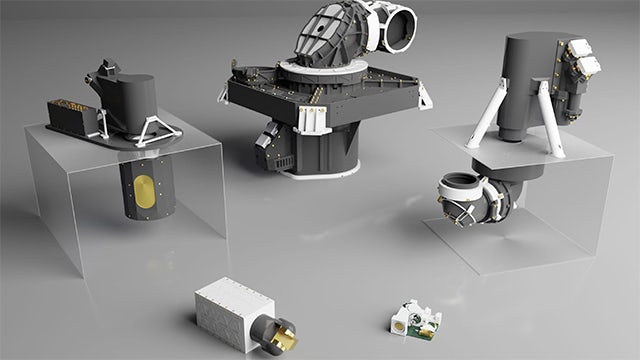 TESAT's Laser products.