Case Study
Leading Korean SUV manufacturer manages complex product knowledge and processes using a single digital platform – from design to manufacture to launch
Using Teamcenter, SsangYong Motor reduces costs and maximizes productivity; integrated PLM is the key
SsangYong Motor
SsangYong Motor develops and distributes SUVs and full-size luxury sedans. As a premier manufacturer in Korea's automotive industry, SsangYong Motor products are known for their advanced styling and outstanding performance since its founding in 1954.
http://www.smotor.com
Headquarters:

Pyeongtaek

Products:

Teamcenter

Industry Sector:

Automotive & transportation
Recognized for innovation and leadership
Since its establishment in 1954, the public has loved SsangYong Motor Co., Ltd. (SsangYong Motor) for its leading styles and its automobiles' excellent performance. By optimizing its professional craftsmanship, SsangYong Motor has excelled throughout the history of Korea's automotive industry.
The company opened a new era of automobiles with four-wheel drive when it developed its models Musso and Korando in the 1980s. Soon after the passing of the millennium, SsangYong Motor released the Rexton, Kyron and Actyon models in succession which, for the first time in Korea, represented a full line-up of SUVs. In addition, the Chairman W, an upgraded version of its flagship sedan Chairman, which SsangYong Motor developed as a leading, ultra-premium brand vehicle in Korea, was successfully launched on the world stage.
Based on the corporate philosophy of "Customers First and Global Management," SsangYong Motor expanded its business by establishing 1,650 global sales networks in 115 countries. It currently operates parts centers, regional A/S training centers, and representative offices in most major markets, including Europe, while advancing the company's growth through strengthened services and the development of new technologies.
First objective: innovation-driven R&D
Due to sluggish growth in developed and emerging markets, economic uncertainty has brought about many changes in the business environment of the automotive industry.
Automakers face challenges of growing market volatility and increased demands for highly-efficient, eco-friendly vehicles as well as dynamic customer expectations. Moreover, SsangYong Motor had to overcome other significant ongoing challenges, including reducing development costs, shortening the product lifecycle and differentiating its brand from others.
To cope with these challenges and achieve its goals, SsangYong Motor established innovation-driven research and development (R&D) as its first objective and began to search for the most appropriate solution to meet this objective. Its main focus was to raise the success rate of new product development by identifying major customer and market requirements, and then enhancing its product development process to meet those requirements.
A breakthrough with PLM
In order to improve its product development process, SsangYong Motor wanted a single, platform-based PLM system that would enable collaboration and integrated management of all product information, ranging from design to manufacturing to product launch.
Above all, SsangYong Motor set a specific goal of concentrating on product management using a product lifecycle management (PLM) system extended from its existing PLM system, which was, at the time, focused only on product data management (PDM). Considering globalization, new technology, auto-parts communication, increases in modularization, electronics and software, a typical PLM/PDM system was not enough for an automotive company to keep up with market and organizational factors. Such conventional systems place their emphasis on 2D and 3D computeraided design (CAD) data and bill of materials (BOM) management.
What was needed was a system that also provided workflow support and design change management, along with integration with the production system – in other words, an "extended PLM" solution that would help manage complexity. To implement such a concept, SsangYong Motor defined the specific elements of what it required in a system, including integrated support for a global environment, integrated purchase/finance/quality/manufacture processes, along with system and feature-based design, enhanced built-in software management, strengthened tracking capabilities, improved solution-based processes, enhanced lifecycle management that enables effective waste management, and more.
Based on the results of testing and verifying solutions to meet its defined requirements, SsangYong Motor implemented Teamcenter® software, a complete PLM platform from Siemens Digital Industries Software.
Teamcenter is a single, open platform that combines all necessary information and processes it into one centralized system. Teamcenter applies a system-based approach to unify a product's lifecycle. The software is designed to help maximize productivity as well as simplify data management by offering a single-platform process, from design to manufacture to product launch. As a result, Teamcenter is the system of choice of many of the world's leading manufacturers, enabling products to be produced smarter, better and faster.
SsangYong Motor recognized Teamcenter as the right solution for all its challenges, especially for controlling product data and process; meeting engineering and manufacturing requirements; and connecting key organizations, functions and factors such as suppliers, costs, quality, sustainability and systems engineering.
"The results of predicting system performance through the full verification of solution functions and application cases demonstrated that Teamcenter is the best solution. Teamcenter provides high scalability and integration, which meets the corporate objectives of merging PLM with other digital systems," explains Dr. Seung-Hwan Chung, managing director and CIO (chief information officer). "We selected the advanced technology of Siemens Digital Industries Software in consideration of long-term, added value through a partnership between the companies."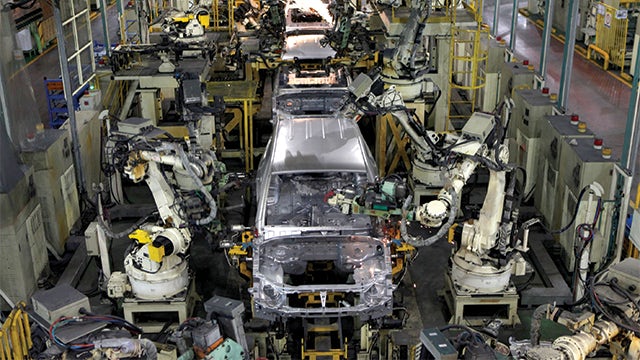 Realizing an end-to-end PLM system with a step-by-step approach
In order to truly achieve the extended PLM concept, SsangYong Motor management took a step-by-step approach, addressing the process from product development to market launch.
First, SsangYong Motor established CAD and enterprise reporting and management systems. This was the first step for several reasons. CAD data is created at the styling stage and used throughout downstream processes, including manufacturing and after-sales support. The PLM system is used to control the flow of CAD data, and when changes occur, information is automatically delivered to the relevant departments, which can dramatically reduce time-to-market.
In order for the company to successfully implement an integrated CAD and engineering bill of materials (EBOM) management approach, several tasks needed to be accomplished, including composing an EBOM system for work efficiency; improving the matching of EBOM and bill of process (BOP) structure; establishing a user-friendly user interface; refining the manufacturing system to facilitate consistent planning and results; improving the process for design changes; and effectively allocating all manufacturing tasks among the appropriate workers.
Next, SsangYong Motor launched a manufacturing environment with an enterprise resource planning (ERP) connection to the BOP information. In this step, manufacturing preparation tasks were improved because the BOP and EBOM environments were integrated.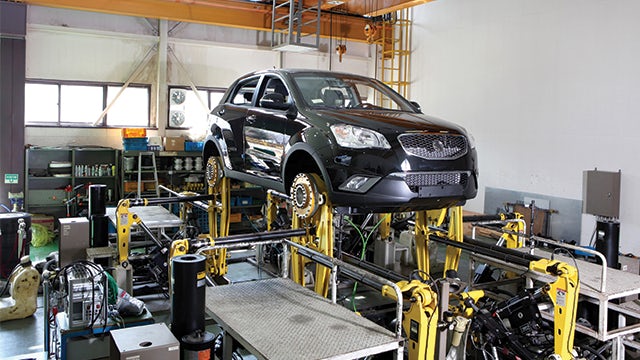 Strengthening its competitive advantage by improving designproduction processes
With the implementation of a process-integrated PLM system, SsangYong Motor successfully achieved its goal of being agile, proactive and responsive to growing competition and ever-changing market factors.
The use of Teamcenter on the unified architecture helped the company strengthen its competitive power. "With Teamcenter, SsangYong Motor notably increased its cost savings and maximized its productivity, made possible through improved cooperation and collaboration across divisions," says Dr. Chung.
In the design phase, manufacturing knowledge re-use was significantly increased based on the BOP, enabling simulation to become a key contributing factor in maximizing productivity. Moreover, using manufacturing knowledge in the design phase increased CAD modeling efficiency and design change management.
Dr. Chung pointed out that markedly improved manufacturing process efficiency enabled the company to push unit costs down. This was primarily achieved through real-time sharing of accurate product and routing information. In addition, automatic level control (ALC) code management helped improve the reliability of all manufacturing order information, while optimized timing/scheduling helped prevent excessive material waste.
SsangYong Motor set a cornerstone objective of strengthening its brand value as one of the most innovative and respected Korean automotive companies According to Dr. Chung, with the help of Teamcenter, it did just that.