Case Study
Electronics contract manufacturer reduces stencil design soldering errors by 80 percent
SRXGlobal uses Valor to automate stencil customization process, simplifying process and shortening lead times
SRXGlobal
Founded in 1991, SRX provides a wide range of electronics manufacturing services for its international customer base, primarily in the medical, industrial, defense, banking, telecommunications and security sectors. The company is headquartered in Sydney, Australia and manages its day-to-day operations in Melbourne, Singapore and Johor Bahru and Penang, Malaysia.
http://www.srxglobal.com
Headquarters:

Syndey, Australia

Products:

Valor Parts Library (VPL), Valor, Valor Process Preparation

Industry Sector:

Electronics, Semiconductor devices
Eliminating bad stencils
SRXGlobal (SRX) is a multinational contract electronics manufacturer (CEM) that offers design, engineering, development and manufacturing solutions to its international customer base, which serves the medical, industrial, banking, defense and communications sectors. Established in 1991, SRX is headquartered in Sydney, Australia and manages its day-to-day operations in Melbourne, Singapore and Johor Bahru and Penang, Malaysia.
The industry trend toward high-mix, low-volume production has led the electronics manufacturing community to realign its engineering practices and SRX is no exception. Nick Niculita, SRX's engineering manager, explains, "In our highly competitive environment, reducing engineering costs is of paramount concern. Standardizing the engineering approach to production is the key to staying on top of high-mix production, and as with any manufacturing company it is vital to recognize that implementing a digital transformation is a must. We have digitalized our operations and now everything is online and accessible by operators everywhere on the shop floor."
For SRX, one of the major focuses in digitalization centered on surface-mount technology (SMT) soldering errors. Soldering errors lead to production defects, cause delays and affect the bottom line. Niculita comments, "According to the IPC, the Global Association for Electronics Manufacturing, up to 65 percent of SMT defects occur during the printing process. After printing parameters and solder paste application, the stencil is the third most important factor that influences the quality of the solder paste deposit. A bad stencil can give you defects on all your printed boards.
"We discovered the root cause of the solder errors was faulty stencil design. In order to save time, the stencil was cut exactly to the size and shape of the pad aperture using CAD data, causing a whole range of soldering defects. The alternative – customization of the stencil – is both time-consuming and error-prone as the production engineer is required to manually edit the apertures using the CAM tool. The editing requires specialized knowledge and is subject to interpretation by the engineer.
"As you can see, standardization of the customization process would reduce errors and delays. Additionally, getting everything right the first time would also reduce the number of spins required by the stencil-cutter service provider."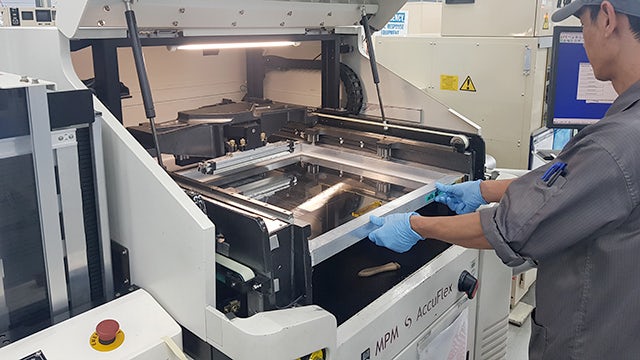 The Valor solution
In order to achieve its digitalization and standardization goals, SRX, with the help of Siemens' Australian partner, ONBoard Solutions, implemented the Valor™ Process Preparation software stencil module.
The Valor stencil module is designed to simplify and quicken the stencil customization process. Valor Process Preparation, which is a part of the Siemens Xcelerator business platform of software, hardware and services, includes a design-for-testing (DFT) module as well.
"SRX had a business need for DFT Probe engineering process," says Joshua Lawson, sales and operations at ONBoard Solutions. "In the past, it took SRX days to create flying probe test programs running on their Takaya system, while we knew it should take only hours with the Valor solution, which addressed this exact problem."
Aided by Valor Parts Library – Siemens' comprehensive parts database – production engineers are able to automatically customize the stencil on a per-part basis. This solution allows for easy standardization of stencil production without having to rely on the expertise or the correct interpretation of the process engineer.
The Valor Parts Library provides additional verification the stencil design is optimal and ready to execute with stencil suppliers. "The Valor Parts Library built-in knowledge base can be baked into technology templates that drive the generation of first-time-right stencil designs," says Niculita.
The Valor Process Preparation stencil module's reporting capabilities provide a wealth of tooling details and stencil design traceability data, and can be used in internal compliance audits for new product introduction-quality assurance (NPI-QA) standards, such as International Organization for Standardization (ISO9001/ISO13485).
The reports can also be used to calculate solder needs and costs, providing the quantity of solder paste used on each board.
"The stencil engineering tool was an impressive addition to the solution that gave great value to the NPI process as well as SMT process defect reduction and inputs to costing in terms of solder paste usage estimations," adds Lawson.
"Of all the engineering solutions that we evaluated, Valor Process Preparation was the most comprehensive, covering all stages of production in a single tool," says Niculita. "We didn't need to learn separate solutions and integrate between them.
"Our work output no longer depends solely on the experience of the process engineer. For us, Valor Process Preparation provides the best value.
"If you design your stencil in a standardized way based on the best practices highlighted by IPC using a decent solder paste and carefully controlling printing parameters, your printing will be perfect. That's what we want and now that is what we get using Valor Process Preparation."
Results
SRX noted the following operational improvements following their deployment of the Valor Process Preparation stencil module:
Reduced first-round NPI solder defects related to stencil design by 80 percent

Shortened the time to edit apertures from three to six hours performing manual edits on the computer-aided manufacturing (CAM) system, to less than one hour using Valor Process Preparation. Valor offers automatic resizing of standard apertures, allowing the process engineer to focus on more challenging, mission-critical parts

Move to right-first-time NPI-DFM engineering model by making the process less driven by engineer experience and more learned-saved constraint validations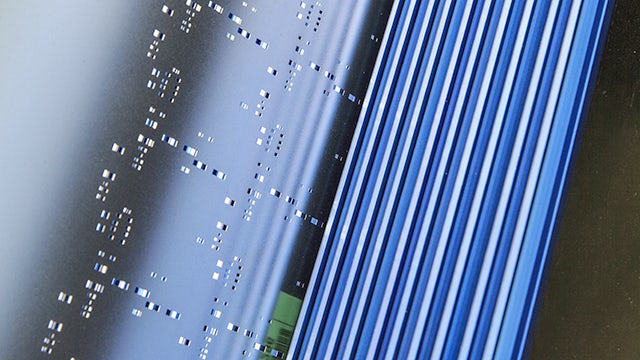 Future plans
SRX is currently evaluating Valor BOM Connector software, Siemens' printed circuit board (PCB) quote generation tool that interfaces with Valor Process Preparation, the Valor Parts Library, and the enterprise resource planning (ERP) system to produce fast and accurate pricing information.