Case Study
Using Solid Edge aids promotional truck designer in delivering top quality and unique vehicles on schedule
Siemens Digital Industries Software solution enables Spezialfahrzeugbau Tunger's 14 employees to meet the demands of high-profile customers
Spezialfahrzeugbau Tunger
Spezialfahrzeugbau Tunger designs promotional vehicles, doing everything from developing the concept to putting on the final touches. The company specializes in smaller promotional vehicles that do not have the enormous dimensions of typical 40-ton promotional trucks. In many city centers, semitrailer solutions from six to 12 tons are far more practical.
http://www.tunger-exklusiv.de
Headquarters:

Reichenbach , Germany

Products:

Solid Edge

Industry Sector:

Automotive & transportation
Creating a dream job
What vehicle manufacturer does not dream of constructing new vehicles from the ground up on a regular basis, and implementing cool designs in the process? Henning Tunger, owner of Spezialfahrzeugbau Tunger, has such a dream job. Tunger and his team design promotional vehicles that are real attention getters, doing everything from coming up with the concept to putting on the final touches. Solid Edge® software, the 3D computer-aided design (CAD) from product lifecycle management (PLM) specialist Siemens Digital Industries Software, plays a key role in enabling Tunger to realize this dream.
Tunger started transforming his career in 2005. After completing his vehicle technology studies at the West Saxon University of Applied Sciences in Zwickau, Germany, he decided he wanted to apply all his recently acquired knowledge to his job. Unfortunately, conventional employers only offered him opportunities to work in sub areas. At the same time it occurred to him that there was a need for smaller promotional vehicles that do not have the enormous dimensions of 40-ton trucks. In many city centers, semitrailer solutions from six to 12 tons are far more practical, particularly because in some cases they can be operated with the old class 3 passenger vehicle driver licenses.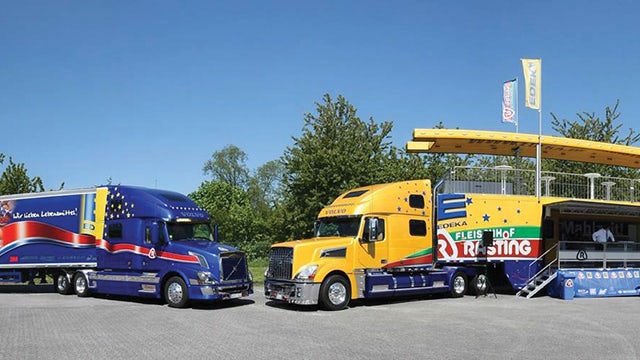 Solid Edge is the clear choice
With this idea in mind, Tunger went into business for himself in the Saxon town of Reichenbach, and met with immediate success. T-Mobile Croatia was looking for just such a small truck, equipped with a kitchen, exhibition room, bar and pull-out stage. Naturally, everything was designed exclusively for T-Mobile and was done in its corporate colors.
"We received the inquiry and immediately started with the drafts," says Tunger. "It was a good thing that we already had a versatile 3D CAD program. From my university days I was familiar with typical CAD systems for automobile manufacturing. However, these systems were too training-intensive for me and they exceeded our founder's budget. An acquaintance told me about the Siemens Digital Industries Software partner ISAP AG. We got some very good advice from ISAP AG. The clear choice was Solid Edge because with this 3D CAD program and ISAP AG as our implementation partner, we were able to quickly get up to speed."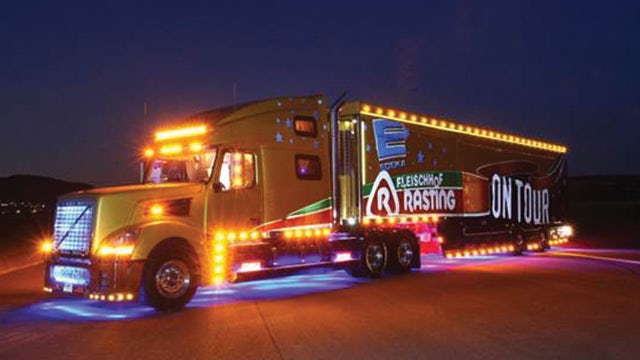 Attracting major brands
Solid Edge supports Spezialfahrzeugbau Tunger in two ways: first, with the customer presentation in the draft phase with layout plans and photorealistic 3D depictions and, second, with the entire design implementation.
Spezialfahrzeugbau Tunger's customers come to the small Saxon town of Reichenbach in Vogtland from throughout Germany and Europe. Many of its customers are major brands from the consumer and industrial sector. Spezialfahrzeugbau Tunger also offers conversion and extension work on existing vehicles.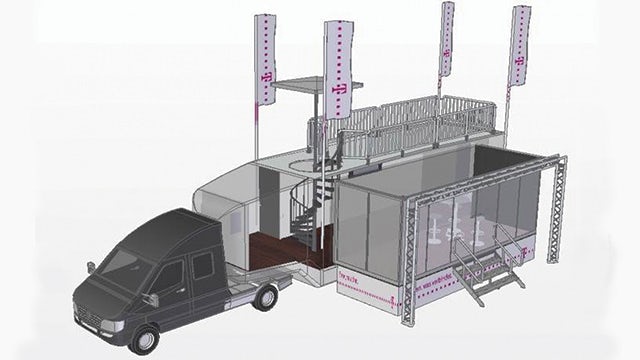 Developing a unique system
Tunger came up with an innovation that has extended the customer base. He developed a unique change-lift system under the name TWT-Tunger Wechseltechnik. If a superstructure is set down from the towing vehicle, the superstructure can be adjusted in height completely independently of the base vehicle to just above the ground. This is particularly advantageous if sensitive devices are on board that must be set down gently. Moreover, the superstructure precisely adapts to a variety of ramp heights and can even be easily placed in narrow city center locations.
Due to the variable incline adjustment, even vehicles with minimal ground clearance can be autonomously unloaded. In addition to event organizers, public-sector clients also quickly became aware of the versatile system. Fire departments, police departments, the German Army and disaster control agencies now use the Tunger change-lift system to cost-effectively, flexibly and safely set down field offices and functional structures with valuable interiors.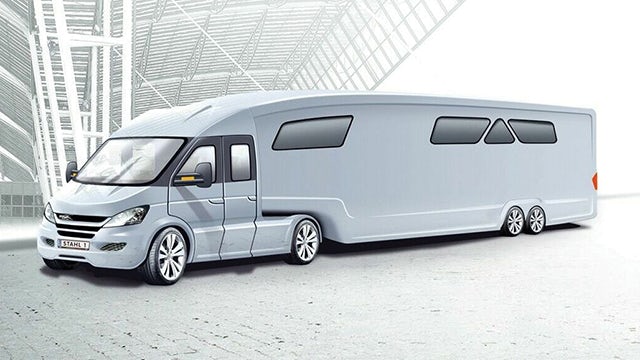 Delivering a dream vehicle
Tunger likes the idea that each order is a completely new and unique vehicle that calls upon his entire vehicle manufacturing knowledge. "We make our customer's dream vehicle a reality, from procurement of the base vehicle to manufacturing, financing and turnkey handover," says Tunger. "Accordingly, this imposes challenges on our design organization. Our design organization bears the entire responsibility for realization of the project. We start by sitting down with the customer to clarify the function and the application area of the vehicle. As soon as the vehicle dimensions and the total weight are defined, the shape of the superstructure, as well as the desired interior fittings and special equipment, are discussed.
"Because the vehicles often correspond to living areas in their use, autonomous supply systems, such as power, water, light, sanitary facilities, heating and air conditioning are likewise part of the project. Finally, we deal with the special equipment, such as tops that can be walked on, covered stages, extendable projection screens, sound systems, etc., as well as appropriate design elements. As the general contractor, the only things that we outsource are cabinet maker tasks and paint work."
Facilitating decision making
Then the concrete project draft comes directly from Solid Edge. "We create a weight balance, decide on a frame of aluminum or steel, select the axles and distribute the axle load," says Tunger. "Then we start with material selection of the box body. Finally, the components for the special equipment are added. As soon as this is defined, it is possible to deter - mine an energy balance."
Drawings of the floor plans and views in 2D are provided with the quotation. In addition, customers get a 3D PDF that has also been generated using Solid Edge. Within this file the customer can virtually view the project from all sides, wander through the project, zoom in and make comments. This is an important instrument for the internal presentation of the project, which is made to the customer's decision-making bodies. Frequently, these decision-making bodies include people who are less well-versed technically; however, with the Solid Edge drafts these people can get a precise idea of the design of the vehicle.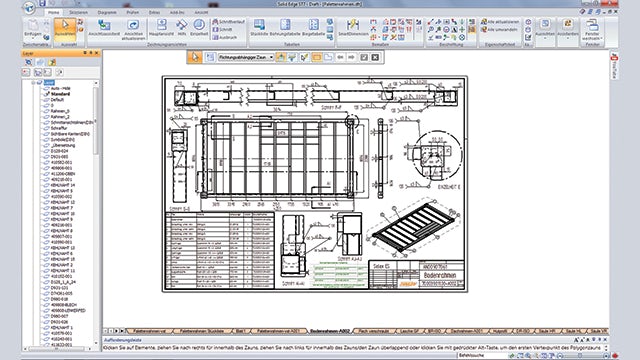 Designing and manufacturing in parallel
As soon as an approval is issued, the detailed design starts. Interestingly, this occurs virtually in parallel with manufacturing. Tunger explains, "Due to the predominantly tight schedules, we design in a manner that accompanies manufacturing with a slight time offset, with a small lead relative to production. Since the draft has already been made in Solid Edge, we have the most important parameters. We start with the frame as the basic construction element. For this we use profiles developed in-house that are protected by copyright.
"In spite of their relatively low weight, these profiles can withstand high loads, and they are extremely strong and rigid. In this area the frame construction functions that are already included in Solid Edge are very helpful. In addition, we have created a separate profile database. Thus these tasks move forward quickly, safely and without error. The sheet metal parts are created in 3D with the Solid Edge sheet metal function. From these designs the cuts for laser-edge and beveled parts can be promptly derived. We manufacture special forms for ornamental elements ourselves from glass fiber reinforced plastic according to the Solid Edge specifications."
Importing modules and standards
The data for towing vehicles is made available by the manufacturer in a neutral data format, such as STEP or DXF. Import into the actual Solid Edge design is executed without problems and is always correct relative to the manufacturer's original file. The same applies for the other purchased modules, such as axles and drive motors. For a large car dealership that offers quick checks with a mobile promotion workshop in front of shopping centers, a complete vehicle test stand was imported into the Tunger design.
Smaller standard parts are entered via digital product catalogs, such as CADENAS and TraceParts. Even simple kinematic simulations are possible using Solid Edge Foundation, the standard version.
"We use the motor command and define a rotary motor or linear motor to see the effect of movement sequences," explains Tunger. "The most frequently used functions include mirroring and duplicating elements, the frame and welding design, surface modeling, screw fittings, as well as the view overwrite, rendering and textures. In the future we want to intensify our use of the tools available in Solid Edge for design analyses of finite element method calculations. However, to do this, we must first schedule some free time for the training."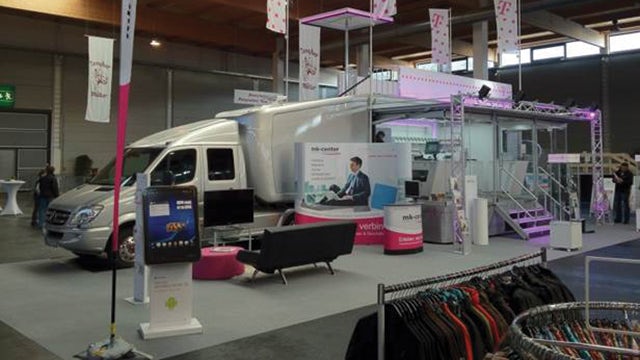 High design productivity
For an enterprise with 14 employees, which is somewhat small given the size of its customers and scope of the projects, the time factor and the productivity of a designer are particularly significant. Consequently, right from the start Tunger has been excited about how easy it is for his personnel to become proficient with Solid Edge.
"We recently hired a young designer who learned the basics of our CAD system within a few days," says Tunger. "Again the decision for Siemens Digital Industries Software and ISAP AG as implementation partner was shown to be absolutely right. This is the only way we can meet the high requirements of our customers and always deliver top quality and unique vehicles on time."