Case Study
Using advanced rotor dynamic simulations to improve gas power turbine design efficiency
Siemens Energy uses Simcenter 3D to optimize rotor dynamics while maintaining safety standards
Siemens Energy
Siemens Energy is one of the world's leading energy technology companies. With its portfolio of products, solutions and services, Siemens Energy covers almost the entire energy value chain – from power generation and transmission to storage. One-sixth of the global electricity generation is based on Siemens Energy technology.
https://www.siemens-energy.com/global/en.html
Headquarters:

Munich, Germany

Products:

Simcenter 3D Software, Simcenter Products

Industry Sector:

Energy & utilities
Using the latest simulation technologies
Siemens Energy helps customers to meet growing power demands while at the same time protecting the climate. The company develops a range of innovative solutions that accelerate decarbonization not only by transitioning toward renewable energy, but also facilitating low-emission use of more traditional fuels.
As part of this drive toward greener power, Dr. Zhiqiang (David) Meng, technical specialist, and Richard Bluck, head of the compressor rotor group at Siemens Energy, developed a new gas power turbine concept featuring a lighter structure with more efficient low-blockage struts. This disrupted the rotor dynamic behavior so it was necessary to use the latest simulation technologies to achieve full optimization.
To help meet these challenges, Siemens Energy chose Simcenter™ 3D Rotor Dynamics software, part of the Siemens Xcelerator business platform of software, hardware and services. Using Simcenter 3D made it easier for Siemens Energy to share models with other teams and make design changes more rapidly while completing the overall product based on precise simulation.
Meeting rotor dynamic performance challenges
With a heavy and thick stator design, the effect of structural support and stiffness can be neglected or represented as a constant stiffness in a rotor dynamic design. A slimmer and lighter design was key to improving the aerodynamic performance and cost. However, this results in a more flexible structure that could compromise the operational margin of critical speeds and stability.
Siemens Energy needed to carry out detailed simulations to prove the operational safety and efficiency of the new turbine design and ensure that it complied with American Petroleum Institute (API) standards. To do this, it was necessary to compute the critical rotational speeds of the system and identify the frequencies at which resonance occurred. For safe operation, this resonance must be avoided or limited as much as possible so there is no damage.
The rotor dynamics are only one part of the overall system, so they must be integrated with other elements to ensure the operation runs as expected when the complete model is assembled. Previously, Siemens Energy was using different simulation tools in various departments, so integrating the separate models was both challenging and time-consuming, making it difficult to reach the optimum design within a reasonable period.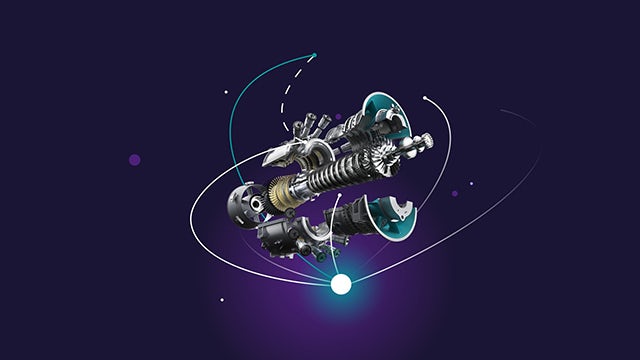 An integrated solution
Meng and Bluck chose to switch to Simcenter™ 3D Rotor Dynamics software because it could support all the necessary calculations while enabling easier, faster and precise collaboration with other teams.
The software enabled them to identify resonance frequencies and simulate amplitude vibrations. Using a component mode synthesis (CMS) super-element enabled them to simulate several model reduction possibilities that decreased the number of degrees-of-freedom (DOF) of the finite element (FE) rotor dynamic design for maintaining safe operation.
Using the FE simulated frequency response function (FRF) data, Meng and Bluck modeled the dynamic stiffness of the spoke frame stator to represent flexible structure support independent of the rotor. They also used 2D Fourier multi-harmonic axisymmetric modeling of the rotor and 3D FE modeling of the stator to create a full FE model of both parts. With CMS-based super-element modal reduction, this full FE model was developed for a rotor dynamic design of a new power turbine (PT) with high fidelity and fast computation. The two methods were then cross-validated to ensure their accuracy.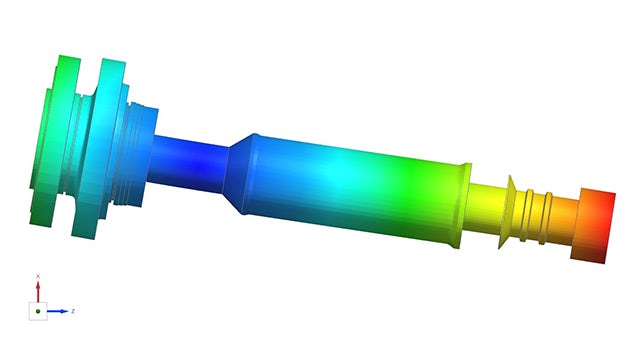 Mode of power turbine rotor.
Improved efficiency and faster development
The rotor dynamic analysis of the combined rotor and stator model showed that with the lighter and slimmer spoke frame, the power turbine still met all API requirements while delivering both cost and performance benefits. The use of the super-element model meant that each simulation could be completed in just two minutes compared to 235 minutes when it was not used, a reduction of over 99 percent.
The adoption of Simcenter 3D led to the successful verification of a more efficient gas power turbine design much faster than would have been previously possible. Not only were Meng and Bluck able to make new and better calculations, but they were also able to seamlessly share models with other teams, streamlining the process of integrating the new stator support structure design with the complete power turbine. "Using Simcenter 3D Rotor Dynamics made it much easier to share models with other teams," explains Meng. "We were able to make design changes much quicker and finish the overall product based on accurate simulation."
By working closely with engineers from Siemens Digital Industries Software, the design team were able to fully understand the capabilities of Simcenter 3D Rotor Dynamics and prepare highly accurate simulations. Experts were also always available to provide support with the entirety of the Simcenter 3D solution and for specific rotor dynamics calculations. "Siemens Digital Industries Software support was fantastic throughout the project," says Bluck. "Not only did they help us get started with a new product, but they provided expertise whenever we needed it."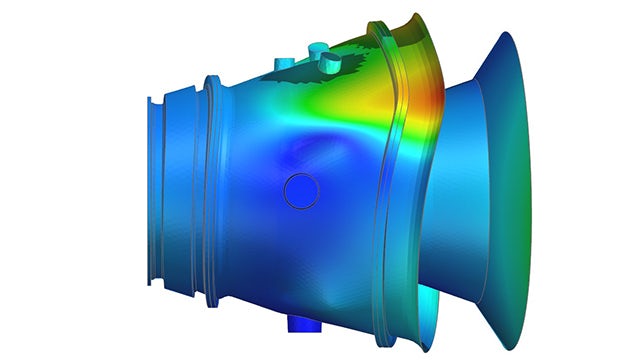 Interaction mode of stator.
A dynamic future
As part of the project, 20 engineers at Siemens Energy have been trained in Simcenter 3D Rotor Dynamics. This not only helps with their work on rotor dynamics but also other engineering projects. Now that they are familiar with the Simcenter 3D user environment they can more easily transfer their skills to other Simcenter 3D packages that are used in the organization.
It is also a big advantage if the rotor dynamics team needs to bring in additional engineers to work on a particular project. Previously, it would have taken too long for them to get up to speed on the simulation solution to make it worthwhile. Now as more engineers become familiar with Simcenter 3D, they don't need to learn a new package because the overall environment is the same. They only need to learn the functionality that is specific to rotor dynamics, which can be picked up much more quickly.
As Siemens Energy increases its use of Simcenter 3D, the company will continue to realize more benefits as it develops a more dynamic and agile team. The company expects to benefit from the increased ability of engineers to collaborate more easily, enabling them to seamlessly shift between projects. Ultimately, using Simcenter 3D will help deliver even better products faster, enabling customers to meet their efficiency and decarbonization targets sooner.