Case Study
Simcenter Flomaster helps reduce engineering effort from months to minutes
SNERDI integrates CAD and CAE to optimize workflows for holistic fluid systems design and engineering
Shanghai Nuclear Engineering Research and Design Institute
Shanghai Nuclear Engineering Research and Design Institute offers engineering services, including engineering design, contracting, project consulting, equipment research, equipment procurement, and technology development services.
https://www.snerdi.com.cn/
Headquarters:

Shanghai, China

Products:

Simcenter Products, Simcenter Flomaster

Industry Sector:

Energy & utilities
Leading the way in digitalization
Digitalization offers significant opportunities to improve technical and business processes for industries working with large and complex piping systems. Although new technologies are being introduced at a rapid pace, the traditional requirements of safety and compliance remain very much unchanged. The innovation driven by new technologies is often constrained by these non-negotiable requirements, particularly in the nuclear industry.
The Shanghai Nuclear Engineering Research and Design Institute (SNERDI) is leading the way in implementing the next step in digitalization by bridging the gap between computer-aided design (CAD) and computer-aided engineering (CAE). The use of modeling and simulation in the early engineering phase is growing. One significant step forward for SNERDI was embedding Simcenter™ Flomaster™ software, the leading solution for thermo-fluid analyses, within its plant design CAD environment, which typically includes 3D plant layouts, process flow diagrams, and process and instrumentation diagrams (P&IDs). Simcenter Flomaster is part of the Siemens Xcelerator business platform of software, hardware and services.
Integrating design and analysis
Integration of analysis in the design phase reduces precious engineering hours that are spent on CAE model creation. Because effort has already been expended to create piping systems in the plant design environment, traditional design/analysis workflows highlight the inadequate utilization of resources in creating CAE models for simulation. This underlines an industry-wide need for a continuous and connected digital thread that streamlines workflows and forms the basis for innovation in the nuclear and plant and process industry.
SNERDI uses Simcenter Flomaster software to design and analyze multiple process systems for nuclear power plants. The design workflow includes selecting the right equipment and analyzing multiple pipe and equipment arrangements to optimize designs for both safety and efficiency.
The traditional modeling approach (Figure 1) requires inputs from system flowcharts and pipeline isometrics to create the network schematic. System flowcharts and piping isometrics are created by assembling various components in the desired order and adding relevant geometric and performance data to each. This approach is typical of most CAE tools that are designed to operate independently of the CAD system.
In addition to geometric drawing or routing layout modeling, designers must also understand the implications of their choices on performance and safety. The purpose of CAE is to optimize and improve the design based on its performance and function.
Industry is moving beyond the traditional workflows to a more integrated approach that leverages digital data and models. Seamless integration of analysis into the design process is key to realizing the full potential of CAE. Simcenter Flomaster supports full product line development via its application programming interfaces (APIs), which were used by SNERDI engineers to integrate CAE into a seamless single interface within its design environment (Figure 2). The application developed by SNERDI is called AutoFM and automatically creates flow analysis models from process and instrumentation diagrams (P&IDs) and 3D plant models.
3D system modeling
SNERDI engineers created a process system model of the company's CAP1400 reactor vessel (Figure 3) that includes P&IDs and 3D piping model created with SNERDI's dedicated P&ID system design software (Intergraph Smart P&ID) and 3D plant factory modeling software, (Intergraph PDS/Smart 3D). A model repository with information on mapping objects in the design environment to equivalent Simcenter Flomaster models and metadata (e.g. pipe classes) was created, providing all building blocks necessary to develop the interface tool AutoFM.
Automatic creation of analysis models
At SNERDI, simulation data is managed centrally – clients connect to a central server and relevant simulation data is stored in the same repository. Figure 4 illustrates in detail not only how the central data server hosts the structured query language (SQL) databases needed by Simcenter Flomaster for simulation but also acts as "an interface with the general repository of relevant data."
The mapping schema and sequence of component connections derived from the P&ID (Figure 5) are used to create a Flomaster dynamic network assembly (FMDNA) file required by the Simcenter Flomaster command line interface. Using the open page connector tags, users can collate multiple pages of process flows and identify appropriate process streams. The custom AutoFM plug-in is then called from within the CAD environment (Figure 6) and automatically selects multiple process streams and system boundaries. A simplified drop-down enables users to designate the boundary either as pressure or flow and to set appropriate values.
Creation of the fluid system model is fully automated with placeholders for component-specific data like pipe length and diameter, and direct transfer of geometric information including T-junction angles and nozzle dimensions. This minimizes any manual intervention, and the automated setup is ready with all data validated by tight tolerance settings to provide valuable information on the system's performance characteristics (Figure 7). Data can then be exchanged in both directions creating a strong digital thread that connects Simcenter Flomaster and the plant design CAD tools.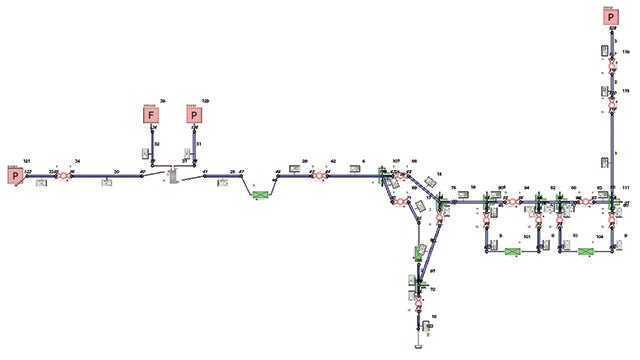 Benefits of integrated design
As a result of the implementation of this CAD-Simcenter Flomaster interface, all components and their dimensions are synchronized with the 3D models. The interface supports multi-dimensional modeling, such as interdisciplinary systems modeling and process and pipeline modeling. To implement this capability, SNERDI developed a complete model mapping database with methods to process breakpoints with tolerance checks for connectivity, component detection, and model verification. A database for process equipment such as pumps and valves was also integrated as a part of the developed functionality. This enables users to directly invoke Simcenter Flomaster from within the design interface.
In the conceptual design stage, design model changes are frequently caused by process changes. The AutoFM tool can quickly create a simulation model, provide a reference for the design based on Simcenter Flomaster calculation results, and evaluate the solution more accurately. The integrated CAD and CAE approach enabled SNERDI to reduce engineering changes by about 50 percent.
At the detailed design stage, SNERDI project teams use Simcenter Flomaster to verify the resistance of the piping system and calculate the pressure changes in pipelines, tees, elbows, and other pipe fittings. Combining P&IDs and 3D models, the automatic creation of fluid network models improves modeling efficiency. For nuclear power plant systems, automated modeling can be completed in significantly shorter time cycles in a matter of hours and minutes as compared to multiple days or even months of tedious engineering effort.
"The application we developed improves work efficiency and model accuracy and also gives rise to new requirements," says Lin Chao, department of process systems at SNERDI. "In the case of larger systems, the effort is reduced from a few months to a few minutes. The larger the system and the number of components, the higher the return on investment."