Case Study
Using Mastertrim and NX to reduce seat-pattern development time by 40 percent
<div >SCS Interiors improves the timeliness and accuracy of the customer quoting process</div>
SCS Interiors
SCS Interiors was established in 1989 and is a family-owned upholstery manufacturing company based in Duluth, Minnesota. Using the latest digital technology and lean manufacturing principles, SCS Interiors specializes in designing and producing interiors for clients in the aerospace, commercial and transportation industries.
https://scs-interiors.com
Headquarters:

Duluth, Minnesota, United States

Products:

NX, Mastertrim SDE

Industry Sector:

Aerospace & defense, Automotive & transportation, Marine
Seeking to grow the business
SCS Interiors was established in 1989 and is a family-owned upholstery manufacturing company based in Duluth, Minnesota. Using the latest digital technology and lean manufacturing principles, SCS Interiors specializes in designing and producing interiors for clients in the aerospace, commercial and transportation industries.
SCS Interiors decided to make the move from manual to digital processes seeking to shorten time-to-market for their products, decrease costs associated with foam and upholstery product lines and increase throughput and quality so they could grow the business.
Previously, the firm's upholstery process was comprised of manual prototyping, patterning and reverse engineering of foam and upholstery.
"The process for seat foam and trim development was entirely manual and time-consuming so it was extremely costly, slowing time-to-market and limiting growth opportunities," says Mike Hudyma, president and cofounder of SCS Interiors. "We wanted to increase profitability, reduce development costs and grow revenue by being able to take on new business."
Engineering seat cushions and coverings is essentially prototype-build and reverse-engineering based. Deliverables for foam suppliers are manual and time-consuming to develop due to the reverse engineering design (CAD) and then drawing development. Trim engineering is also prototype and reverse-engineering based, resulting in multiple prototype development challenges, including modifications. Both aspects impact time-to-market, cost and limit growth opportunities.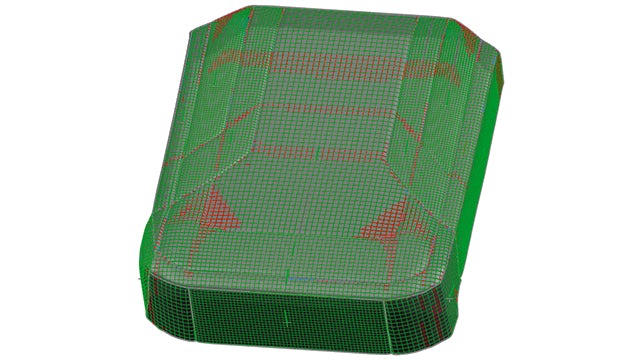 Supporting automation
To meet this challenge, SCS Interiors moved to a digital product development process by implementing NX™ software and the Mastertrim™ portfolio. These tools support the automated design and manufacturing of foam and upholstery and enables digital product development and manufacturing while maintaining the digital thread on a single platform. These tools have helped SCS Interiors reduce seat pattern development time by 40 percent.
They are part of the Siemens Xcelerator business platform of software, harware and services.
"It's absolutely crucial to be able to design in the virtual world and show your customers high-quality images that you can back up and make," says Hudyma. "We're still pretty excited about what Mastertrim has done for us and what it can do in the future."
SCS Interiors uses Siemens technology to its advantage by designing the seat trim outline (the stylized surface of the seat) and foam with NX and the upholstery with Mastertrim. They develop foam drawings for different suppliers with NX and seat trim documentation/drawings with Mastertrim. Mastertrim is used to generate and optimize the cut pieces for manufacturing the upholstery for automated nesting and cutting systems. Mastertrim is also used to generate the sewing instructions for in-house manufacturing of the upholstery.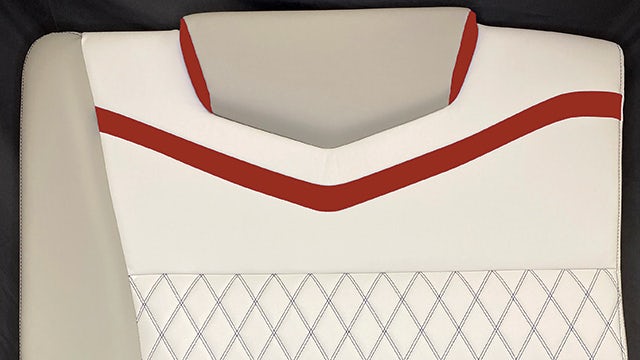 The value of going to digital
SCS believes going from manual to 3D has had an enormous impact on the business: "It saved at least 20 hours of pattern making with physical paper patterns and transferring those patterns, cut files and verifying and installing and sight marks," says Hudyma. "In our industry, hitting your pattern's sight marks is key for sewing personnel's success. So that is also something this product is really is good at; not only the ability to put in sight marks but also the ability to change them if they don't hit exactly where you want."
Justin Quetico, SCS Interior's lead designer, figures going from manual to 3D reduces project time by at least 30 percent, and "smoothly" transitioning to using Mastertrim and NX also significantly improved quality.
"The biggest thing is you're removing the step to take the labor time of transferring a pattern from paper to a pattern to CAD so your cutter can cut the file for your automated CNC machine," says Hudyma. "So you're taking out some of the errors that can happen as the CAD drawer (tech or drafter) is wanting to turn a radius into a number. As a result, the time between revolutions is greatly reduced. The time between assessing the fit and finish is where your real progress is realized.
SCS also found NX and Mastertrim enhanced their ability to be responsive to customer needs. If the customer comes to them with an original plan and then needs to make adjustments, SCS is able to accommodate changes.
"Now that you have a seat cover that fits your foam design, it's just a matter of playing with those shapes to achieve the customer's desire," says Hudyma. "It's like painting a car a different color. It's the same car underneath, but you just changed the color or wrapping. So yes, absolutely, that's made us more responsive and that is really key for our customers."
It also significantly helps with costing when they are going back to a customer with a proposal, although that is less significant than being able to deliver the finished product quickly: "When you're working with an existing customer, they're just leaning on you to create a unique design at the lowest possible cost so they can show that to their customer," says Hudyma. "And mostly what matters to them is, can they get it in the timeframe they want? They're not pressing you so much on price, but can they have this custom thing in a month-and-a-half? They want it quickly and they want innovation."
SCS Interiors has also been pleased with the quality of the flat patterns.
"We had a boat project last spring and I was pretty impressed with the results," says Quetico. "Some of the cushions had a little more complexity to them. Some were just a rectangle with a couple of design stripes in them. I think several of those cushions with complex shapes were ready to go on the first try."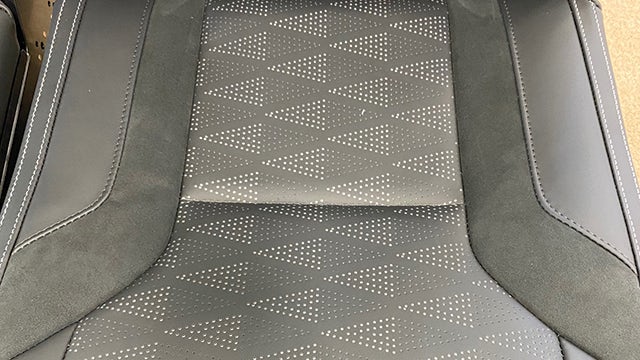 A changing industry
The seat trim business has been undergoing serious changes and Mastertrim enables companies like SCS Interiors to seamlessly adjust to those changes.
"Upholstery as a whole and as a trade is struggling because there's not many places that are teaching kids about it," says Hudmya. "A lot of times upholstery is learned from either a family member, or you were immersed in it and you enjoyed it and you maybe took over a business that you learned from somebody else."
"From a workforce development stand-point, specifically recruiting and retention, finding people that can design and pattern by hand is harder every day," says Kayla Dietzmann, director of human resources and marketing. "So if you had a novice try to do this, it would take even longer, which is why the Mastertrim technology is essential."
"Now you can use Mastertrim," says Hudyma. "So, for instance Justin (Quetico) suddenly becomes not only a designer, but he's learning to take his ideas and put them on seat trim outlines and then sew them out. He's been able to use his creative, artistic side to basically become an upholsterer. And he can give it to a trained sewer and they can get that design out and give a presentable product to our customers."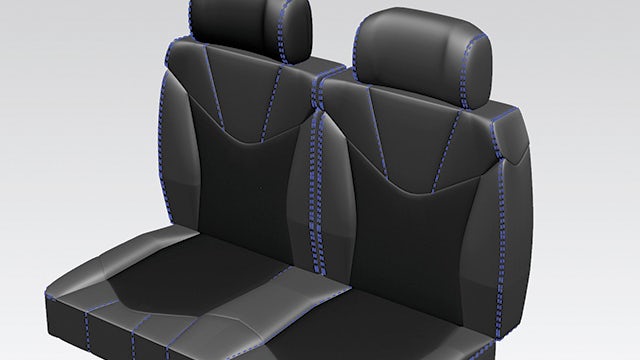 Predicting issues
SCS Interiors has found the producibility simulation in Mastertrim particularly useful since it enables them to predict areas that might wrinkle or stretch and enables them to make changes or account for that in the manufacturing process.
"That's one of the beauties of Mastertrim," says Quetico. "You can fix problems before you even make that first flat pattern. Where maybe it doesn't pick up every single issue that you may run into, it does a real good job with the bad problem areas. Some things you just don't know until you sew it up. Overall it does a good job.
Hudyma appreciates that: "Mastertrim is a product that we're going to use to keep furthering our business into the future."