Case Study
Award-winning vehicle manufacturer cuts cycle time by 80 percent with help of NX
Siemens Digital Industries Software solution helps Sanyang engineers focus on creating value
Sanyang
Sanyang manufactures and sells motorcycles and automobiles. Founded in 1954, it is the only enterprise in Taiwan that manufactures both kinds of vehicles. It also produces all-terrain vehicles, scooters and motorcycle engine components, including pistons, cylinders, crankshaft components, cylinder heads, mission gears and crankcases.
http://www.sanyang.com.tw
Headquarters:

Hsinchu, Taiwan

Products:

NX

Industry Sector:

Automotive & transportation
Enhancing modeling efficiency
Sanyang Industry Co., Ltd. (Sanyang), founded in 1954, is the sole international enterprise in Taiwan that manufactures both motorcycles and automobiles. Sanyang makes the much-decorated SYM motorcycle brand, and is a strategic partner of Hyundai, providing the automaker with a wide variety of parts for its worldwide markets.
By embracing continuous innovation and development of advanced engines, Sanyang has garnered numerous awards for its SYM brand. In 2011 alone, SYM won the title of best brand in the scooter category in Germany, won the Korea Minimoto Race Championship (KMRC), and was named the best maxi scooter by the Brazilian press. The latest SYM T2 model was awarded the Taiwan excellence award and was named the product of the year in Brazil.
Since the comfort of riding a motorcycle mainly depends on keeping the level of vibration as low as possible, the quality of the crankshaft and balance shaft plays a central role in determining the comfort factor. By using successive generations of NX™ software from product lifecycle management (PLM) specialist Siemens Digital Industries Software, Sanyang has significantly improved the company's modeling efficiency for such parts.
Normally when designing these two parts, engineers establish an inertial force and bring the parametric functionality of the modeling tool into play. The intuitive interface of the NX system enables SYM designers to indicate dimensions simply by "dragging-and-dropping," thereby saving a significant amount of time.
"NX has powerful parametric capabilities," says Wu Fangchen, supervisor of the engine design section in the Sanyang research and design (R&D) center. "It's especially valuable for helping us build curved surfaces. Since there is no need for 2D drafting now, we can see a crankshaft with inertial force in about half an hour by directly viewing the 3D drawing using NX."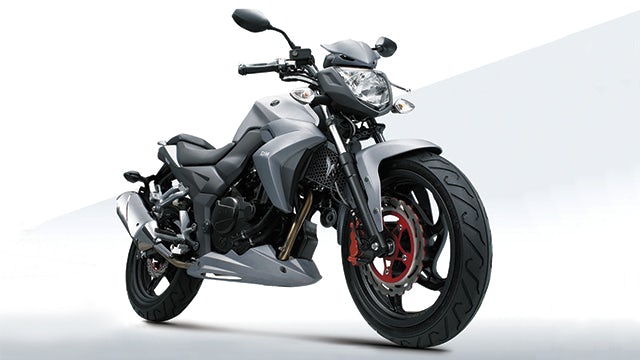 "Using NX to great advantage"
Sanyang's two-wheel business focuses on the design and development of engines and relevant parts for common motorcycles and electric motorcycles. The design process is divided into three stages: 2D design, 3D modeling and computer-aided engineering (CAE) strength analysis. Sanyang uses NX for 3D modeling.
"We've been using NX to great advantage for quite a while," says Chiu Henry, director of the SYM R&D Center. "It's our most important 3D modeling tool, and has improved our modeling efficiency in critical parts, such as the crankshaft and balance shaft."
"Chamfer processing is also a strong point of NX," says Fangchen. "In the past, after the chamfer calculation, we had to do computations to check the accuracy, and then had to turn it back if the result didn't fit. Failed attempts could easily cost us several hours. But with NX, we can see whether the parametric indications are correct or not in just five seconds, which represents a great improvement in efficiency."
"Originally, when we made chamfers and indicated dimensions without the guidance of senior engineers, it would take a day to do the work with inexperienced engineers," says Wu Chunhsien, chief researcher of the engine design section R&D center at Sanyang. "But now as the intuitive interface enables an easy drag-and-drop view, they not only avoid many failed attempts, but also achieve a better and faster result."
Shortening the design cycle
NX model files are compatible with other non-Siemens Digital Industries Software CAE software, which means there are no disruptions when conducting strength analysis. Sanyang relies heavily on the 3D modeling capability of NX, which actually increases the efficiency of the whole design process.
"It used to take us two to three days to create a 3D model, but that has been reduced by about two hours with NX", says Chunhsien. "NX gives us the best utilization experience. It has an intuitive operating interface, powerful parametric functionality and even more diversified colors. All in all, it works very well for us."
In addition to 3D modeling, Sanyang's internal small-sized machine tool factory also uses NX files and data to deal with machining tasks, such as molding, casting and founding at subsequent computeraided manufacturing (CAM) stages.
As an example of the effectiveness of NX, consider the change SYM experienced in the crankshaft connecting rod design cycle. With traditional processes, a cycle lasted for 10 days, including 2D design (one day), 3D modeling (two days), and CAE strength analysis (seven days). If the results were not satisfactory and it needed to be modified, the 10-day cycle would have to start over again. However, with NX, while 2D design still requires one day, 3D modeling only takes an hour and the CAE strength analysis takes just one day. "Now to improve the strength analysis results, we only need two days to make modifications, which is approximately five times faster than the traditional design process," says Wu. "In other words, we are creating better designs in less time, technically embedding more selling points in new vehicles."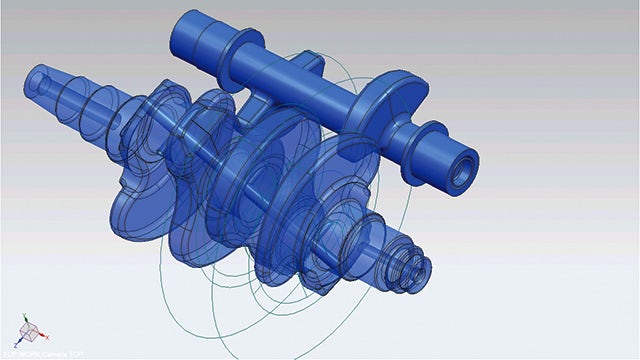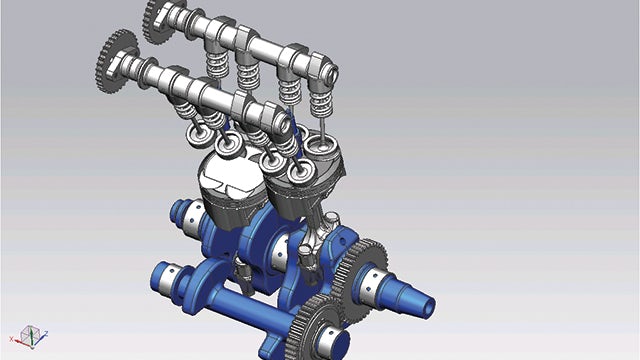 More time for creating value
"Our job is to create value and develop best-selling products, freeing highly educated design engineers from time-consuming, boring tasks," says Wang Deshan, technology manager of the development office in the R&D Center at Sanyang. "We spend a lot of time and effort to pursue innovative research and design, so it's especially important that we seek the best solution possible to eliminate any wasted time.
"The enhanced functionality of NX to deal with details such as the chamfers enables us to eliminate wasted time on simple tasks, which allows us more time for innovative design so we can create higher value."
By using NX, the SYM R&D Center also enhances its ability to handle urgent tasks for overseas factories. In the past, if the center received an order from some overseas factory to make a matching crankshaft, and the factory asked for the 2D drawing and 3D model drawing before the day ended, it would be very hard to calculate the corner radii with the older version within the limited time and, in turn, the production line could not proceed with manufacturing without the corner radii.
"Now we can make design and model drawings in a more timely and efficient way," says Henry. "Using NX, not only are we reducing the time needed for design tasks, but we're also increasing the product value. We're able to launch new products faster, thus maintaining our strong competitiveness in marketing and sales."