Case Study
Baking equipment manufacturer uses Solid Edge for faster, easier product design
Sanneng cooks up innovative offerings with Siemens Digital Industries Software solutions
Sanneng
Sanneng Bakeware Corporation specializes in making baking trays, multilink cake molds, loaf pans, trolleys, mousse rings, whisk/ mixing bowls, pie/pizza pans, and other product series with a customer base spreading across Asia. It launched a new knife brand in 2017 targeted at mid- and high-end markets.
http://www.wxsanneng.com/
Headquarters:

Taichung City, Taiwan

Products:

Solid Edge

Industry Sector:

Consumer products & retail
Bakeware giant pursues sustainability
Established in 1982, the Sanneng Group (Sanneng) has developed up to 2,000 different baking products, including baking trays, multilink cake molds, loaf pans, trolleys, mousse rings, whisking/mixing bowls and pie/pizza pans. Sanneng accounts for 70 percent of Taiwan's baking equipment market. In addition, Sanneng products comprise nearly 50 percent of China's bakeware equipment market.
With annual sales of baking trays in Taiwan and China reaching 1.6 million units, Sanneng is expanding its production lines to meet market demand while continuing to develop new products. In addition to standard products, it also accepts customization orders.
In 2017, Sanneng created a research and development (R&D) center. Upon introducing Siemens Digital Industries Software's Solid Edge® software 3D modeling system, the newly established center creates 3D designs and invests in new materials research, new manufacturing processes and new product series in keeping with the company's vision for sustainable development.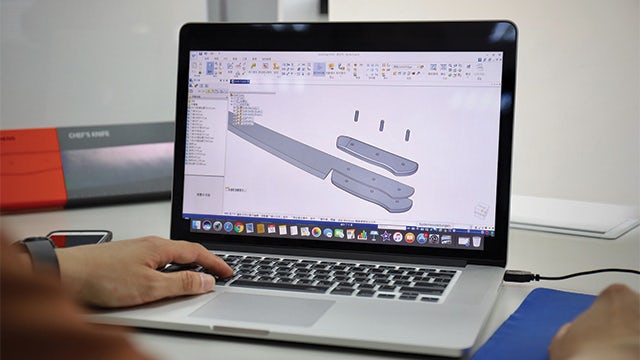 Synchronous technology enables quick proofing
The R&D center is an important arm of Sanneng, as it introduces 3D design to convert design-related components and modules into a 3D model library. This project is especially helpful for customized orders, which often have unusual specifications and are expected to be fulfilled quickly. By using modules from the library, the company improves design efficiency and saves time on repeat designs.
While using Solid Edge, Sanneng quickly understood the benefits of Solid Edge capabilities, including direct modeling with synchronous technology and sheet metal design. Cheng Yuanhaw, an engineer at Sanneng's R&D center, says that the sheet metal design tools interface not only with onsite systems but also with R&D department systems. Sanneng now uses Solid Edge to handle any issues virtually as well as on real production lines.
"Solid Edge's sheet metal module can interface with systems at the production facility and the R&D department, allowing us to smoothly handle issues encountered virtually or on production lines," says Cheng. "Synchronous modeling is different from sequential modeling in that it's not overly particular about revision principles, which helps make proofs more quickly for customization orders."
Before deploying Solid Edge, Sanneng was forced to use history-based modeling techniques because its previous design software did not include the direct modeling capabilities of Solid Edge synchronous technology. Now using Solid Edge, Sanneng finds that custom orders can be modeled and validated in a very short time. Dr. Derek Tsai, deputy director at Sanneng's R&D center, explains that synchronous modeling does not require knowledge of the sequence of steps used to create the model, which helps create quicker proofs.
"Unlike other design software, Solid Edge can be used by multiple computers without the need for additional network keys, regardless of which computer it is first installed in," says Tsai. "It can also be used through other network ports of the company. All in all, it makes it much easier for us to open drawings and documents for discussion when we are in a meeting room, in another department or at an outside location."
Improving communication of designs
The integration of Solid Edge and the KeyShot® 3D rendering technology also enables Sanneng to increase the efficiency of communication both internally and externally, which is especially valuable in fulfilling custom orders. For example, when bread factories order multilink loaf pans, the size of the production line and the gaps between conveyor belts must be aligned. These details can now be accurately visualized using 3D models thanks to Solid Edge.
"When we present a proposal to our customer, they can clearly see every design detail, and that makes communication more straightforward and much clearer," says Cheng. "In the past, we only had 2D drawings that required more interpretation and could easily lead to mutual misunderstanding. KeyShot also improves the communication efficiency between the company's design and manufacturing departments."
Different materials used to make the product also affect the final design. For example, when Sanneng was designing a lightweight multilink loaf pan to be made from a lower-cost aluminum alloy, the engineers had to consider the choices to be made in the manufacturing process. In addition, some customers require multilink models to be welded together to maximize the amount of loaves baked each time. In this case, the company uses 3D models to view the effect of different ways of welding, making adjustments and finally determining the optimal way to weld each loaf pan together.
Thanks to Solid Edge, Sanneng successfully finished this project. Originally, the customer had their own computer-aided design (CAD) software that could create only surface geometry, and the original software product failed to adjust the base angle accurately, resulting in products that could not be stacked as tightly and highly as expected. The customer asked Sanneng to help solve the problem.
One of the reasons Sanneng chose Solid Edge is that it supports multiple file formats and can readily read CAD files in neutral exchange formats or the formats of other systems. "With Solid Edge we could read the customer's CAD files directly and successfully completed the project with surface and rendering functions," says Cheng.
In addition, Sanneng also used the KeyShot rendering functions to help a Chinese fast-food chain create trays with curved bases for convenient stacking and storage. "When rectangular trays are placed on top of one another, they tend to tilt or collapse, but with trays that have curved bottoms, we could easily stack them on top of each other like shopping baskets," says Cheng.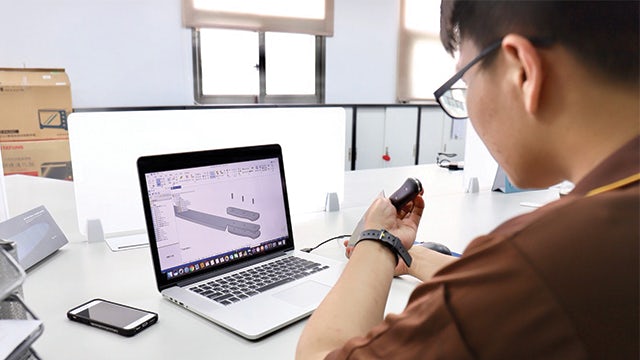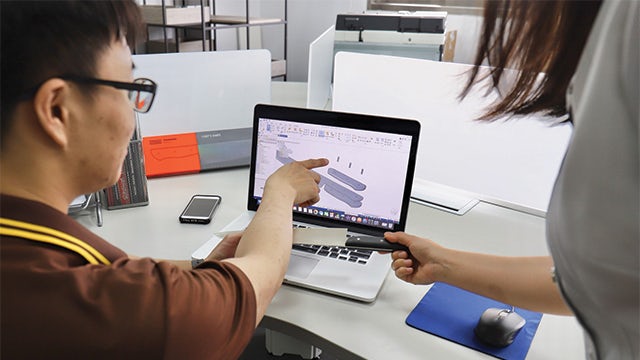 Knife specially designed for mid- and high-end markets
Sanneng primarily uses sales channels, with retail bakeware and cookware stores as its main customers. They also undertake customization projects throughout Taiwan, including large restaurant, supermarket, coffee shop and fast-food chains.
Currently, the R&D department and R&D centers at Sanneng have different responsibilities and collaborate with each other. "The R&D department is responsible for designing customized products," says Cheng. "However, since our R&D center is better at 3D design, when it comes to urgent cases, they work together. The multilink loaf pan is an example of this."
In 2018, Sanneng created a new brand called Sanneng Premium, the first work of which is a steel chef knife. The knives are designed to sell at medium and high price points, and the most expensive one costs almost $600. Development engineers in the R&D center used Solid Edge to make the design and took into careful consideration all details, including handle ergonomics, titanium coating and antibacterial treatment.
"Although these knives are very simple, the process of making them is far from easy," says Cheng. "We studied it and held discussions with invited chefs and the manufacturing department."