Case Study
A leading Thai automotive supplier, Sammitr reduces average project cost by more than 50 percent using Tecnomatix
Manufacturing process management software enables company to improve production accuracy by 80 percent.
Sammitr Motors Manufacturing
Sammitr Motors Manufacturing is a leading one-stop logistics solutions provider serving the global automotive industry.
http://www.sammitr.com/en/about_us/about_us.aspx
Headquarters:

Bangkok, Thailand

Products:

Tecnomatix

Industry Sector:

Automotive & transportation
From OEM supplier to trusted brand name
Sammitr Motors Manufacturing Public Company Limited (Sammitr) began operations in 1967 as a producer of car and truck body parts, molds and fixtures. From its beginning as a supplier for small original equipment manufacturers (OEMs), the company has gradually expanded to accommodate the needs of customers across a range of related industries.
"Over the years, we evolved from a small OEM supplier and built a more diverse business model," says Wichan Chathirun, Sammitr's general manager of production in the technology department. "We eventually began to produce and distribute our own products under the Sammitr brand, and today the company has established itself as a leading supplier of parts for dump trucks, trailers, semi-trailers, specially designed trucks, steel canopies and accessories for pickup trucks."
He notes, "We have built up our business to a point where we now work with several major car manufacturers in a collaborative, value engineering and multisite engineering role. Sammitr Motors Manufacturing has a customer-focused business culture and long-standing partnerships with such major global car manufacturers as Toyota, Isuzu, Nissan and Honda.
"Our success starts and ends with happy customers, which is challenging because the needs of our customer base are constantly evolving. Siemens Digital Industries Software has been instrumental in helping us streamline our complex product design, engineering and manufacturing processes. Their innovative products have drastically boosted end-to-end efficiency and helped us maintain our reputation for consistently exceeding customer expectations."
Sammitr has been using the Tecnomatix® portfolio from product lifecycle management (PLM) provider Siemens Digital Industries Software to help increase planning productivity and optimize manufacturing capabilities. As the manufacturing process for the automotive industry grows increasingly more complex, automotive industry suppliers must leverage advanced, intuitive solutions that simplify and streamline the PLM process. "Siemens Digital Industries Software has definitely helped us become more competitive in an industry and market where many new players are emerging," says Chathirun.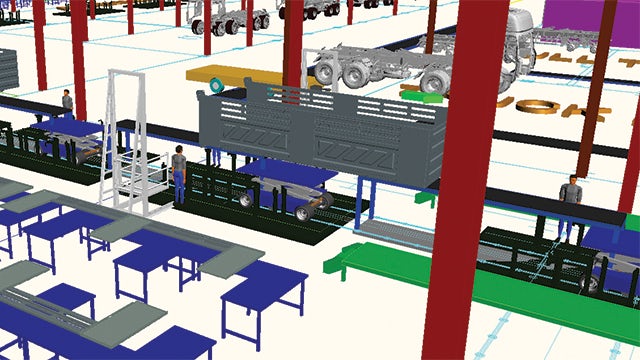 Realizing better planning, optimized productivity
Sammitr engineers kept running into the same challenge during projects: they were unable to make even the simplest of edits during the design process. If a problem occurred that required making a change, the design needed to be returned to the parent company. Recognizing that this was a huge waste of time and resources, the engineering department sought a solution that would boost productivity by improving access to key information and easing the ability for project stake- holders to collaborate effectively with one another. The company's engineers wanted to provide an environment in which designers weren't re-doing the same work and wasting time redesigning simple component parts over and over on successive projects.
With the introduction of computer- aided design/manufacturing/analysis (CAD/CAM/CAE) software for the production process, modern automotive equipment manufacturers must develop design and production processes that give them the ability to easily collaborate with the customers they serve, according to Chathirun. "Prior to using Tecnomatix, we used AutoCAD, but we found that our designers didn't have the ability to simulate the production line and weren't properly equipped with optimized production planning capabilities," he says. "We brought in Tecnomatix as a replacement and our production department immediately saw measurable dividends, because our engineering team was able to leverage it to simulate and design component parts that are relevant across our customer portfolio."
Using Tecnomatix, Sammitr helped customers such as Toyota by resolving small drafting tweaks and editing pieces such as molds and jigs internally rather than sending every minor change back to the customer for further work. This eliminated a persistent challenge that had affected the production team's ability to meet and satisfy customer needs.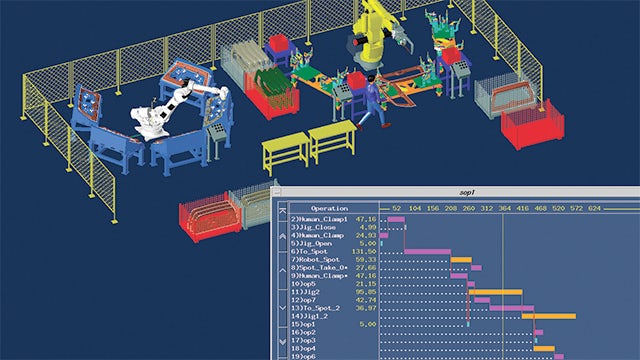 Leveraging program information to make smarter decisions
Tecnomatix is built on the open PLM foundation of Siemens Digital Industries Software's Teamcenter® software, providing a versatile set of manufacturing solutions. By using the Plant Simulation solution, Robcad™ software and FactoryCAD™ software, all in the Tecnomatix portfolio, Sammitr was able to forecast the cost of each product, analyze the cycle time in the production line and generate usage analysis. Upon adopting Tecnomatix, the company was able to quickly optimize resources and realized major productivity improvements.
"We needed a solution that would help us with process and strategic planning across the business, with an eye on both short- and long-term success," says Chathirun. "By using Tecnomatix, we were able to optimize entire production systems and put into place an intuitive process that produced faster, better-quality work and ultimately resulted in increased plant productivity."
Chathirun notes that the availability of program information at all levels of the enterprise – from executive to plant floor personnel – was crucial in helping the company shorten production schedules. By compressing the product and manufacturing cycle, Sammitr was able to further optimize productivity by applying the gained bandwidth of the engineering team and excess plant capacity towards more projects.
Sammitr has reduced the average cost of each project by more than 50 percent and significantly increased its ability to take on new projects and customers. Productivity is up. Sammitr has completed more than 15 projects in the past two years, and production accuracy has improved by more than 80 percent. These improvements have helped Sammitr deliver higher quality and value across the company's product portfolio, notably improving customer satisfaction and enhancing the company's strong market reputation.