Case Study
Simcenter supports civil aircraft verification and airworthiness certification
Siemens Digital Industries Software solution enables development and deployment of the first airworthiness certification in China
SAACC
Shanghai Aircraft Airworthiness Certification Center of CAAC was founded in 2007 after approval by the State Commission Office of Public Sectors Reform. It is a deputy-department public institution fully supported by national finance. It primarily provides technical support for airworthiness certification of civil aircraft items and is responsible for recognition and examination of overseas large aircraft models and a reliable strong part of China's civil aircraft airworthiness certification force. SAACC amends rules, studies topics, furthers technical depth, cultivates core technical strengths and provides technical support for guaranteeing civil aviation safety. It is responsible for certification of large firefighting/water-rescue amphibious aircraft and large aircraft including the COMAC C919 and for post-certification management of the COMAC ARJ21-700, a domestically made feeder liner.
Headquarters:

Shanghai, China

Products:

Simcenter 3D Software, Simcenter Products

Industry Sector:

Aerospace & defense
Airworthiness certification for large civil aircraft
For the aviation industry, safety is the issue of top priority. Any aircraft model must undergo and pass certification by a competent aircraft airworthiness certification authority and it is a precondition for commissioning the aircraft model.
Because of the high technical content of airworthiness certification work, only a few nations with strong aviation technologies have authoritative airworthiness certification institutions; these include the U.S. Federal Aviation Administration (FAA) and the European Aviation Safety Agency (EASA). In China, this important responsibility is borne by the Civil Airworthiness Certification Center under the Civil Aviation Administration of China (CAAC). The center has five certification institutions, including the Shanghai Aircraft Airworthiness Certification Center (SAACC) of CAAC, one of the earliest aircraft airworthiness certification bodies established in China. SAACC is responsible for airworthiness certification of all civil jet-propelled transportation aircraft, including Boeing, Airbus and other foreign aircraft models, before they enter the China market; for post-certification management of the qualification certificates for the domestically-made COMAC ARJ21-700; and for airworthiness certification of large fire-fighting/water-rescue amphibious aircraft and large aircraft such as the COMAC C919.
These responsibilities impose huge challenges for SAACC. These include how to define the airworthiness certification method and content of verification in a timely manner, considering the rapidly changing new technologies and increasingly complex application scenarios, and how to improve the efficiency and quality of airworthiness certification work while confirming safety. SAACC must also support and encourage aircraft makers to innovate various verification technologies.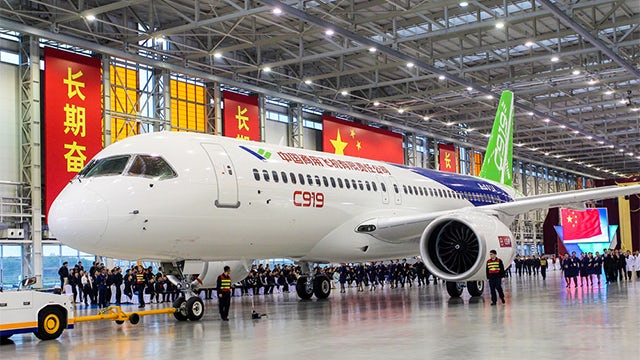 Engineering challenges
In the process of aircraft airworthiness certification, aircraft makers must provide supporting documents for different certification items, depending on the compliance verification methods specified by the airworthiness certification authorities. The following table lists general airworthiness compliance verification methods and corresponding documents required.
Airworthiness compliance verification methods
With respect to airworthiness certification of landing gear systems, past simulation means were not fully confirmed and demonstrated, so SAACC had to request applicants to adopt such verification methods as lab tests, ground tests, flight tests, and others. The entire verification process was costly and time-consuming. Most of the tests require close cooperation from aircraft makers and overseas suppliers, which typically incurs significant communication costs.
Landing gear system certification involves multiple disciplines, for example the aircraft's overall design, landing gear structure design, control system design, hydraulic transmission system design and is affected by various environmental factors (including tire and runway materials), so comprehensively judging the effects of such design factors and external environmental factors is an important component of landing gear airworthiness certification work. Considering such complex engineering issues, physical testing methods are limited. Simulation techniques must be used extensively to establish a complete and efficient parameterized analysis model and a compliance verification method based on analysis and calculation.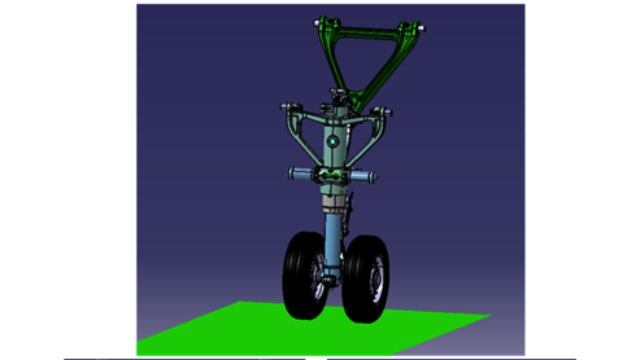 SAACC's choice
On the recommendations of several partners, in 2014 SAACC introduced motion simulation solution, part of the SimcenterTM portfolio from Siemens Digital Industries Software, as the key tool for solving problems.
With the professional technical support from Siemens Digital Industries Software, SAACC successfully established a rigidflexible multi-body dynamics simulation model for the landing gear system. The model is fully parameterized, so it can rapidly adjust the landing gear systems of different aircraft models, thus helping certification experts improve analysis verification and airworthiness judgment efficiency. The model also considers various complex design parameters and environmental parameters, which enables airworthiness certification experts to simulate conditions that are difficult to reproduce under many test conditions, thus significantly improving overall certification efficiency and confidence in examination work.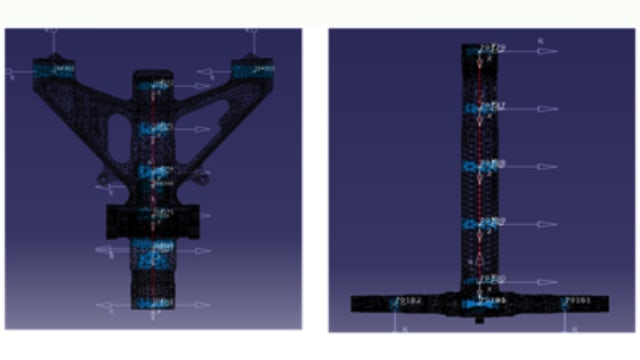 First airworthiness certification method developed in China
Using simulation, SAACC successfully developed a landing gear airworthiness compliance verification method based on analysis and calculation, and in 2016 successfully completed the "Research on Airliner Swing Vibration Airworthiness Certification Technology," which was the first airworthiness certification method developed in China.
With this method, SAACC successfully promotes the airworthiness compliance verification method for domestically-made large fire-fighting/water-rescue amphibious aircraft and large aircraft, and provides important guidelines for subsequent analysis and test verification of relevant items.
"Simcenter plays a key role in our research and development of the landing gear airworthiness means of compliance and in assisting our compliance findings." says Dr. He Xufei, landing gear airworthiness certification representative at SAACC. "Part of the case study and calculation work for this method was performed using this software. Its ease of use and reliability of calculation are the key factors we considered in making this choice. In the future we will also consider other simulation tools in Simcenter. We believe our cooperation with Siemens Digital Industries Software will greatly help us further improve airworthiness certification work efficiency and quality, help civil aircraft manufacturers innovate, achieve expected safety of new civil aircraft models, and secure safety of passengers."