Case Study
Leveraging a comprehensive digital twin to reduce new product introduction by over 40 percent
ROJ uses Opcenter and Valor manufacturing solutions to increase production efficiency by 20 percent
ROJ
ROJ focuses on research, development and production of electronics. The firm seeks to continuously improve quality, compliance, efficiency, safety and environmental impact. It is located in Biella, Italy.
http://www.roj.com/
Headquarters:

Biella, Italy

Products:

Opcenter, Electronics IOT, Opcenter Intelligence Electronics (Valor IoT Manufacturing Analytics Platform), Valor NPI, Valor, Valor Process Preparation

Industry Sector:

Electronics, Semiconductor devices
The customization challenge
For ROJ Srl (ROJ), Industry 4.0 is more than a buzzword – it's been a key part of the company's work plans for over a decade. Based in Italy, ROJ is a leading electronics designer and producer for automotive, telecom, and industrial verticals. Known for technological excellence and innovation, ROJ is a pioneer in moving toward a full Industry 4.0 operation. ROJ's goal is to create a fully automated factory that designs, engineers and manufactures cutting-edge electronics with minimal human intervention.
Like most electronics designers and manufacturers, in the early 2000s ROJ was challenged by increasingly high-mix, low-volume demand. Typically, the company received more than 150 orders a month, and lot sizes were small, averaging under 500 units, driving a need to configure and introduce new revisions to the market as quickly as possible. However, the manual new product introduction (NPI) process was extremely time-consuming and error-prone, making it difficult for the ROJ team to meet the growing demand.
"The only solution was digitalization," says Franco Oliaro, chief executive officer (CEO) of ROJ. "Quality and speed, that is the challenge. The world is moving to extreme customization. For mass customization, you definitely need digitalization."
ROJ weighed various options before choosing Valor™ Process Preparation software, which it began implementing in 2008 to address its engineering challenges. Using Valor Process Preparation enables ROJ to create a comprehensive twin for each step of the process. This allows them to examine the design and see how it fits the manufacturing capabilities and then create the work plan per each machine. Using Valor Process Preparation also eliminates the needs for "sticky tape," an old method of running production with one board, examining it, improving it, and then running the entire production. With Valor Process Preparation, the user can examine the production planning digitally. It uses the solution to simulate the manufacturing process, including all the machines and makes sure the process is properly defined for right-first-time manufacturing.
Alessandro Ballabio, production engineering manager, says, "Digitalization helps us to control the process and be quick and ready to change from one order to the other compared to programming the machine manually."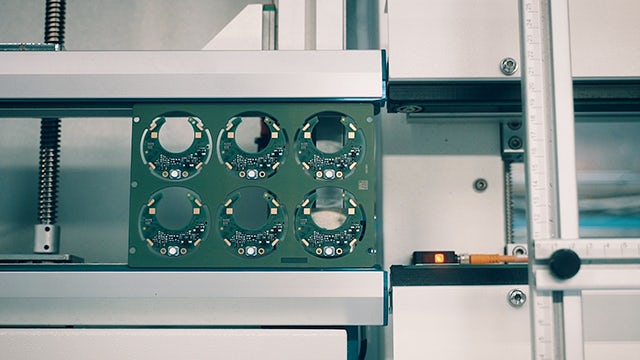 Speaking the same language with data integration
Over the next several years, ROJ expanded its manufacturing capabilities and invested in cutting-edge, Industry 4.0 infrastructure like robotics, advanced production machinery, and smart storage solutions. However, the changes created a new challenge – how to effectively integrate and analyze the massive amounts of data being generated by the new equipment.
ROJ needed a way to transform the big data into smart data with actionable insights about the manufacturing process. The challenge was compounded by the fact that as in most manufacturing facilities, the machinery was not all sourced from the same vendor and collected data in different formats. ROJ needed a way to consolidate the data to gain an overall understanding of the shop floor in real-time. "Data is the most valuable thing in this world. When you have the data, you have a different vision of what you can do," says Olario.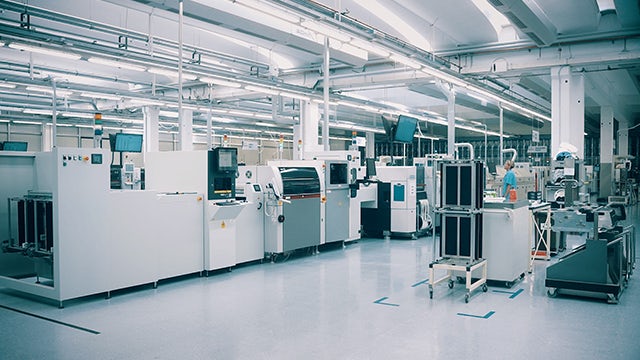 Minimizing material overspend
In parallel, ROJ was facing other materials management challenges. It did not have full visibility into materials on the shop floor and the company lacked a cost-effective mechanism for planning and controlling the flow of materials throughout the factory.
To prevent bottlenecks due to missing materials, ROJ purchased too many electronic components, with the result the material frequently expired before it could be used. In addition to inflated spending, inefficient material flow was leading to poor production efficiency and wasted shop floor space. "In the product, the value of the raw material is 80 percent, but then you have scrap and inventory failure, and that can kill your profit! The material must be under control," explains Oliaro.
The problem wasn't limited to the shop floor. ROJ had invested in advanced storage solutions, including smart shelving and automated guided vehicles (AGVs) that could bring the materials to where they were needed on the shop floor. But to fully benefit from these investments, the company needed a customized solution that could aggregate data from manufacturing lines, kitting stations, and the warehouse, to generate a prescriptive model of material flow and communicate the instructions to the smart storage.
The solution
ROJ began in-depth research of electronics-focused manufacturing execution systems (MES), looking for one that could provide a vendor-agnostic Internet of Things (IoT) solution. After surveying the market offerings, the team came to the conclusion that only Valor had the capabilities needed to meet ROJ's data management challenges. Since ROJ was extremely satisfied with Valor Process Preparation, the company decided to adopt an end-to-end solution that incorporated Opcenter™ Execution Electronics IoT software, Opcenter Intelligence Electronics, and Valor Materials Management software solutions. All are part of the Siemens Xcelerator business platform of software, hardware and services.
In 2019, ROJ began implementing Opcenter Execution Electronics IoT on its four surface mount technology (SMT) lines. This solution normalizes all shop floor data and facilitates access to data from machines and processes to provide manufacturing insights. It also increases machine utilization by automatically identifying bottlenecks based on predefined key performance indicators (KPIs) and providing immediate insight into factory performance with its real-time printed circuit board assembly (PCBA) performance dashboards.
Before implementing Valor Material Management, ROJ turned to Siemens' local partner Cadlog to add special functionality to integrate ROJ's existing smart shelving and AGVs. In 2020, ROJ launched a pilot program of the customized solution, implementing it on two of its SMT lines.
Valor Material Management gives ROJ the visibility it needs to better manage the flow of materials on the shop floor and in storage. The solution enables smooth and continuous just-in-time (JIT)/Kanban material delivery between warehouse and production, optimizing changeover time while eliminating material starvation.
It enables higher material turnover and removes excess work-in-process (WIP) material from the shop floor. It also enables ROJ to maintain inventory accuracy and integrate multiple touchpoints for full material traceability.
Ballabio explains what the change looked like in practice: "Before there were times when the line was waiting for the material to arrive, forcing downtime. With Siemens' advanced solution, the material is ready for the line on time, no errors, everything is automated.
"By looking at data coming from the machines in real-time, we are able to predict exactly when they would require material replenishment and coordinate delivery of stock from the warehouse just in time rather than let it sit outside and pick up moisture. We can also tell the warehouse to dispatch reels of material based on their age, and taking future work orders into account, we are also able to avoid unnecessary changeovers."
Oliaro explains how it all comes together: "With an individual solution, there may be manual or inefficient integration. When you have manual, you have mistakes. With Siemens' end-to-end solutions, we can react faster to market challenges."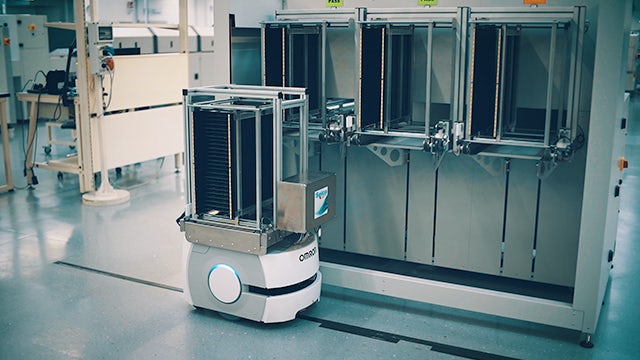 The next steps
ROJ is looking forward to fully implementing the Valor Materials Management solution across the rest of its SMT lines. It plans to then extend the implementation to its through-hole technology (THT) lines and manual stations.
Ultimately, ROJ plans to connect the entire process flow, from receiving the bare board to the box build. It aims to manage it all together in a single digital environment, all sharing the same database – true to the vision of Industry 4.0.