Case Study
Roco speeds the delivery of true-to-scale model trains using integrated part, assembly and mold design
Using NX, Roco shortens the development cycle for complex tools by 50 percent
Roco
Roco is one of the leading manufacturers of model railways.
http://www.roco.cc
Headquarters:

Bergheim , Austria

Products:

NX

Industry Sector:

Consumer products & retail
Alternative reality in 1:87 scales
Elegantly, on track two, a Railjet is pulling in. This is one of the novel high-speed trains for long distance travel run by the Austrian Federal Railways. First built by Siemens Rail Systems in 2006, it connects central European cities such as Munich, Vienna and Budapest. In favor of a brief design phase, good compatibility with existing railway vehicles and simplicity of version creation, the Railjet is not an electrical multiple unit (EMU), but rather a seven-coach push-pull train composition propelled by a separate locomotive. Including the locomotive, the train has an overall length of 205 meters (673 ft. 7 in.).
Built true to the half-zero (HO) scale, the Roco model of the Railjet measures close to 2.4 meters (7 feet 8 inches). From the impeccable marking and lettering to the control cable, each detail is modeled exactly in 1:87.
Established in 1960, Roco has been manufacturing model railways since 1967. Called "railway modeling" in the United Kingdom, Australia, Ireland and Canada and "model railroading" in the USA and Canada, it is a hobby in which rail transport systems are modeled at a reduced scale. The models include locomotives, rolling stock, tracks, signaling, roads, buildings, vehicles, lights, and features such as streams, hills and canyons. Like the traditional German manufacturer, Fleischmann, Roco is part of Modelleisenbahn Holding GmbH, headquartered in Bergheim near Salzburg, Austria. This parent company is the market leader in the DC segment as well as number two in the European model railway business. Modelleisenbahn Holding employs 690 people in four countries. Famed from the start for exceptionally high standards in accuracy of scale and richness in detail, as well as top quality and the most advanced technology, Roco excels with digital innovations and a decidedly international product range. Among railway enthusiasts all over the globe, Roco scale models are popular collector's items of lasting value. Die-cast, true-to-life railway miniatures – available in H0 (1:87 standard gauge), H0e (1:87 30 ft. narrow gauge) and TT (1:120 standard gauge) – are manually assembled and comprehensively tested prior to shipment by highly skilled employees in three European locations.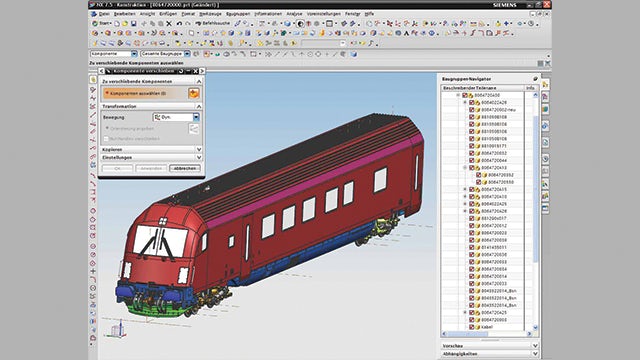 In model railway scale, each vehicle consists of numerous finely detailed single parts. In item design, these are modeled together as an assembly using NX.
Model and tool design
The start of product development to the final step in production, it usually takes half a year. It all begins with item design, for which a 3D representation of the entire vehicle with all its parts is created. Only in rare cases, engineering data of the original prototype is available to the design engineers. Even when good drawings are available, there is not much that could be copied as the model follows physical necessities different from those ruling the prototype. Wall thicknesses scaled down by the same factor as overall dimensions would not be practicable. Also, breaking the complete vehicle down to various single parts follows entirely different necessities in the model. Aside from motors, gearing components and wheels, railway models are predominantly made of die cast metal and injection-molded plastic parts.
As soon as the design with all the necessary details is finished, the molds and tools required for their manufacture are designed. In the case of the Railjet, there are about 20 plastic injection-molded tools per car, each typically featuring six slides. Not so much because of the number of shots they need to survive but much more due to the enormously fine details that would be difficult to produce with any reliability out of soft molds, these tools are made in hardened material using electrical discharge erosion.
Performance gain in item design
All design work at all Roco locations is performed using NX™ software from Siemens Digital Industries Software. "Especially where main dimensions need to be transferred from older drawings of the original vehicle, we sometimes fall back on the truly useful sketching function," says Püber, who has been working as a design engineer at the Gloggnitz, Austria, plant since 2006. His task is to secure and enhance the quality and producibility of the models within the framework of a continuous improvement process using constructive methods. "In most cases, though, the geometry is created by extrusion," he says. "From that, the assembly is derived."
Collision and interference checks are also performed on assemblies using NX, the standard product development tool at Roco. Such checks are essential because the individual parts broken out of the assembly, such as the frame and body, top, window strips and interior fittings, connect seamlessly on the visible outside face while fitting with positive locking on the inside.
"When I joined the company, we were using an earlier version of NX," Püber recalls. Since mid-2011, the Roco design engineers have been working with the latest release of the software. This has resulted in a substantial increase in design efficiency. "The performance leap due to the software upgrade was tremendous," says Püber. "Not only are delays much shorter due to the use of 64-bit computers, the software also requires significantly fewer clicks per function to get to the same results." Particularly in the area of continuous improvement processes, this acceleration results in a substantial gain in productivity, as manipulations are frequently made to implement very small changes that, more often than not, have implications on the entire assembly, often requiring re-calculation. He adds, "Upgrading to the latest version of NX has resulted in processing times up to 50 percent faster for more complex tools."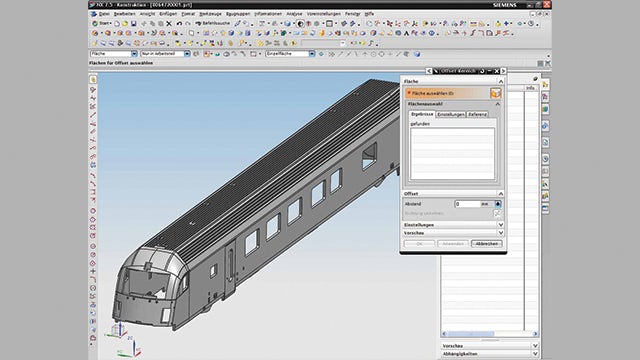 Modeling of the entire vehicle as an assembly is followed by detail work on the individual parts such as the body. They are predominantly made of injection molded plastic, although some are metal die cast products.
Using the same geometry data, part modeling is followed by tool and mold design, which is also performed using NX.
From part to tool
As soon as the individual parts are separated from the assembly, engineers in a department dedicated to this task start design work on the plastic injection molded tools and metal die cast molds.
They make intensive use of the Mold Wizard module, which is a standard component of NX software. Mold Wizard facilitates the automation of tasks related to tool creation. Roco's engineers like Mold Wizard for its flexibility, speed and certainty. For part geometries created with NX or imported from other CAD systems, use of Mold Wizard enables them to access information on the part's release properties as well as on undercuts and separators. In addition, with Mold Wizard, the engineers can automate the creation of assembly drawings, support the quick changing of part drawings and automate the creation of sprue, runner, cooling, slides, inserts and electrodes.
In addition to functionality for multiple tools, there are also features for creating "tool families" and for defining tools for plastic parts with metal inserts. Each part can be assigned a molding shrinkage, either uniform in all directions or different axis-by-axis. All features of Mold Wizard are fully automated, yet allow changes or replacement of the automatism by predefined values. A good example for Roco is the creation of molding boxes with appropriate dimensions through automatic calculation of the part size, which can be replaced by the use of pre-defined standard molding boxes.
Püber notes that the functionality provided by Mold Wizard for incorporating modified items in an existing tool is more than welcome. Mold Wizard features graphic model comparison of various revisions that shows changes and helps update the separators where required.
Roco tool designer Rudolf Vogel adds, "With this module, we utilize one tool all the way through product development. This is one of the main strengths of NX. Using NX, we can quickly design tools uncompromisingly optimized to accommodate the life-like detail of our models."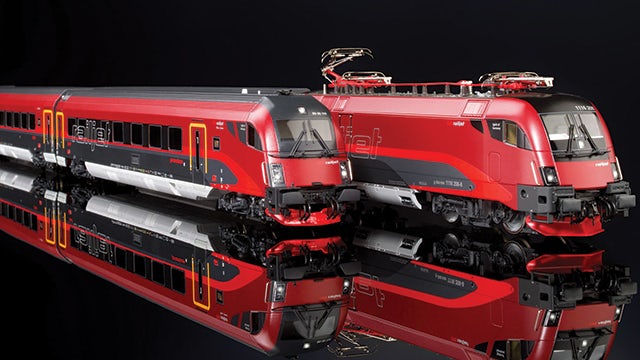 Difficult to distinguish from the original, the Roco Railjet is a finely detailed 1:87 scale railway model.
Straight to CNC programs with NX CAM
In a separate computer-aided manufacturing (CAM) department, NX is also used to generate the programs for the computer numeric control (CNC) machines using mold geometry. These programs are used to cut some of the molds, but mainly to make the electrodes for the electrical discharge erosion.
With its integrated system approach, NX enables the model railway specialists of Roco to handle practically all of its product development process with only one software tool. From the first sketch to the design of the models and the molds required to make them, all the way to the creation of the programs for the manufacturing machines, NX is the sole platform. Only by using NX can Roco make model trains that are exact replicas of the lifesize originals, that boast superior running characteristics, and that are fit for tough service on the tracks of the model railway set ... and do so without over straining enthusiasts' budgets.