case study
Renault streamlines future hybrid and electric vehicle development using Simcenter Amesim
Siemens Digital Industries Software solution enables Renault to create a collaborative platform to assess the energetic synthesis of any hybrid configuration...
Renault (GREEN)
Established in 1899, Renault is a French multinational vehicle manufacturer that produces a range of cars and vans. The Renault group employs more than 117,000 people, has a presence in 125 countries and sold 2,712,432 vehicles in 2014.
http://www.renault.com
Headquarters:

Boulogne-Billancourt , France

Products:

Simcenter Products, Simcenter Amesim

Industry Sector:

Automotive & transportation
The complexity of hybrid vehicles development
Reducing CO2 emissions is a continuous challenge. It has become critical that every country aligns on common levels, which is what regulations will impose by 2026. To comply with future CO2 emissions standards, vehicle electrification is of essence, and the development of hybrid vehicles has moved from a nice-to-have to a musthave status for every carmaker.
Hybrid powertrains are much more complex than those in vehicles with a single energy source, such as conventional or electric cars, mainly because of the multitude of possible combinations of architectures. For example, in parallel hybrid vehicles, multiple propulsion sources can be combined or used independently. In series hybrid vehicles, the sole propulsion is done by the electric motor, but the electric energy comes from another on-board source, such as a combustion engine.
Due to the interdisciplinary nature of hybrid powertrains, engineers must balance the power required from each energy source, study the impact of other system choices (such as transmissions and cooling systems) on the vehicle's energy performance, and validate optimal options. These tasks entail investigation of a number of combinations, and also require engineers to detail the appropriate control strategies.
Hence, there is a strong need to rapidly evaluate various hybrid powertrain architectures and select the most efficient ones, compare component characteristics, and evaluate their performance over different driving patterns. Hybrid powertrain design requires the management of several domains of physics and involves the collaboration of different experts – system architects, project managers and application specialists – during the different stages of the design cycle. Innovation requires these experts to overcome complexity and manage risks. Managing product complexity – that is to say the complexity from the processes used to create these products, and the complexity in the interactions between all the people involved in developing and delivering these products – raises a simple question: How do you re-introduce some simplicity to this complexity, and deliver high-quality products on-time and with reasonable costs?
Making technological decisions in early design stages
As the world's fourth-largest car manufacturer, Renault-Nissan is driven by innovation and differentiation, and one of the current differentiators is the ability to deliver eco-friendly vehicles at reasonable costs. The Renault-Nissan Alliance Group is committed to reducing the environmental impact of its activities and products throughout their lifecycle, from design to recycling. The Alliance already claims about 70 percent of the worldwide electric vehicle market, with fully electric vehicles like the Renault Zoe and the Nissan Leaf, and aims to expand its vehicle range by developing advanced hybrid architectures.
The Eolab concept vehicle is a first step. Compact and affordable, the Eolab is a new plug-in hybrid delivering ultra-low fuel consumption with zero-emission mobility on journeys of under 60 kilometers at speeds of up to 120 kilometers per hour. This "Zero Emissions" hybrid technology will round out Renault's electric offering within the next few years.
To develop this technology for the future, the Renault-Nissan Alliance is currently implementing dedicated tools and methodologies. The company has created a Test and Digital Engineering department to provide the group with the appropriate computer-aided engineering (CAE) methods and numerical models to drive innovation in future projects. With a staff of 12, one team of this department is focused on simplifying the work of mechatronic systems engineers. The requirements from the engineers were clear: they wanted a collaborative platform to assess the energetic synthesis of any hybrid configuration, to facilitate decision-making in the pre-design stage with validation loops.
The engineers must rapidly confirm the fuel consumption targets, plan the project roadmaps and size the different subsystems. They need an easy-to-use, multiphysics simulation environment that will enable them to simplify the optimization of the chosen hybrid architecture. The platform will be used by experts for customization, and by non-experts for rapid testing of parameter combinations. To satisfy these needs, Renault developed an energetic synthesis simulation platform called GREEN (Global and Rational Energy EfficieNcy) with the help of tools and personnel from product lifecycle management (PLM) specialist Siemens Digital Industries Software.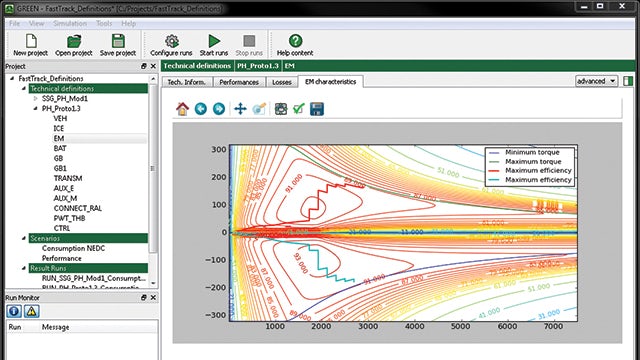 A collaborative, virtual design platform
Developed by the test and digital engineering department, the GREEN platform is an application-specific graphical user interface (GUI) linked to Simcenter Amesim software, the MATLAB® environment, the Simulink® environment and Excel® spreadsheet software file repository. The platform enables engineers to quickly parameterize models, run simulations and postprocess results. It includes a pre-built, comprehensive hybrid vehicle configurator that enables users to choose between several hybrid architectures. The department has also developed a generic plant model architecture composed of "parameterizable" subsystems that can be individually activated or deactivated.
The generic physical plant model is created using Simcenter Amesim from Siemens Digital Industries Software. Energy management and highlevel control strategies are supported by Simulink. Users can create hybrid vehicles with manual, automatic, robotized, or dual-clutch transmission, and locate the electric motor on the front or rear axle and before or after the clutch, among other options. Once the architecture has been set, the sizing of all subsystems can be defined – for example, a 30kW or 50kW electric machine, a 1.6 or 2L diesel engine, etc. Any combination can be readily configured.
Engineers can then define and optimize the energy control strategy, specifying when to start the combustion engine, at what torque level and when and how the electric machine takes over the thermal engine. Given the architecture definition and subsystems choices, the GREEN platform's postprocessing capability automatically optimizes the energy management strategies according to the selected mechatronic architecture and component parameters.
With these capabilities, engineers can select an architecture, then manage and visualize parameters and various rolling scenarios using an integrated and userfriendly workflow, without having to create the energy management strategy. New energy management and control strategies can be easily tested as needed for specific investigations and by more advanced users.
The flexibility and power of the GREEN platform enables engineers to define and validate an architecture, its selected subsystems and the energy management control laws in a matter of hours. The platform brings together various domains of expertise and application engineers involved in the same project by facilitating communication and decision-making with a common language. "The GREEN platform powered by Simcenter Amesim is meant to unite different domains of expertise and different systems engineers, and enables teams that never collaborated to sit together and communicate on their engineering issues to find common solutions," comments Eric Chauvelier, method and simulation manager for hybrid and electric systems in the Test and Digital department. Results provided by the platform are fuel and energy consumption, performance, operating points of the powertrain and energy flow throughout the driveline. In addition, sensitivity studies on physical characteristics or control parameters can be easily managed with the tool.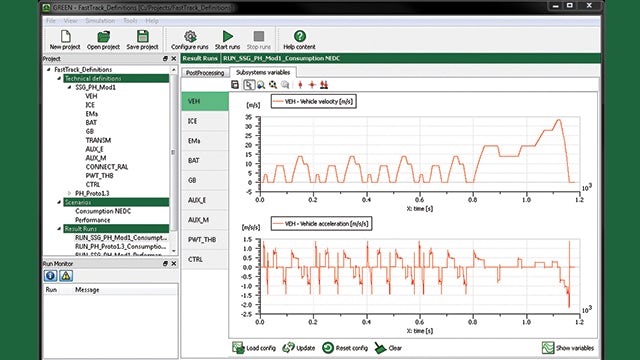 The power of Simcenter Amesim
The new GUI of the GREEN solution was developed on top of Simcenter Amesim. "The mechatronic system simulation platform from Siemens Digital Industries Software provides off-the-shelf but customizable, validated components to build complete vehicle architectures, from subsystems to systems integration," adds Chauvelier. "Simcenter Amesim is a flexible but robust backbone. Its multi-level approach provides components that fit to any design stage: from map-based for early architecture definition, to more detailed models and actuation for advanced engineering to optimize subsystems and components. Thanks to its multi-domain nature, it not only enables modeling of different drivetrain components like electric motors, combustion engines, and transmission systems, but also enables us to balance vehicle attributes like fuel consumption, emissions, performance and drivability."
Renault relied heavily on Siemens Digital Industries Software engineers for the development of GREEN tools. Both the availability and expertise of the team proved to be valuable for the car manufacturer, and helped to solve critical issues during the development of the platform. Simcenter engineers fully understand the engineering challenges of their customer, and are also masters of the numerical simulation techniques.
Simcenter Amesim was also selected for its high potential, and will enable further evolution of the GREEN platform to manage new vehicle design requirements. The openness of Simcenter Amesim enables the streamlined evolution of models, interaction with the embedded controls and interaction with other platforms or models.
Simcenter Amesim has proven to be a very flexible platform, enabling co-simulation with MATLAB and Simulink for more readability of the controls and interactivity with the embedded code. The ability to create scripts with the Python open-source programming language and MATLAB high-level computing language within Simcenter Amesim allows engineers to control the workflow of an energetic synthesis investigation (including data, calculation, simulation launch, use case, analysis and synthesis), which enables flawless execution of complex models.
The flexibility of Simcenter Amesim will enable future evolution of the GREEN platform to extend the analyses to conventional powertrains, and perform trade-off analyses between their fuel consumption and performance with other key attributes, including thermal comfort, board network energy management, drivability, exhaust and others.