Case Study
Supporting innovation, standardization, and the adoption of new technologies
First-pass design success using the Xpedition flow
Pleora Technologies
Pleora Technologies was established in 2000 with the objective of delivering real-time video over Ethernet for high-reliability, machine vision applications.
https://www.pleora.com/
Headquarters:

Ottawa, Ontario, Canada

Products:

HyperLynx, Xpedition Enterprise

Industry Sector:

Aerospace & defense
Established in 2000 with the original purpose of delivering real-time video over Ethernet, Pleora Technologies currently serves two distinct markets. For machine vision applications, they provide hardware and software connectivity solutions that simplify real-time video and data transmissions between cameras, sensors, and processors. Customers in this space include device and system designers and integrators whose products are designed for either imaging devices, such as cameras and X-ray panels, or complete systems, such as robotics and quality inspection tools.
For the manufacturing market, Pleora offers a camera-based system and a suite of apps built on machine vision and AI that automate and digitize processes to reduce errors and costs while ensuring quality.
"Like most technology focused markets, the vision space moves quickly and is fast to adopt new technologies. Our key challenges include ensuring we keep pace with the footprint, power, and bandwidth demands of our customers," observes Ed Goffin, Sr. Marketing Manager, Pleora Technologies.
Standards speed path to connectivity
"We design embedded interface solutions that standardize video connectivity and transmission for high-reliability applications," explains Robert Turzo, Principal Hardware (PCB) designer, Pleora Technologies. "For example, in the security and defense markets, our product is used to network multi-vendor cameras, sensors, processors, and displays to provide a vehicle crew with real-time local situational awareness."
A standards-based approach to connectivity is a key feature for Pleora's products. Previously, integrating cameras, sensors, displays, and processing added project complexity and cost. In a military application, for example, the ability to integrate multi-vendor solutions while meeting specific defense standards is critical.
Conversely, a standardized approach expedited achieving their objective of delivering real-time video over Ethernet for high-reliability, machine vision applications. Standardization makes it easier for cameras and processing to work together in multi-vendor applications, and it opened the door for vision applications in new markets, including medical, security, and defense.
The first scalable video switcher
These challenges and Pleora's successful approach were highlighted in a recent design. Pleora's RuggedCONNECT Smart Video Switcher is a highly integrated standalone device that acquires, processes, and displays real-time video sensor data for vehicle-based local situational awareness (LSA) and driver vision enhancer (DVE) applications.
By utilizing Gigabit Ethernet to provide the flexibility for different project requirements, the Pleora engineering team was able to produce the first scalable video switcher in the market that allows system integrators to scale the number of video inputs and outputs in their driving systems. In addition, the built in GPU and software of the video switcher provide a framework for enhancing video with AI and computer vision processing to assist decision making for situational awareness and ADAS applications.
The development of the RuggedCONNECT Smart Video Switcher was initiated when one of Pleora's customers needed a system requiring 13 boards, each with a different functionality but capable of being installed within the same mechanical enclosure.
"The most challenging element of the board design was the 3G HD SDI (the serial digital interface), which captures the signal from 3G HD SDI cameras in real time, with no latency, and has the output coming from the same box," explains Turzo. "This meant incorporating 16 analog inputs for the observing camera and ensuring room for router server functionality."
The boards needed to be 1275 certified so they could be brought into a military vehicle and run at high voltages, potentially surviving larger electric shocks than produced by a power line. These large 28 V vehicle batteries must be able to survive voltage disturbances up to +- 250 V. But, at the same time, they must be extremely quiet because the mil spec for the rugged emission is somewhere about 20 DB below FCC class A&B devices.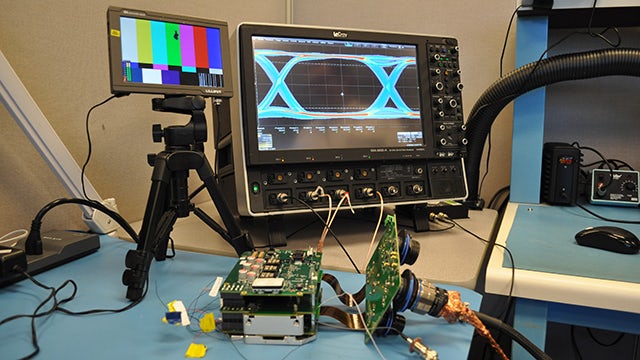 Multi-board system performance testing in the lab.
Innovating faster
Pleora relies on Siemens electronic systems design tools, including Xpedition™ Enterprise and HyperLynx™ software to meet their demanding specifications, reduce iterations, and ultimately get to market faster.
Pleora used the DRC function within Xpedition Layout, along with constraint manager to define critical signals. This guaranteed that any problems could be identified upfront.
Although each of the 13 boards in the system design was a distinct design, not simple variants, design reuse came into play as the original design was cloned and used in the new designs as a starting point. The knowledge gained on one piece of design was easily converted into a template and propagated to another PCB design. By using Xpedition's constraint editor and manipulating design information across multiple PCBs for a single design unit, Pleora was able to reduce design time exponentially even as the number of designed boards grew.
"I never did the same thing twice," recalls Turzo. "This board had seven types of vias in it, which I exported into a central library in Xpedition."
"When you're trying to do the matching of the DDR3 and DDR4 interface you don't want to trust a human because of the high risk for human error," comments Turzo. "You can trust Xpedition's constraint manager and hazard explorer."
As for placement and routing with Xpedition, Turzo states that "without the sketch router functionality within Xpedition, this board would have been mission impossible."
Analysis informed first-pass success
The boards for the RuggedCONNECT Smart Video Switcher consisted of five different stack-ups. Four stack-ups were for a rigid PCB and the fifth is for a rigid-flex PCB. All the printed circuit boards contained impedance-controlled traces, where the initial values were verified on each board using HyperLynx.
The boards were also run through signal integrity and power integrity analysis using HyperLynx during both the schematic and layout phases. This was a crucial part of the design process and enabled a one-revision board to go to production.
"This was a unique approach to how to physically design a PCB," Turzo points out. "We went to two fabricators and got different results, but the HyperLynx results were right on. The verification results for the physically built unit matched the simulation results exactly."
Furthermore, extracting PCB thermal data in HyperLynx and being able to pass it directly to the Siemens Simcenter™ FloTHERM™ software slashed thermal modeling time significantly.
Expanding possibilities with the Xpedition flow
Using the Xpedition flow, Pleora was able to accomplish everything they wanted to do in a printed circuit board design. This included buried vias, stacked micro vias, rigid-flex boards, and multiple lamination cycles, all while achieving the overall height restrictions from board to board and maintaining signal integrity.
According to Turzo, "trying to do this design outside of the Xpedition Enterprise and HyperLynx design flow would be absolutely impossible, especially in our design's time frame."
Not only did the overall system design meet the customer's needs and expectations, Pleora was awarded first place in the multi-board systems category as part of the 29th Siemens Xcelerator Technology Innovation Awards (XTIA) by Siemens.
Started in 1988 by Mentor Graphics, and formerly known as Mentor's Technology Leadership Awards, this program is the longest-running competition of its kind in the EDA industry. It recognizes engineers and designers who use Siemens' innovative technology to address today's complex electronics systems design challenges and produce industry-leading products.
With the help of the Xpedition and HyperLynx flow, Pleora was able to achieve first pass success and improve productivity with the design of very complex systems. By supporting innovation, standardization, and the adoption of new technologies, the Siemens solutions continue to assist Pleora's leadership in a rapidly evolving and nimble market.