Case Study
Engineering firm enables manufacturers to streamline product development process
Using NX helps Plast Competence Center customers meet demanding delivery deadlines
Plast Competence Center
Plast Competence Center specializes in all phases of plastic injection mold design, as well as installation and production process optimization.
http://www.plastcc.ch/
Headquarters:

Zofingen, Switzerland

Products:

Topology Optimization for Designers, NX, NX CAD, NX Mold Designer, Simcenter 3D Software, Simcenter Nastran, Simcenter Products

Industry Sector:

Consumer products & retail, Industrial machinery
Setting the right course
Since 1999, the Plast Competence Center AG (PCC) has provided a variety of services – from design to development, calculation, tool design and consultation – for companies producing industrial products made of thermoplastics and duroplastics. Located in Zofingen, Switzerland, PCC helps manufacturers produce parts, modules and entire products.
In a half-timbered house worthy of a preservation order, the innovative engineering consultancy successfully develops unique solutions for the most difficult challenges. The multi-functional team of designers, developers and computer-aided design (CAD) engineers helps customers deliver complex components for highquality series production on injection molding machines in a timely manner. PCC has fueled its business by enabling its customers to meet these industry requirements with modern tooling technology, and includes several components, including multiple cavities, inserts and complex hot runner systems. From the outset, the engineers have used NX™ software from Siemens Digital Industries Software. "We chose the NX 3D system because we were particularly impressed by the versatile range of functions for the development of plastic parts, and by Mold Wizard for tool and mold design," says Dominique Burkard, design engineer and member of the executive board at PCC.
When the production and design of tools started being increasingly outsourced in 2003, PCC was already successfully concentrating on providing services in design, product development, project management and procurement, all using NX. As a result, PCC has 12 CAD workstations, up from two in 2003.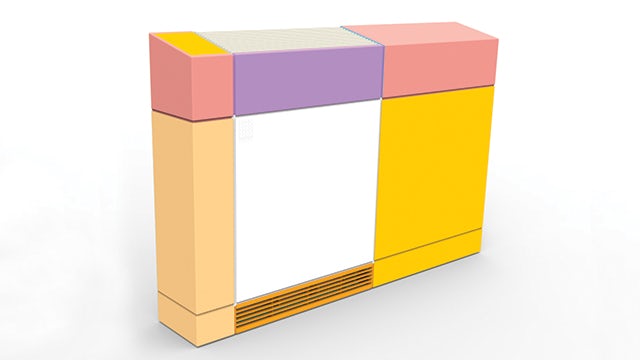 Providing industry expertise
Whether they are developing coffee machines, medical technology products, electro-technical appliances or designintense consumer devices, the PCC specialists provide not only knowledge of plastics processes, but also experience with industry-specific requirements.
As an example, PCC worked with LiSi, a medical equipment manufacturer, on a development project (with an emphasis on industrial design) for a transfer aid between lying and sitting positions for nursing homes. This product facilitates moving patients between a bed and a wheelchair and is intended to save time for nursing staffs. The result is a goodlooking and comfortable alternative to the traditional patient lifter equipment, preserving the health of both the patient and healthcare worker.
Using a hydraulic system, the compact, light support structure can be adjusted manually, so the patient can go from a sitting to a prone position. The cladding (covering) and control elements consist of plastic parts that resemble a comfortable armchair. The closed, rounded surfaces facilitate cleaning.
Aesthetic requirements, ergonomic aspects and customer requests are reconciled using NX Shape Studio, an industrial design and styling package that combines the freedom necessary for concepting with the accuracy needed to test and help ensure viability of design alternatives. The seamless integration of curve- and surfacebased modeling up to dynamic design accelerates the identification of a solution from the available models, sketches and surfaces. Special tools for rounding, bending, stretching and twisting support creativity. Despite all changes and heating, ventilation, air purification and humidification.
With PCC managing the project, Air-On developed multi-functional, inexpensive and low-weight plastic components. The project included developing and integrating plastic components with contacts and structural parts made of metal.
Inexpensive tools were procured on-time for approximately 90 individual parts. The tasks ranged from idea exploration, variation studies, risk analyses and the design of the various modules to the coordination of the toolmakers, the creation of 3D data suitable for plastics and the procurement of components. Using NX, PCC significantly exceeded project goals relative to turnaround times, efficiency and quality.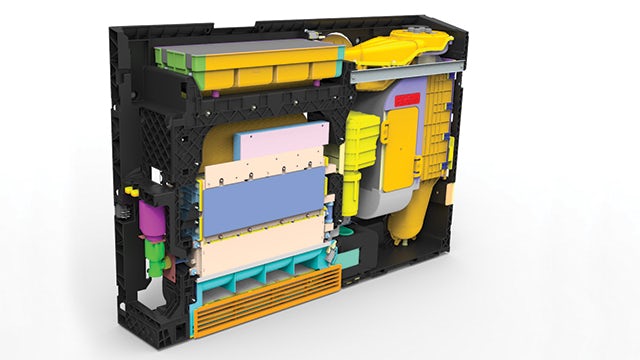 Utilizing synchronous technology
The simultaneous cooperation of several employees on a module or the fast, smooth handling of large amounts of data is expected of professional CAD environments. However, it was the potential of synchronous technology that led to real enthusiasm on the part of PCC users. Data used to be exchanged with suppliers via an external interface. As a result, many components had to be completely re-created in order to avoid timeconsuming problems and errors. Thanks to synchronous technology, external data can now be edited directly, avoiding the typical unforeseen consequences due to unobserved relationships.
"That results in a large gain in time for us as a service provider," notes Burkard. "We can change imported data with or without parametric modeling in exactly the same way as if it were our own."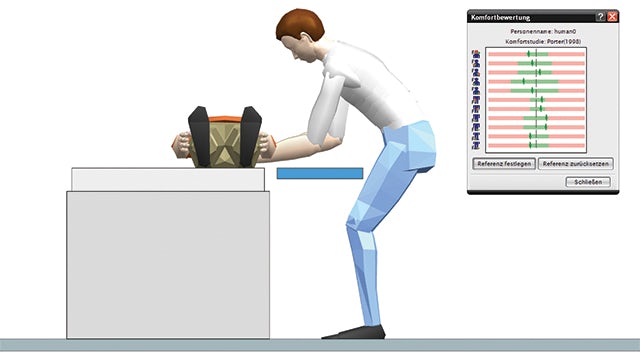 Less preparation required
The use of synchronous technology also facilitates change updates to components, which usually become necessary in the course of optimization after finite element method (FEM) calculations or flow simulations have been performed.Variations that correspond better to the desired values can be created rapidly. Integrated tools, including Simcenter™ 3D software and NX Topology Optimization, are used for linear and non-linear FEM calculations.
"Due to the highly automated tools of NX, we repeatedly save a great deal of data preparation work," explains Burkard. "Without system changes and with uniform user guidance, our optimization process becomes much shorter overall."
Depending on the project, the applications differ widely. With the development of power tools, it was possible in advance to secure the drop test prescribed for German Technical Monitoring Association (TÜV) testing and device approval. The exact concordance of the results shows there is a significantly lower risk in making late changes.
"We now receive orders for component optimization and save not only a considerable amount of weight, but also material costs," says Burkard.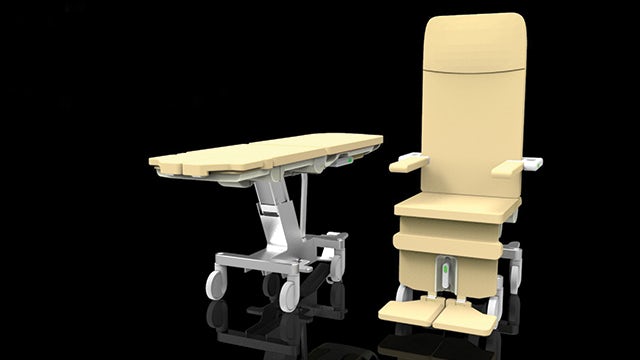 Resolving challenging tasks
Mold Wizard played a big part in PCC's decision to use NX. This capability facilitates performing the routine tasks of tool design according to specified rules and settings. These include the definition of mold partitions, the automated use of standards when designing a mold and the placement of hot runners and gate valves or the automatic generation of electrode models.
"Due to the outsourcing of these design and manufacturing orders, we can only exploit these advantages in about 10 percent of the projects," notes Burkard. However, the performance of the system has become considerably more important in many other places. It is not uncommon for customers to encounter specific design tasks that they are unable to solve in a satisfactory manner using their own tools. PCC is ready in such instances. "We find a solution for every task with NX," says Burkard. "We have never hit the limits of the system."
He considers the end-to-end functionality of NX CAD and computer-aided engineering (CAE) to be the software's major core advantage. "Our customers achieve professional, efficient processes from the design to the initial sample testing and optimization," notes Burkard. "That's why we decided to head into the future with NX."