Case Study
Industrial sensor manufacturer uses Opcenter Quality software for comprehensive continuous improvement
Siemens Digital Industries Software solution helps Pepperl+Fuchs to streamline quality management and reduce time to market
Pepperl+Fuchs
Pepperl+Fuchs is a worldwide company headquartered in Germany with more than 80 foreign subsidiaries on six continents and manufacturing facilities in Germany, USA, Singapore, Hungary, China, Indonesia and Vietnam. The company is a leading manufacturer of sensors for industrial applications, intrinsic safety and explosion protection technology. With nearly 6,200 employees worldwide, Pepperl+Fuchs generates an annual turnover of €670 million.
https://www.pepperl-fuchs.com
Headquarters:

Mannheim, Germany

Products:

Opcenter, Opcenter Quality

Industry Sector:

Electronics, Semiconductor devices
Technologies for factory and process automation
In 1945, Walter Pepperl and Ludwig Fuchs established a small workshop in Mannheim, Germany to manufacture radios and small transformers. When they eventually invented the proximity switch in 1958, it was the starting point of their company's success story. Today, Pepperl+Fuchs is among the world's leading suppliers of sensor technology for industrial automation and electrical explosion protection for the process industry.
The company's sensing products include noncontact sensors, encoders, counters and converters. This product range is supplemented by field bus components and systems, optical data transceivers, identification systems and safety barriers as well as image processing equipment. Pepperl+Fuchs also produces system solutions for process automation in hazardous areas. Consequently, the company is partnering with universities and other industrial suppliers in a smart factory pilot project.
While Pepperl+Fuchs engineers develop all products in several solution engineering centers in Germany, production takes place at the company's production sites in Germany, the USA, Singapore, Hungary, China, Indonesia and Vietnam. Pepperl+Fuchs products are shipped to customers through logistics centers in Europe, America and Asia and the company's global distribution center in Singapore.
Because quality issues can arise in all phases of the product lifecycle, they need to be addressed throughout the entire organization. To digitalize and globally streamline quality-related work across all Pepperl+Fuchs locations, the company invested in Opcenter Quality software from Siemens Digital Industries Software. This process-oriented, modular solution supports the closed-loop quality product lifecycle, enabling organizations to safeguard compliance, optimize quality and reduce defect and rework costs.
Using Opcenter Quality software to perform computer-aided quality assurance tasks has greatly reduced the time employees at the Pepperl+Fuchs customer service centers need to fulfill bureaucratic requirements.
Quality by design
Quality work at Pepperl+Fuchs commences in parallel with product design as an integral part of the product development process. "We believe in designing rather than testing quality into our products," says Recayi Topcu, R&D support group manager at Pepperl+Fuchs quality management. "As an independent authority, we support the product development departments in terms of product qualification." This includes qualification planning, scheduling and performing laboratory work as well as reporting. The R&D support group also provides the product approvals required for market release.
From the conceptual phases of product ideation throughout the entire lifecycle of a product, Pepperl+Fuchs employs failure modes and effects analyses (FMEA). They use this method to systematically analyze postulated component failures and identify the resultant effects on the product's operational behavior. For completeness, Pepperl+Fuchs engineers perform about 20 FMEAs per year on the system, subsystem, assembly, subassembly and part levels.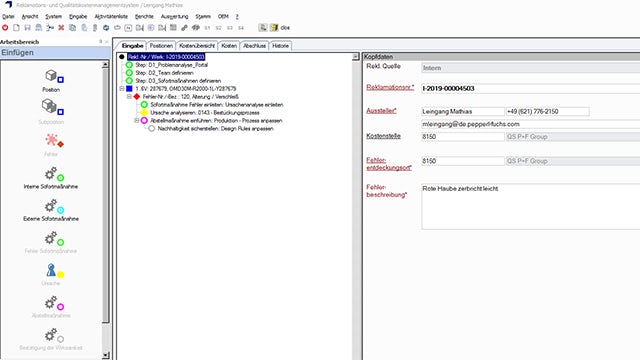 The Concern and Complaint Management (CCM) module was the first to be implemented.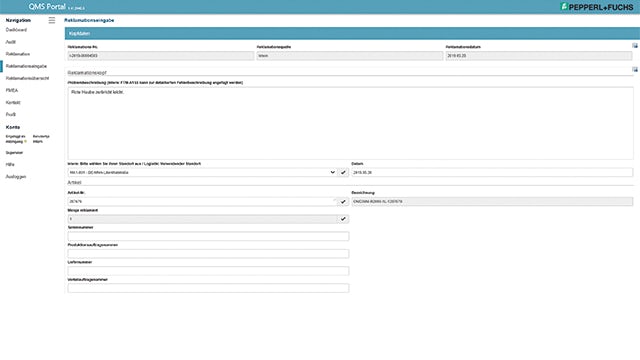 While quality assurance employees use installations of Opcenter Quality for their work, all Pepperl+Fuchs employees worldwide have access to the system via the software's web portal.
Fast FMEA for all
Until recently, FMEA work involved using word processing and spreadsheet software templates. A spreadsheet was also used to convey information on task assignments. In an attempt to streamline the use and administration of FMEA forms, Pepperl+Fuchs decided to replace their homegrown tools with the FMEA module within Opcenter Quality. They used the solution's web portal to assign FMEA actions to employees across the entire organization without requiring the software to be installed on each computer used for the purpose. 
"With their requirement to make the entire FMEA structure available through the portal, Pepperl+Fuchs prompted us to extend the portal's capabilities," says Stephan Schneider, manufacturing operations management software portfolio developer at Siemens Digital Industries Software. "Rather than providing Pepperl+Fuchs with a customized version to fulfill their requirements, the web portal now features these extended capabilities by default."
While the forms look much the same as they did before this transition, the use of Opcenter Quality has considerably improved and accelerated the FMEA process. Every FMEA entry automatically generates an email to those from whom action is required. It provides them with all necessary information, considerably reducing the time previously spent searching. 
As the software guides users through the forms, it also prevents them from passing on incomplete documents. Utilizing the catalog functionality within Opcenter Quality, the quality managers created a library of the 20 most frequently needed actions in two languages. According to Topcu, the library radically reduces the time required, prevents errors and keeps actions consistent. It also lowers the threshold and boosts motivation to participate in FMEA processes. 
With its process capabilities, the software also keeps track of the FMEA process, notifying quality moderators if an action is not dealt with in a timely manner. The improved richness of all related data also makes it easier to produce management information reports on FMEA projects. "With all these benefits combined, using Opcenter Quality made our FMEA processes a lot faster," says Topcu. "Accelerating product design cycles significantly reduced our time to market."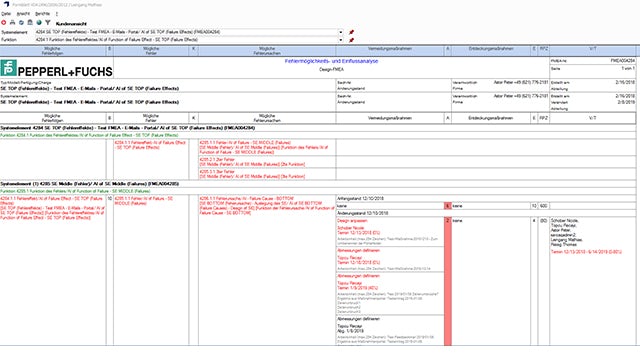 While the forms look much the same as they did before this transition, replacing homegrown tools with the FMEA module within Opcenter Quality has considerably improved and accelerated the process.
Global issue management via Opcenter web portal
Pepperl+Fuchs products such as the smart sensors providing safe operations of driverless transport systems are often very complex. Many of them are custom solutions designed to fulfill specific market requirements and are deeply integrated with customers' processes, which justifies repair and overhaul. The company offers its customers inspection and repair with typical turnaround times of less than ten days. It also supplies them with replacement equipment to sustain productivity while the original instrument is taken care of at its customer service centers. These are situated at the company's production and logistics locations on three continents.
Managing return materials with different systems using enterprise resource planning (ERP) and spreadsheet software involved workflows that were not integrated. There was no supplier integration; emails were used to exchange corrective actions or reports. Traceability was poor, slow and time-consuming. "Until recently, getting valid information out of the customer services centers was not a routine affair," says Georg Theobald, quality manager at Pepperl+Fuchs headquarters. "When management wanted feedback about return material quotas, it meant a week's worth of work."
Global digital issue management was the first project implemented using Opcenter Quality: it was in fact what had triggered the software selection process initially. "The aim was to implement global issue management for both internal and customer complaints, covering the entire return material handling," says Theobald. "We needed to provide full traceability based on the product's serial numbers and underlying information from the company's ERP software." Another benefit the Pepperl+Fuchs quality manager pursued was valuable feedback from which to learn lessons in a continuous improvement process (CIP).
In close cooperation with Pepperl+Fuchs, experts at Siemens Digital Industries Software implemented the solution using the concern and complaints management (CCM) and incoming goods control (IGC) modules in Opcenter Quality. Starting with customer complaint handling at one location, they added internal and vendor complaint functionality and rolled out the software to all global locations in a short time. As with the FMEA implementation, they incorporated customization to fulfill Pepperl+Fuchs's requirements in the software's standard capabilities.
The serial numbers of all material returned from external or internal customers are registered. Using Opcenter Quality, quality assurance employees at the customer service centers process the complaints, beginning with classification of individual items for further treatment. The software supports them with information acquired from the company's ERP system.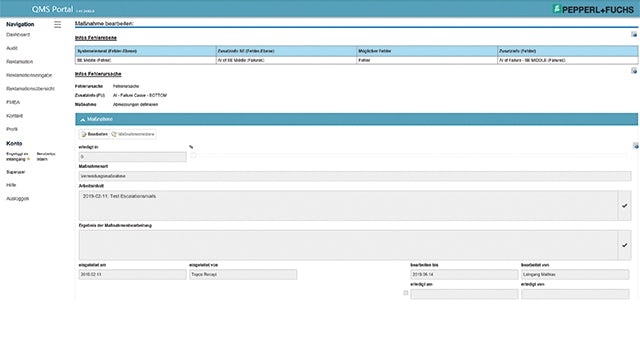 FMEA actions are assigned to employees across the entire organization via Opcenter Quality web portal without the need to have the software installed on each computer.
A comprehensive CIP solution
On their way to establishing a closed-loop Opcenter system, Pepperl+Fuchs has also implemented the incoming quality control (IQC) module, including order management and the inspection plan management (IPM) module. Using Opcenter Quality for internal as well as supplier audits has led to easier and faster creation of audits based on richer information. 
"Opcenter Quality has become our sole quality information and communication platform," says Theobald. "It has greatly enhanced efficiency as well as acceptance, as our people no longer have to use many different tools and handle thousands of emails." 
The quality management software also supports Pepperl+Fuchs employees with reporting on the quality history of parts or assemblies. "Everything is well-documented. At any time, I can see whatever happened to a product," says a quality inspector at the Pepperl+Fuchs Mannheim customer service center. "This has made it much easier for me to fulfill bureaucratic requirements." 
Making it easier to learn lessons from past issues has also advanced the continuous improvement process. "While quality assurance employees use installations of Opcenter Quality for their work, all Pepperl+Fuchs employees worldwide have access to the system via the software's web portal," says Mathias Leingang, quality management customer support and Opcenter administrator at Pepperl+Fuchs. "Anyone in our organization can submit an internal complaint and participate in our continuous improvement process."