Case Study
Enhancing efficiency and developing new revenue streams with Insights Hub
Orisol leverages industrial IoT data to optimize productivity, energy consumption, and maintenance
Orisol
ORISOL is a provider of comprehensive footwear automation integration solutions featuring scalability, compatibility, and digitalization.
http://www.orisol.com/
Headquarters:

Changhua County, Taiwan

Products:

Insights Hub

Industry Sector:

Industrial machinery
A world leader in automated shoemaking equipment
From woven grass shoes, to boots made from animal hides, to today's diversity of sports shoes, sandals, leather shoes, and high heels – shoes have certainly evolved. Their role has changed from simply protecting feet from wear and tear to providing warmth, beauty, shock absorption, elevation, performance, and other functions. The evolution of shoes is inseparable from continuous innovation in the shoemaking process.
Founded in Israel in 1987, Orisol Taiwan Limited (Orisol) manufactures equipment for all shoemaking processes, including machines and solutions for stitching, spot welding, tongue turning, spraying, and molding. Since unveiling the first computerized stitching machine in 1990, Orisol has become the industry leader in shoemaking automation, offering comprehensive solutions for efficient, digitalized smart manufacturing. With more than 1,000 customers in more than 20 countries and more than 10,000 machines in operation, Orisol is always exploring how to create more value for its customers, which include famous shoe brands and factories.
Challenges of traditional shoemaking
Traditionally, the shoemaking industry relied on manpower and manual processes for shoe manufacturing. The challenges of this approach are obvious – routine work such as recording data, scheduling production, operating and maintaining equipment is inefficient and prone to errors and omissions.
With only hardcopy records, Orisol's customers had little visibility into production and operational information, and the lack of transparency made manufacturing a "black box." Factory managers were unable to determine the locations and operational status of workstations in the manufacturing line and could not gain insights into the reasons for production delays. Without insights, it was impossible to make informed and timely decisions.
Traditional shoe manufacturers depended on the intuition and experience of expert workers to make sound decisions. As the workforce ages and expert workers retire, much of their accumulated knowledge leaves with them, and shoemakers face a significant skills gap when recruiting younger workers. There is no way to easily capture, transfer and manage shoemaking knowledge and expertise using these manual methods.
Digitalization to improve performance, reduce costs
As a pioneer in shoemaking automation, Orisol understands that digitalization, the Internet of Things (IoT), and cloud computing technologies can help customers confront obstacles, improve performance and reduce costs. As a result, Orisol formed a partnership with two pioneers of intelligent manufacturing solutions: Siemens, a world leader in industrial automation, and FarEasTone (FET), a leading Taiwanese provider of telecommunications services and an innovator in 5G wireless technologies. The goal of the partnership is to help Orisol and its customers digitally transform shoemaking operations and to offer customers unique new value streams.
Orisol is implementing Insights Hub, the industrial IoT solution from Siemens for improved operational decision making, and power new solutions for shoemaking. Insights Hub is part of the Siemens Xcelerator business platform of software, hardware and services.
Connecting old and new machines with the Siemens connectivity solution, the MindConnect® Nano, near real-time production data is used in advanced analytics to create new, actionable insights. With out-of-the-box connectivity, Orisol's customers can easily connect all production line equipment, capture and aggregate data, and perform concise analysis to optimize production processes and reduce costs. Then, with the private 5G network solution from FET, shoemaking factories can accelerate data transmission between connected devices.
Bringing transparency to production
To completely open the "black box" of the factory and make the production process transparent, Orisol's new services enable customers to use real-time data from production line equipment to achieve seamless communication and collaboration among equipment.
With Insights Hub, shoe factory managers can understand the production status of the entire line and the operating status of each piece of equipment. Using the Insights Hub Monitor application they can define alarms for each asset and monitor the current production process in the cloud at any time, and precisely calculate the production cycle and the production capacity of each device. Even if an urgent order is suddenly placed by a customer, managers can complete the schedule and maximize the efficiency of the production line according to the idle capacity of the equipment.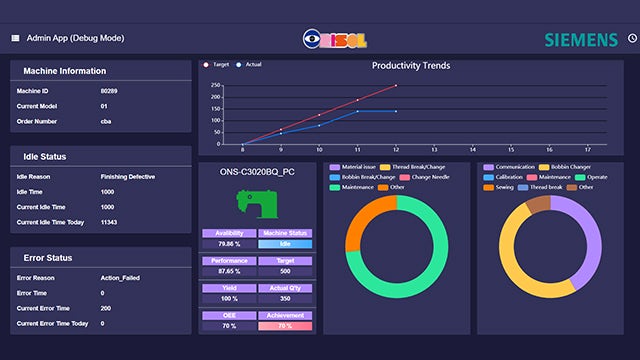 Turning passive maintenance into proactive maintenance
In the daily operation of shoe factory production lines, even brief equipment shutdowns due to failure can cause huge losses. Therefore, plant managers attach great importance to stable equipment operation, which cannot be achieved without efficient daily operation and maintenance.
The traditional mode of operation and maintenance is scheduled inspection, whereby maintenance personnel check the operational status of the equipment at scheduled intervals, regardless of asset health or performance. This results in waste, such as unnecessary downtime, higher labor costs, and overstocked spare parts. The other traditional maintenance option is being reactive – dealing with an unplanned shutdown due to asset failure.
Disrupting traditional operation and maintenance models
For Orisol, Insights Hub is the key to disrupting the traditional operation and maintenance model and transforming it from reactive and scheduled to proactive. With the help of Insights Hub, Orisol can collect and analyze key data during the operation of its shoemaking equipment at the customer site. Based on the analysis results, Orisol can help customers develop optimal maintenance plans, predict possible failures, and prevent problems before they occur.
From equipment to intelligent manufacturing solutions
Orisol not only provides customers with shoemaking hardware but also with maintenance consulting and services. With this new business model, Orisol has realized the transformation and transition from shoe equipment manufacturer to intelligent manufacturing solution provider. The company has solidified a competitive advantage that is favored by high-end customers in the international market.
During the COVID-19 pandemic, Orisol quickly integrated its Remote Operation Maintenance Platform Services (ROMPS) with Insights Hub and used 5G wireless communications and augmented reality (AR) technology to provide customers with remote equipment maintenance, operation guidance, education, and training services. When maintenance engineers with AR equipment approach an asset, machine data such as production status, idle, and error messages are presented to help guide decisions.
Even with pandemic-induced controlled access and employee travel restrictions, Orisol can attain stable operation of its equipment at customer sites. Customers can also access machine maintenance information and equipment maintenance records through Insights Hub applications and immediately obtain troubleshooting guides.
Reducing energy consumption with Insights Hub
In addition to improving quality and efficiency, cost reduction is another important requirement of shoe factories. Among production costs, energy is a key component. The implementation of appropriate energy-saving and consumption-reducing measures can significantly reduce factory costs.
Although many shoe factories are intent on managing energy consumption, the lack of transparency in energy usage makes it impossible to identify improvement opportunities. Insights Hub makes the energy consumption of the Orisol production line visible, helping shoe factory managers to identify and explore energy-saving opportunities in the production process. Now, managers can sit in front of a screen and display the current, voltage, and power consumption of the equipment running during the production of each shoe model. They can also assess the operational energy efficiency to take reasonable and targeted measures to eliminate waste effectively.
In the past, the invention of shoes enabled human beings to stride forward continuously; now, digital technology is helping the shoemaking industry move towards a new, intelligent future. In this process, Orisol, together with Siemens, are at the forefront of the industry.
"Orisol is committed to solutions for all shoemaking processes," says Li Junyan, chairman of Orisol. "In addition to automated shoemaking equipment, we deploy software and system platforms in advance to enhance the added value of the equipment. With the cooperation of Siemens and FET, we have realized remote operation and maintenance in new Orisol products and maximized service efficiency using Insights Hub and 5G transmission technology."