Case Study
Nascent oil and gas industry equipment supplier enjoys early success
Olvondo Industries uses NX to help construct, test and produce advanced equipment
Olvondo Industries
Olvondo Industries is an oil platform equipment specialist, offering various engineering services, machining of heavy components, different types of welding, assembly and product testing.
https://www.westcon.no/selskap/olvondo/hjem
Headquarters:

Rubbestadneset, Norway

Products:

NX

Industry Sector:

Energy & utilities
There is no room for error in the North Sea
Extracting oil and gas from the North Sea is an expensive and challenging proposition. Oil platform equipment that is tough enough to operate in the North Sea is the definition of heavy machinery. Olvondo Industries AS, a newcomer with a long history, designs and manufactures this kind of heavy machinery.
Olvondo Industries was established in 2012 as a result of the spinoff of the production facilities of the Wärtsilä gear and propeller factory at Rubbestadneset, Bømlo, Norway. The name Olvondo is taken from an island containing a nature reserve on the Norwegian west coast, located between the company's plant and the oil and gas fields of the North Sea.The company's roots date back to the 1880s when Martinus Haldorsen started a cartwheel factory. Eventually his son decided to build boat engines, which resulted in the establishment of M. Haldorsen & Søn Motorfabrikk in 1903.
The company produced engines for small vessels and eventually grew to become one of the largest engine factories in Norway.
Industry in Rubbestadneset has changed significantly over the years, yet some things remain the same. "The creativity and the willingness to develop new ideas are core values Olvondo Industries is proud to inherit from the old days," explains production engineer Frode Bukkøy. "The tools we use and products we produce now are very different, but the history, traditions and the quest for the highest possible quality are still in our blood."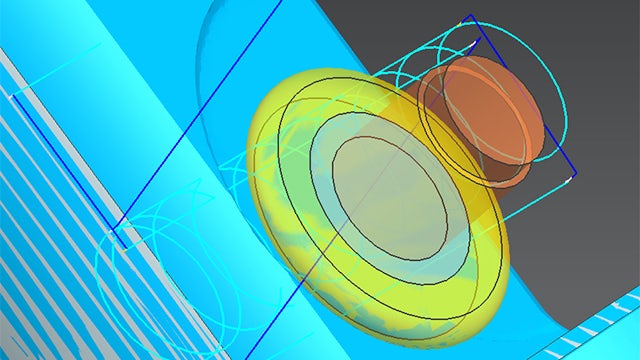 Rethinking everything
The spinoff from Wärtsilä included production facilities, personnel and machinery – but no customers. Because Olvondo is located on the doorstep of the oil and gas producers in the North Sea, and with the staff's extensive know-how in engineering and machining, the way forward seemed obvious. But getting there was a different story.
Olvondo's staff was already well trained in using NX™ software from Siemens Digital Industries Software, but management needed to decide whether to continue using this solution. "Because we started from scratch as a new company, we decided to rethink the whole concept and operation," Bukkøy says. "Three different software solutions were evaluated in this process. In the end we decided to stick with NX – not just because we were used to it, but because in total this software was the most suitable solution for us."
Olvondo provides engineering services, machining of heavy components and in-house facilities for assembly, pilot production and testing. The company's capabilities include mechanical work, hydraulics, piping and instrumentation and testing. Nearly 100 percent of the company's customers are oil and gas producers, making Olvondo a complete supplier of key parts to an industry with high-quality demands and a strict focus on safety and environmental issues. After one year of operation and with the help of NX, the new company has realized a high degree of success, with first year revenue of more than kr100 million. (kr = Norwegian Krone). The order books are full and thanks to a streamlined organization, production is running efficiently and smoothly.
Meeting competitive challenges
As a country with high labor costs, Norway has struggled to maintain its remaining mechanical industry. Several plants have been shut down in recent years. Olvondo faces competitive challenges from companies located in areas with lower costs. "There are some key factors in our favor here," Bukkøy says. "Our most obvious advantage is our geographical position, right by the North Sea, but other factors are even more important.
"One factor is communication, on several levels. Easily exchanging and converting CAD (computer-aided design) files is crucial and NX enables us to seamlessly convert most files. Quality control is another important factor in our success. We started by creating 'The Olvondo Way,' which is more than a simple marketing slogan.
"The Olvondo Way affects all levels of the organization, including lean production as well as our four cornerstones: extended enterprise, strategy deployment, value stream management, and tools and techniques. To help us achieve these objectives, we also plan to use Teamcenter in the future.
"Another target is to be involved as early as possible in the process of constructing, producing and testing components," says Bukkøy. "This enables both the customer and us to be more purposeful and fulfill the tasks with less work, in less time with less expense. To achieve this, NX is invaluable."