Case Study
Incorporating an automatic depot management solution
OKQ8 works with PlantVision to increase operation reliability with a future-proof system using Siemens' products
OKQ8
OKQ8 AB was established in 1999 and became one of Sweden's largest fuel companies. They actively work to drive the development of more climate and environmentally friendly fuels and products, to reduce inequality while contributing to sustainable cities and communities.
https://www.okq8.se/om-okq8/about-okq8/
Headquarters:

Stockholm, Sweden

Products:

CaamS COMOS, Opcenter, Opcenter Execution Process

Industry Sector:

Energy & utilities
Streamlining depot management
When OKQ8 AB needed to streamline depot management at the oil port in Sundsvall, Sweden, they selected the Siemens Digital Industries Software solution partner, PlantVision AB, to modernize and fully automate the fuel loading and unloading process using Siemens' innovative Digital Enterprise portfolio. This resulted in a future-proof and significantly more efficient fuel management solution.
"We want to get away from the, we have always done it this way, mindset," says Marcus Lundmark, project manager at PlantVision, who focuses on helping his customers prepare for the future.
"We provide sustainable value with operational changes and day-to-day operational work," states Lundmark. "To do this, we work closely with the customer to understand their needs and what is important," states Lundmark. "We do not work in a traditional customer-supplier way. We carry out projects together and we are careful to maintain the quality of what we do while keeping future administration needs in mind."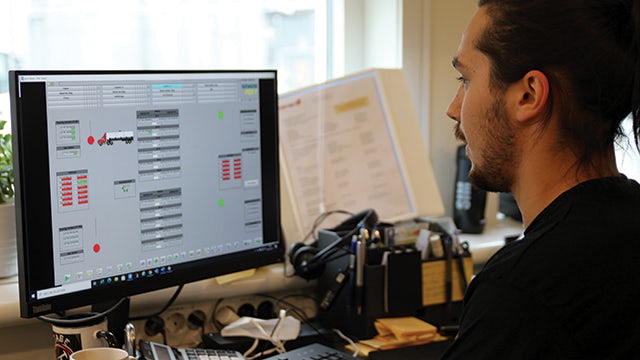 Developing a future-proof solution
Traditionally in the oil and gas industry, there are many small proprietary, niche systems. OKQ8's solution for depot management in Sundsvall was dependent on a few key individuals, with limited system knowledge among other employees.
Loading and depot automation systems often play a critical role for companies trading fuel and chemicals. Reliability must be high for the control of the process and the system must be user-friendly in terms of follow-up and control.
"They wanted a more stable and future-proof solution. Now, we have standardized the system as much as possible with well-known products and a ready-made system," says Johan Bergstrand, automation engineer at PlantVision.
Integrating Siemens' Digital Enterprise portfolio
The broad expertise, complete technical solution and modern technology from Siemens, which includes SIMATIC PCS 7, COMOS, SIMIT and Opcenter ™ Execution Process software, were keys to selecting PlantVision. The company was entrusted with modernizing depot management. This technology is part of the Siemens Xcelerator business platform of software, hardware and services.
"Siemens has a complete range of products for a fully digitalized solution," states Bergstrand.
"For the customer, it is great to have integration between all systems," Bergstrand continues. "Having a standardized and integrated platform with COMOS, SIMIT, Opcenter Execution Process and SIMATIC PCS 7 connects everything in one database. Recipe management, I/O's and all the information are in the same place and synced between the systems. It is smart engineering."
"Simatic PCS 7 presents an advantage to the customer because it is a well-known and widespread system with many knowledgeable users," adds Lundmark.
The handling, which consists of loading, unloading, inventory levels, administration and invoicing, was previously done manually and is now fully automated. This results in a reliable, modern, future-proof and significantly more efficient and traceable solution for depot management that can also be used for followup and documentation.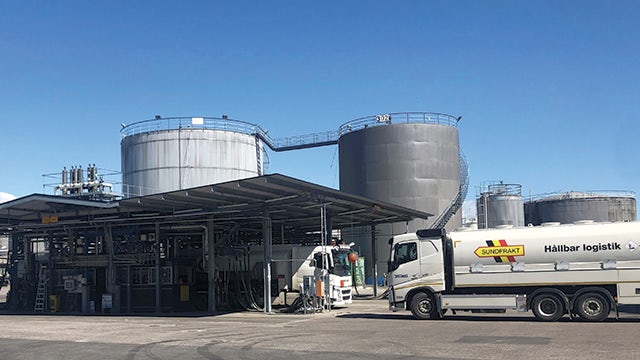 Using a solution with simulation, traceability and followup
The design was created in the COMOS plant information and construction system, where hardware, circuit and control module types were created and then generated in the SIMATIC PCS 7 process control system. The object's location in COMOS is visible as information boxes in the operator part of SIMATIC PCS 7.
"We now have a much better visual overview," states Ulf Lindgren, depot manager at OKQ8. For factory acceptance tests (FAT) and internal tests, SIMIT simulation software was used. "In a simulated test environment, we can carry out training and develop and test new features on our servers," explains Lundmark.
For access to the depot and login to the computer where the orders are placed, radio frequency identification (RFID) is used. Opcenter Execution Process is used for reports, history, integration with enterprise resource planning (ERP) systems, as well as recipe, tank, driver and product management. Opcenter Execution Process, which is Siemens' manufacturing execution system (MES) for the consumer-packaged goods, food and beverage and chemical industries, was formerly known as SIMATIC IT® Unified Architecture Process Industries.
"The process must be steered correctly so the right company gets the right fuel loaded to the right driver. With this solution in place, it is possible to follow up what has been loaded and it is automatically added to the ERP system so the correct payments are made. Previously, people worked inside and outside the system. Now, it is all handled in the same system with quality assured functions and automation," states Lundmark.
"Such systems must work and function properly to make sure there are stocks and access to fuel for critical functions in society," Lundmark continues. "When a recipe changes, which typically happens when new products or rules are introduced, it is easy to make changes."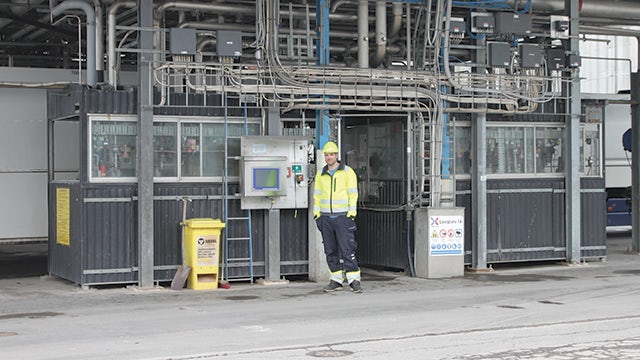 Commissioning during operation
The new system was commissioned in 2020 while the depot was in full operation with ongoing loadings.
"The depot cannot be shut down. Otherwise, a large part of the Norrland region in Sweden would be without fuel. Therefore, the commissioning was protracted and more complex than usual, but it went well," says Bergstrand.
Executing the support and administration
In addition to the implementation of the new depot system, PlantVision also takes care of the support and administration related to the implementation.
"We manage the solution, take care of the entire lifecycle and give tips and suggestions on how the customer can work in the smartest way possible. It is very instructive to be part of the whole journey," Lundmark concludes.