Case Study
Suspension systems manufacturer analyzes solenoid hydraulic valve behavior with Simcenter Amesim
Öhlins Racing
Founded in 1976 and employing 280 people, Öhlins Racing designs and manufactures advanced suspension technologies for a variety of on and off-road applications.
http://www.ohlins.se
Headquarters:

Upplands Väsby, Sweden

Products:

Simcenter Amesim

Industry Sector:

Automotive & transportation
Improving ride quality and safe
To meet increasingly demanding customer requirements, original equipment manufacturers (OEMs) must offer excellent vehicle handling, ride quality and passenger comfort. These attributes are closely linked with the performance of shock absorbers, which are an indispensable part of suspension systems of modern fourwheel and two-wheel vehicles.
Headquartered in Sweden, Öhlins Racing AB (Öhlins) is a very successful niche player in the global suspension system market. Öhlins' history is closely tied with racing, as company founder Kenth Öhlin was a motocross rider. Today, the company designs and manufactures state-of-the-art shock absorbers for racing and passenger vehicles, as well as aftermarket replacements. First, the most advanced solutions are deployed on the top racing series, such as MotoGPTM, Formula One® or the Le Mans prototype series. Then, the technology is extended to other racing series, and finally, some of these solutions are applied to standard vehicles.
One of Öhlins' flagship products is semiactive suspension systems, which is based on its continuously controlled electronic suspension (CES) technology. Since the 1980s, the Öhlins CES technologies entity has been devoted to researching and developing this solution.
Semi-active hydraulic suspension systems enable continuous electronic control of shock absorber damping characteristics.
Unlike passive shock absorbers, CES shocks adjust behavior in real time depending on road conditions and vehicle dynamics, such as acceleration or wheel displacement. Therefore, the driver benefits from sports car-like characteristics when cornering, and smooth limousine-style driving when cruising. As a result, this technology provides excellent ride quality and comfort while promoting safe handling.
At the heart of Öhlins' semi-active suspensions is a solenoid hydraulic control valve that enables continuous control of the shock absorber fluid flow and damping performance. Smooth pressure-flow characteristics are achieved thanks to the unique hydraulic valve design.
It is very difficult to fully understand the dynamic valve behavior given its small dimensions and high operating pressure and flow rates. System simulation is the only way to analyze all the physical phenomena in the valve, predict its behavior and subsequently study different design options.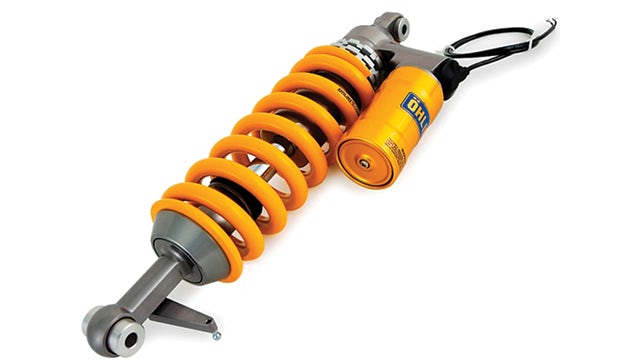 Applying a system simulation approach
To extend its expertise and optimize current products, Öhlins has introduced numerical modeling into the standard engineering design process. After having considered several solutions from a number of vendors, Öhlins opted for Simcenter Amesim software, the mechatronic system simulation platform from Siemens Digital Industries Software. Design engineers found that the extensive Simcenter Amesim component libraries made it better suited for designing Öhlins' mechatronic products covering electric, mechanical and hydraulic domains.
Moreover, the ability to customize components and scale models were decisive factors in tipping the balance in favor of Simcenter Amesim. For instance, the modeling approach of Simcenter Amesim supports "gray box" models. "We are a product company, and we have to make a profit," says Urban Forssell, vice president of mechatronic systems at Öhlins Racing AB. "An engineer would spend 80 percent of his total time trying to get the last 20 percent of model fidelity and accuracy. For this reason, we apply a trade-off approach between gray and white box modeling."
"White box" models enable design engineers to see how the components are designed and how they interact with other components in the system. "Black box" models enable the understanding of input/ output relationships without any knowledge of internal operations. A "gray" model is midway between white and black. Thus, when it is not critical to understand all the physical phenomena of subcomponents, using Simcenter Amesim enables Öhlins design engineers to make compromises between modeling complexity and the accuracy of simulation results.
Using Simcenter Amesim has helped shift the focus from numerical development to physical modeling. Accurate simulation results can now be obtained significantly faster. Moreover, the model maintainability and development process is more efficient using Simcenter Amesim compared to other tools considered by Öhlins. "We are not a company that specializes in modeling and simulation, and we don't want to make it our main business," says Forssell. "What Siemens Digital Industries Software offered us corresponded perfectly with our requirements."
The Siemens Digital Industries Software team's technical and training support was also a major factor in Öhlins' decision to invest in Simcenter Amesim.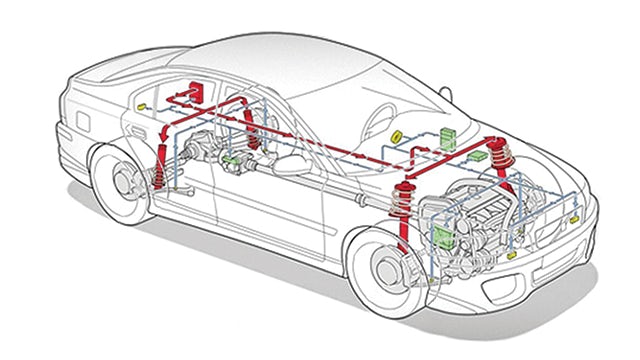 Studying hydraulic valve behavior
Under the CES technology development project, the use of numerical modeling was essential to understand the physical behavior of the CES valve. To increase predictability of the 1D CES valve model, Öhlins CES Technologies imported the results obtained from computational fluid dynamics (CFD) simulation using Simcenter Amesim. Design engineers carried out a CFD analysis and obtained critical physical variables affecting valve behavior, such as flow coefficients and pressure distributions on moving elements. These data were coupled with a detailed lumped parameter model of the CES valve. This 1D model enabled engineers to predict critical pressure/flow characteristics and the overall valve dynamic performance, both when studied separately or coupled with a shock absorber model.
Finally, the numerical results obtained by the coupled 3D and 1D numerical modeling were validated both through measurements on specific areas of the valve and through testing of the complete CES valve. Coupling 3D simulation results with the CES valve 1D model considerably improved the whole valve dynamics numerical predictions.
Using Simcenter Amesim, Öhlins addressed several technical problems. First, the company gained a deeper understanding of the influence of specific geometrical designs and manufacturing tolerances on the hydraulic valve's behavior. Second, Simcenter Amesim allowed the company's engineers to analyze the reasons behind unexpected hydraulic system behavior. Third, Simcenter Amesim helped the engineers predict the performance of physical product characteristics depending on different tuning combinations.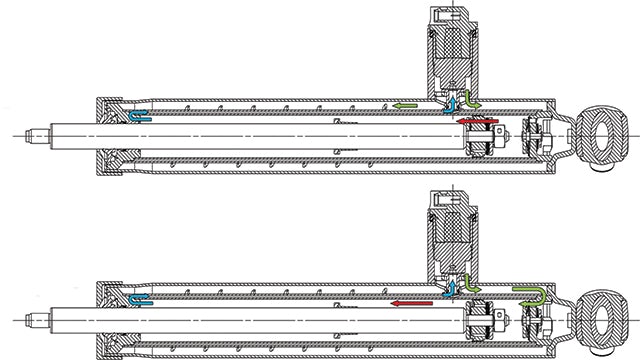 Simcenter Amesim enhances efficiency
Since the integration of Simcenter Amesim into the Öhlins development process, the company's way of working has shifted. Today, more importance is given to numerical modeling rather than to the time-consuming costly trial-and-error process using physical prototypes.
"Our unconventional hydraulic systems present such a wide operating range, elaborate design and small dimensions that their sensitivity to a change of one parameter would be unpredictable without numerical simulation," says Matteo Pelosi, a technical specialist at Öhlins Racing AB.
"We have reduced the number of physical prototypes by a factor of 10 using Simcenter Amesim, which has resulted in huge cost savings and significantly shortened development time," says Forssell. "Our understanding of new designs is deeper than we could ever reach by using physical tests. Simcenter Amesim allows us to analyze and optimize very detailed single effects within the component and thus improve product quality."
Cars and motorcycles are becoming increasingly complex with more and more mechatronic components interacting with each other. Competition, market pressure and customer requirements also continue to increase. Nevertheless, costs must not increase because there is a downward trend in end-consumer purchasing power. "Model-based system engineering is the only way to face these challenges, especially for complex products such as our suspension systems," says Forssell.
Even though innovation and product development have been Öhlins' key drivers for more than 30 years, a recent design paradigm shift is evident. For instance, the CES research and development (R&D) project had taken 10 years before Öhlins saw the first significant revenues.
Today, Öhlins applies the designed-to-cost approach using Simcenter Amesim, and develops high-performance and highquality products in a shorter timeframe. "We must make sure that we rapidly obtain a maximum return on every investment in product development and marketing," says Forssell.