Case Study
Using industrial IoT data to reduce rural wastewater operation and maintenance costs by 80 percent
NEWATER uses Insights Hub to reduce power consumption by 35 percent with a transformational business model
NEWATER IDEA
NEWATER IDEA operations include sewage treatment and water supply optimization for village and township, municipal sewage treatment process upgrade, drainage system testing and early warning services, intelligent water plant platform and application development, sensor development, etc.
http://www.newateridea.com
Headquarters:

Xi'an, Shaanxi , China

Products:

Insights Hub

Industry Sector:

Industrial machinery
In the year 2020, there were 30,100 towns and 517,000 villages in China that had sewage discharge of 230 billion tons annually. But the rural sewage treatment rate was less that 25.5 percent, and the unreasonable disposal of domestic sewage affected the living environment and health of villagers.
To address these issues, NEWATER IDEA (NEWATER) was established. The company developed, and is continuing to innovate on, an intelligent solution for village and township wastewater treatment. Their machines and processes are developed to address each pain point along the water treatment chain. The goal is to enable rural communities to once again have sustainable water and green mountains.
The challenge of wastewater treatment in rural areas
NEWATER sewage treatment equipment has been deployed in over 30 villages and towns around Shaanxi, Shanxi and other provinces. Traditionally, village sewage treatment construction is divided into above-ground, semi-ground buried and ground buried projects. The government has constructed 508,000 water treatment facilities, and the typical rate of effective operation and maintenance is less than 20 percent. Methods of operation and maintenance rely too much on personnel, resulting in low efficiency and exorbitant costs. Particularly in rural locations with large geographic areas, relying exclusively on manual maintenance is unsustainable, as a large number of sites have differing designs and a variety of operations to maintain.
NEWATER found a way to combat these obstacles. Using the industrial Internet of Things (IoT), they are replacing daily manual operations with sensors and technology to enable cloud-based remote monitoring. Based on Insights Hub, the industrial IoT solution from Siemens for improved operational decision making, NEWATER developed its own IoT intelligent operation and maintenance management platform, which is particularly well-suited for addressing the challenges of rural wastewater management processes. With Insights Hub, which is part of the Siemens Xcelerator business platform of software, hardware and services, NEWATER is able to achieve remote monitoring of equipment, operations and maintenance.
With this industrial IoT solution in place, NEWATER reduced operation and maintenance costs by 80 percent and reduced its energy consumption by 35 percent for rural wastewater treatment stations. "Using Insights Hub enables us to increase the efficiency of our operations and maintenance," says Zhang Wushou, founder of NEWATER. "Unattended operation of equipment becomes a possibility as a result of the insight generated by IoT data."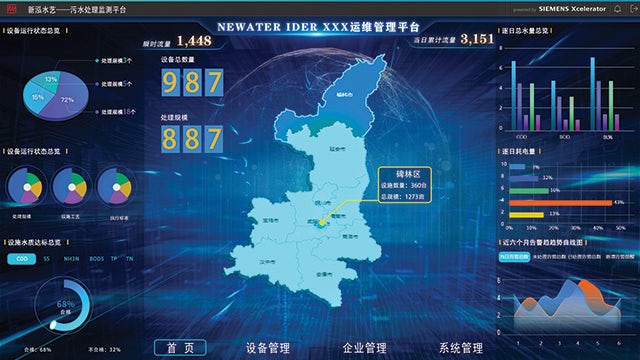 Making large improvements with industrial IoT
The industrial IoT was used to dramatically improve operational and maintenance transparency. Managers can now collect detailed information about equipment in real time and centrally monitor and analyze it. For example, NEWATER can track water quantity and quality, electricity consumption, microorganism count, purifier usage, control treatment time ratio and pollutant removal rate without anyone onsite.
The IoT application NEWATER developed provides significantly improved efficiency. Previously, operations and maintenance personnel were required to visit the sites on a regular basis to inspect all equipment; now the sensors track it for them. Machine data is constantly monitored in Insights Hub, and using their Village Intelligent Housekeeper application, employees get alerts for equipment anomalies or failures in real time, allowing quick responses to maintenance needs.
Intelligent management results in cost savings associated with operation and maintenance. Remote operation and maintenance eliminates redundant work and significantly reduces labor costs; second, it provides scientific guidance to workers regarding dosing and other aspects to avoid raw material waste and third, NEWATER can identify energy savings opportunities based on the analysis of energy data (is equipment leaking?, is a machine running a continuous high-load operation?).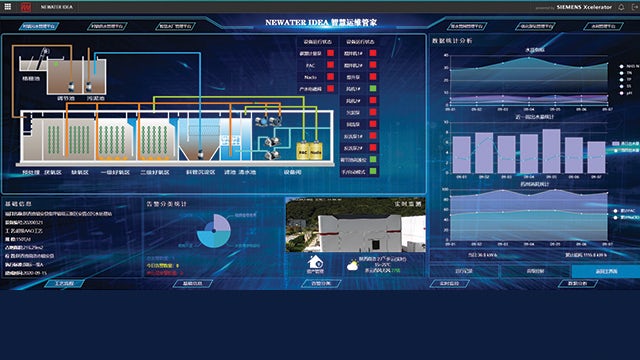 The path to establishing an intelligent water system
Although NEWATER has accomplished a great deal, its path to building an intelligent water IoT system was not without setbacks.
NEWATER first tried to build an IoT solution with an information technology (IT) corporation. But the project ultimately failed due to the lack of experience in automation control and water treatment, and the need for continual updates, flexibility and innovation.
"As an expert in village wastewater treatment, NEWATER masters particular process knowledge, so when we found a partner to assist us in translating our industrial experience into digital solutions, we were able to make a great impact in this market and contribute to the creation of more clean water," comments Zhang. "Siemens is not just a leader in industrial automation and information; it also has a solid understanding of the wastewater industry. We chose Siemens to collaborate on a vision for a new age of intelligent water services."
Insights Hub enables NEWATER to seamlessly connect siloed wastewater treatment equipment, which is important because the operating lifecycle of wastewater treatment equipment is often decades long and many of the stations have legacy equipment. Further, equipment is often a mix of brands and can create language barriers. This prevents operations and maintenance staff from communicating in real time with equipment, much less understand why it's doing what it's doing.
NEWATER's IoT solution, which is based on Siemens plug-and-play industrial gateways, instantly connects equipment and collects near real-time data from siloed equipment, laying the framework for remote monitoring. Simultaneously, the robust data security provided by MindSphere helps alleviate consumers' concerns.
The continual collection and analysis of critical data from each wastewater treatment station is done safely, reliably and conveniently via the Siemens Industrial Gateway. As more devices are connected, NEWATER plans to upgrade to the latest industrial edge gateway products from Siemens, which will add unified gateway device maintenance management and industrial edge application management to the existing features, further expanding the architecture of NEWATER's IoT water solution.
Unique in its openness, Insights Hub enables NEWATER to integrate its extensive process knowledge with an IoT solution and tailor it to the water industry's requirements.
Incorporating highly capable functional modules (building blocks) for device modeling and administration, message management, user administration and security, NEWATER can continually customize their Insights Hub solution.
Additionally, the rapid readiness of the operating environment, centralized control and standardization of the application environment, reduced research and development (R&D) costs, decreased operation and maintenance costs, extensive user resources and increased security made Insights Hub a great fit for NEWATER.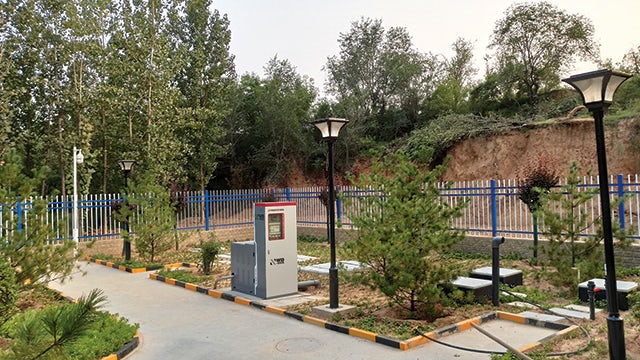 Creating a new business model
Previously, NEWATER relied on the sale of water treatment equipment as a single product to generate revenue, referred to as a one-time deal. Now, empowered by Insights Hub, NEWATER has successfully transformed and upgraded from wastewater treatment equipment provider to intelligent water service provider, and is able to provide users with equipment while hosting operation and maintenance services, including technical support, data analysis and a series of services derived from the operation process. NEWATER has ultimately established sustainable profitability by delivering systematic solutions to end users.
NEWATER is currently collaborating with Siemens to develop an expert knowledgebase on Insights Hub. Historically, process knowledge, operation and maintenance experience were all hidden in the minds of skilled technicians, which was detrimental to accumulating and transmitting knowledge. Now, each operation and maintenance technique and result are uploaded to the system for recording: For example, if a pump fails, users will record what caused it and how they fixed it. In the long term, this will be similar to creating a massive knowledgebase of water industry-related processes. Not only is this database a precious asset for NEWATER, but it also has far-reaching ramifications for the entire business.
With big data empowerment, NEWATER can use their IoT system to monitor, evaluate and assess the equipment's optimal treatment efficiency and procedure, allowing for evidence-based operation. Second, by collecting and analyzing data from critical equipment such as fans and sludge lifting pumps, the IoT intelligent operation and maintenance system can assist NEWATER in anticipating and preventing potential failures, thereby completing the transition from preventive maintenance to predictive maintenance. Finally, based on data feedback, the NEWATER R&D team can improve product design to accomplish product iteration and build more competitive wastewater treatment equipment.
Using Insights Hub enables NEWATER to address rural wastewater treatment difficulties, and it is critical to advancing the water industry's digital revolution. Siemens will continue to collaborate with industry players to investigate the infinite opportunities in smart water solutions.