Case Study
Using improved digital twin accuracy to develop sustainable mobility solutions
NEVS leverages Siemens Xcelerator to reduce initial vehicle assessment cycle time by 50 percent
NEVS
Founded in 2012, NEVS has set out to change how society thinks about mobility. The company has developed a sustainable business model: mobility as a service. It includes a complete ridesharing solution with electrified and autonomous connected vehicles, easy-to-use applications and integrated fleet management for urban authorities and operators.
https://www.nevs.com/en/
Headquarters:

Trollhättan, Sweden

Products:

Heeds, Polarion, Simcenter Products, Simulation Process Integration, Teamcenter

Industry Sector:

Automotive & transportation
Using resources more efficiently
There are 1.3 billion cars in the world, but on average they spend only 5 percent of their lifespan on the road. That was the inspiration for NEVS and its mobility as a service platform.
Founded in 2012, NEVS, which is located on the site of the former SAAB automotive plant in Trollhättan, Sweden, has sought to change how society thinks about mobility. The mobility as a service platform known as PONS is aimed at shaping future mobility options. The NEVS mobility ecosystem includes a complete ride-sharing solution with electrified and autonomous connected vehicles, easy-to-use applications and integrated fleet management for operators and urban authorities.
PONS includes the Sango, an electric, autonomous vehicle, the user-friendly Okulo app for interacting with customers and the Koro fleet management system. It is the full package to change the way we think about going from points A to B.
"We want to improve our quality of life but we need to decouple that from our use of resources," states Felix Andlauer, vice president of mobility solutions for NEVS. "Autonomous vehicles are an option to make people share vehicles and use our resources more efficiently."
NEVS uses the Siemens Xcelerator business platform of software, hardware and services, to create a digital thread and comprehensive digital twin for new and on-going vehicle projects. To develop a safe and functional self-driving mobility solution, the team knows how important adopting advanced simulation technology and a digital twin mindset is throughout the product lifecycle chain. NEVS uses the following Siemens Xcelerator solutions to accomplish these goals: Simcenter™ software, the Teamcenter® portfolio, the Polarion™ portfolio, NX™ software and HEEDS™ software. These tools were a critical part of making the Sango and PONS ecosystem a reality.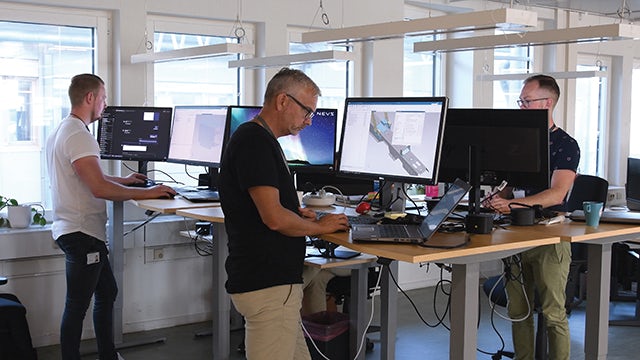 In addition to Teamcenter, NX and Polarion, NEVS teams also count on other tools from the Siemens Xcelerator business platform, including Simcenter Testlab software and hardware for testing, Simcenter Amesim for system simulation, HEEDS for optimization and Simcenter STAR-CCM+ for CFD work.
Finding a way forward together
"Siemens has been very patient with us," says Jessica Svensson, tribe leader of way of working & support at NEVS. "Changing an engineering process is not easy and we are learning by doing. This is where Siemens is an excellent partner. There were times when we were not certain what the next step was ourselves, but together we always found a way forward."
The team at NEVS realized they would have to create something better than a privately owned car if their idea of mobility as a service would succeed. This is why NEVS put so much time and energy into developing the Sango, a luxury shuttle-like electric vehicle EV)/autonomous vehicle (AV) that is meant for ride sharing. With six movable seats and privacy walls, the Sango offers a variety of comfortable and convenient travel interior possibilities from individual workstation-like areas to customizable friend and family sections for socializing.
But NEVS did not stop there. Just having a Sango would not get you far in sustainable mobility. It would be like owning a computer without the software, so the Sango comes with its own mobility ecosystem PONS. This includes a connected user interface (UI) for the autonomous Sango, as well as the Okulo app for customer interaction, and the Koro fleet management solution for operators, such as city councils and public transportation authorities.
Svensson, who is an experienced computer-aided engineering (CAE) user, and her team realized engineers were jumping between software, losing time and making mistakes. Therefore, the team decided to challenge the status quo and examine potential solutions to reduce CAE lead time and move the computer-aided design (CAD) world closer to the CAE world.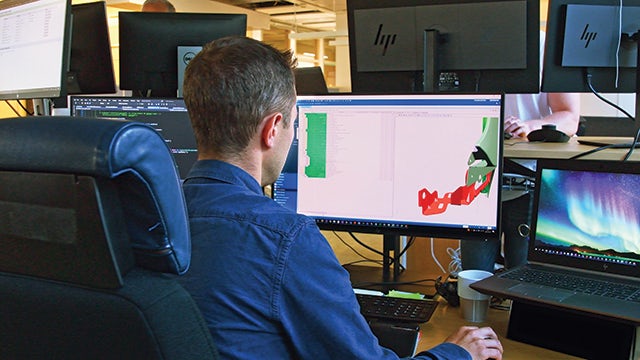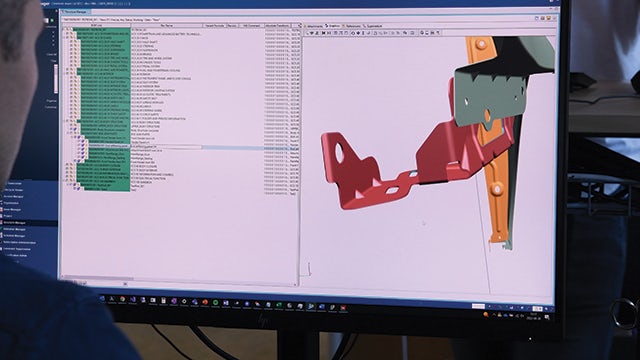 Embracing simulation
With their old way of working, the NEVS CAE team pulled the CAE data out of the system and refined it in a parallel software tool. When there were changes on the CAD side, the CAE team did not always get those changes until the control checks. There were many misunderstandings and poor decisions due to working with incomplete data. That has changed with this new process. The CAD design in NX and the CAE simulation in Simcenter are linked in a precise digital thread via Teamcenter Simulation.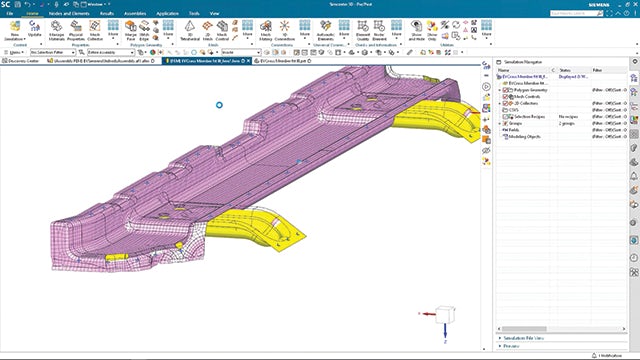 Using Teamcenter Simulation helps the team manage CAD and CAE data so everyone is always working on the most up-to-date information. The integrated software also automates the busy work in the process, creating application-specific CAE assemblies according to common rules and sending results directly to the CAD designers.
"We've worked intensely with Siemens to develop a process with a digital thread so we can know that at a certain point the simulation model relates to the CAD," says Shengnan Zhuang, product owner of CAE at NEVS. "This type of traceability from the design to the simulation for each iteration is vital. We need to know the simulated results reflect the current design."
"Two big advantages of using a reliable digital thread is time savings and quality assurance," explains Svensson. "Before we had a great deal of manual repetitive work. This has changed as the meshing and connections are automated. This improves speed when responding with CAE results back to the engineers developing the vehicle.
"It is crucial to get the products out on the market fast. This requires we have the right tools when developing the vehicle. When you need to do a new assessment, you can reduce quite a few steps. You can feel confident you are using the correct data. Everything is transparent and open to the rest of the organization."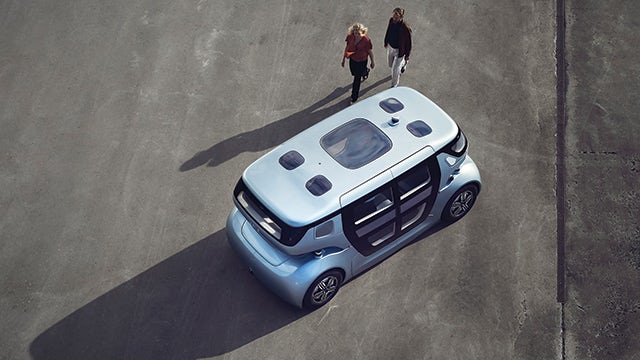 With a pilot project in the works for 2024, Sango and PONS should be hitting the streets in the near future.
Fully leveraging simulation
Even though the entire CAE process is integrated with CAD thanks to the Teamcenter backbone and Teamcenter Simulation, there is still significant room for digital advancement and process improvement.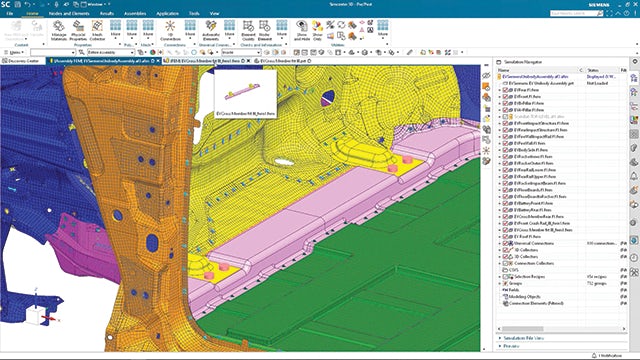 For instance, the CAE vehicles dynamics team uses HEEDS extensively in the early design and concept stages to select the best possible suspensions and drivetrain options. As an open platform, HEEDS works directly with data and models from an in-house tool.
"We started with a traditional approach to optimization," explains Darshan Vachhani, CAE engineer, vehicles dynamics, NEVS. "It was not working well and we were not getting results on time. This extra step in the early process was already causing delays. If you take a typical suspension, you could have 10 to 12 variables or hard points with up to 30 to 35 options for each. It would take more than a week to manually look at all the options that would work with our targets.
"Thanks to HEEDS and our in-house tools, we can run 2,000 design iterations within an hour. With one day of work, we have initial results available."
The result was an 80 percent reduction in identifying early-stage design options. This leaves ample time to assess, postprocess and find the optimal design option, creating a mature design early in the process.
"Right now we typically run three-to-four iteration loops to get to the final design," says Vachhani. "This is very efficient and we plan on integrating HEEDS further in the design process."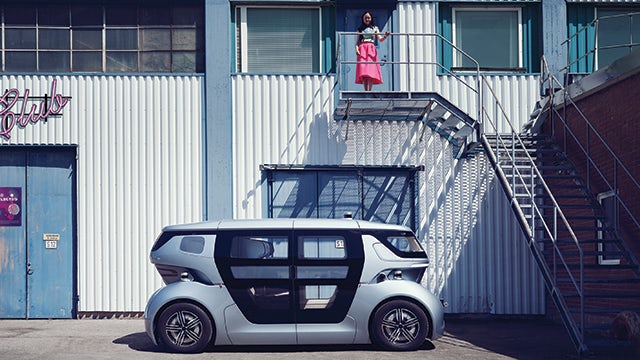 Using Polarion to support collaboration
NEVS uses Polarion, a unified application lifecycle management (ALM) software, to support seamless collaboration within different software environments while keeping everyone up to date in a hybrid workplace. Polarion is a key element of NEVS' traceability success and is used to connect teams and projects and improve application development processes with a single, unified solution for all product development and project management information.
Building a strong foundation
As NEVS turns toward a production-minded process, the entire team knows Siemens Digital Industries Software's software, services and partners provide a strong foundation for their digital ecosystem.
"We can't have a legacy system in development or production that holds us back," says Christian Bromander, tribe leader, mechanical hardware engineering, NEVS. "We have the possibility to make bigger changes and to do this we have to use our software and tools to their full capacity."
Thanks to the digital thread provided by Teamcenter, NX, Simcenter, and Polarion, the CAE team spends its time on valuable engineering tasks and problem-solving and less time on repetitive tasks like meshing and postprocessing. The design teams easily make collective decisions based on accurate engineering data from the specialists. CAE experts are boosting design maturity early on thanks to specialized solutions, such as HEEDS. Using Teamcenter, which significantly improves aspects of the NEVS digital workflow, ties it all together. It all contributes to NEVS' overall goal of a sustainable mobility as a service solution.
"We've had an immediate return-on-investment in our process improvement in vehicle assessment," says Svensson. "At the start, we cut the cycle time 50 percent from 6 weeks to 3 weeks. Our goal is to have a real-time status on the vehicle whenever needed. We're on our way to getting there.
"As an engineer, think of how great this would be. It will be like taking a snapshot of how the vehicle project is going. You just take the picture whenever you need it.
"I think one of the reasons for our success is that Siemens believes in the same vision. We have a common vision in how digitalization can help change the world for the better."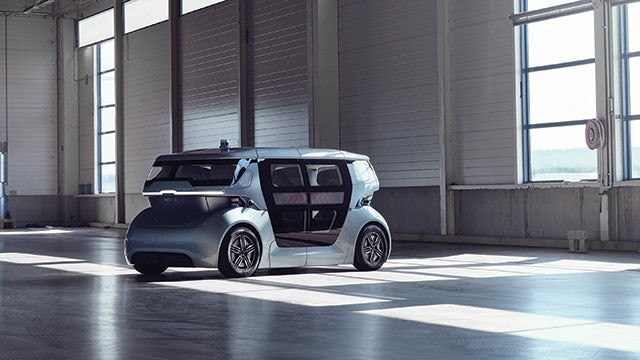 Extending the digitalization roadmap
NEVS and Siemens are currently extending their digitalization roadmap to make the smarter, more sustainable mobility solutions.
"We hope to continue to integrate more of our simulation and digitalization work into a complete and accurate digital ecosystem," says Svensson. "We need 100 percent accuracy and traceability when the Sangos will be driving around in city centers. We need to know that our digital twin is correct.
"We are looking forward to working closely with Siemens to develop and implement even more new digital tools as we move toward a mass production environment."