Case Study
Furnishings company uses Solid Edge to reduce the time to modify customized assemblies by 60 percent
Siemens Digital Industries Software solution helps Nerrox expand its construction and manufacturing business across Europe
Nerrox
Nerrox s.r.o, which is a subsidiary of the Nerrox Group and located in Jablonec nad Nisou, Czech Republic, supplies clients in the European Union with stainless steel furniture and technological equipment for interior furnishings of commercial buildings, especially kitchens, food delivery, schools, canteens and other food-service facilities.
https://www.nerrox.com/
Headquarters:

Jablonec nad Nisou, Czech Republic

Products:

Solid Edge
Nothing comparable
"Solid Edge has a fairly sophisticated module for sheet bending, which is quite essential for our manufacturing process," says Lenka Medová, the director of the technical department at Nerrox s.r.o. (Nerrox), which is located in Jablonec nad Nisou, Czech Republic. "None of its competitors has anything comparable."
Nerrox specializes in the design and manufacturing of stainless steel equipment and interior technology devices for commercial space, focusing on kitchens, cafeterias, canteens and other food-service operations.
Recently, Nerrox has expanded and now supplies its products across the European Union (EU). Its products are offered by HoGaKa, a German supplier of high-quality equipment for businesses in gastronomy, hotels, cafeterias and other operations.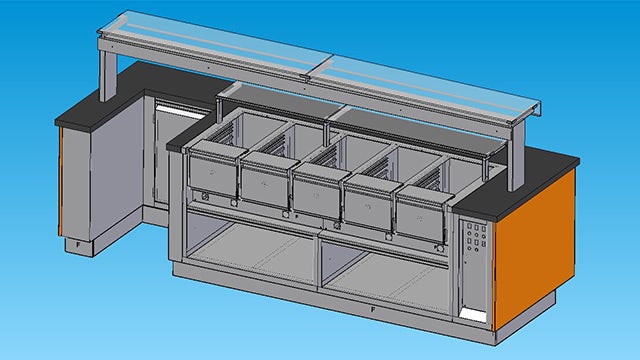 Attracting high-profile customers
The specialized assortment includes stainless equipment, cooling devices, boiling tanks and serving hatches. Recent projects include:
Furnishing the General Electric company cafeteria in Munich, which is marked by an impressive design contrast between the natural wooden floor and white working desks with glass

Providing the minimalist interior of ZF's company cafeteria in Friedrichshafen, Germany, which combines black Nero Assoluto granite with shiny white surfaces

Providing the Audi headquarters in Ingolstadt, Germany with its complex of six independent service lines, combining stainless steel with natural stone
As these examples indicate, the company specializes in customized, atypical projects. Nerrox manufactures some standardized blocks; for instance, it recently launched modular boiling units, which can be configured by the customers based on their needs. But atypical manufacturing makes up the majority of the company's production – and it is precisely because of that Nerrox requires maximum flexibility and a quality software tool.
Nerrox has been using Solid Edge® software since 2003 when it bought its first two licenses of the software from the distributor Miroslav Rusiňák. "Three years later we bought four more licences of Solid Edge and two more in 2012, so at the moment we are using eight licenses of Solid Edge," says Medová.
Life before Solid Edge
Prior to purchasing Solid Edge, Nerrox faced significant engineering concerns.
"The most serious of these issues was the time it took to design individual parts (drawing, layout, side view) when engineering parts and drafting their spreads in 2D," says Medová, pointing out there was an associated problem. As it was a timeconsuming process, users often forgot to project some edges and openings into all views, which caused errors.
"What we lacked was the possibility to check collisions of individual parts in assemblies; it was not possible to generate in a simple way control cross-section views that would serve as a preview," says Medová. And it was this time-consuming and error-prone method of 2D sketching that Solid Edge replaced for Nerrox. "Solid Edge sped up time to production and eliminated errors," explains Medová.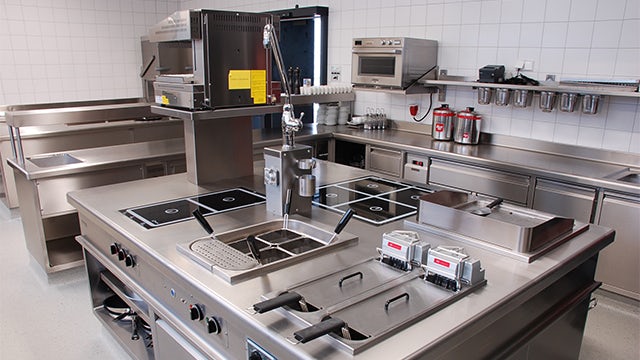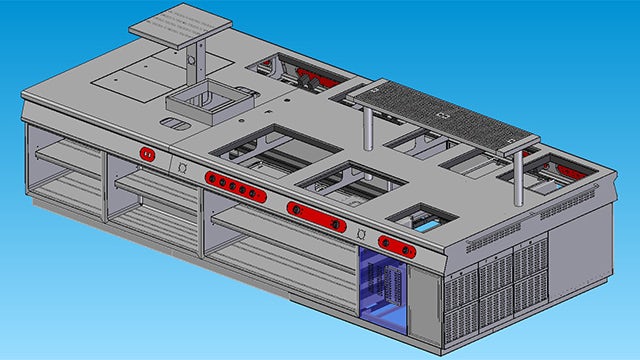 Appreciating the advantages of Solid Edge
Solid Edge is the main tool used at Nerrox to design components such as boxes, cooling devices, showcases, warming and cooling extensions and the subsequent assembly into units.
"We use Solid Edge not just for collision detection among individual parts, but also to design electric circuits, water pipeage, drainage and to provide a preview for the end customers or the architect," says Medová. "Another, and perhaps more important use, is the detailed drawing of concrete assemblies into individual sheets and the generation of mechanical drawing for manufacturing." Nerrox appreciates the advantages offered by Solid Edge compared to its competitors. "Solutions by competitors did not have as well-designed module as Solid Edge," says Medová, emphasizing the benefits of Solid Edge for manufacturing. "The sophisticated module for sheet bending makes it possible to detail individual spreads of the sheets.
"Thanks to the parametrization of parts in Solid Edge, we can modify individual assemblies in about 60 percent of time it took in a competitor's 2D CAD solution," says Medová. "The parametrization is helped by the fact the software is linked with Microsoft Excel speadsheet software, which contains dimensions of individual products. This process makes it possible to modify the entire product, such as a box, in just one go. Entering values into an Excel spreadsheet automatically changes all dimensions in both the 3D model and 2D drawings."
The 60 percent times savings represents a major benefit of Solid Edge, but it is not the only one. Medová points out these time savings mean the Nerrox construction department needs to hire two less engineers, so they can work with eight instead of 10, a 25 percent saving sent. "There are more benefits though," says Medová. "For example, collision preview of parts and wholes. Given the high number of parts in assemblies and the costs of stainless AISI 304 and AISI 316 materials, the collision detection provides a huge competitive advantage, as it makes it possible for us to achieve considerable efficiencies in material (for wrongly designed parts) and time (no manufacturing of new parts is necessary)."
Thanks to all these benefits, Solid Edge has become part of Nerrox's success. The company seeks to become a major global player. Powerful software, which facilitates efficient operation, can become a foundation for further expansion. Nerrox is well prepared for it thanks to its international contracts, an excellent reputation and Solid Edge.