Case Study
Global vehicle manufacturer uses Capital software to develop a digital thread across the entire product lifecycle
Siemens EDA solutions enable Navistar to improve creation of customer service documentation and the service technician troubleshooting experience
Navistar
Navistar is a leading manufacturer of commercial trucks, buses, defense vehicles and engines.
https://www.navistar.com
Headquarters:

Lisle, Illinois, United States

Products:

Capital Publisher, Smart Client

Industry Sector:

Automotive & transportation
Seeking new solutions to update processes
Navistar is a world leader in commercial vehicles that manufactures applicationspecific heavy trucks, buses and defense vehicles. As the complexity of a vehicle's onboard electrical and electronic systems increases, so does the task of rapidly identifying and diagnosing system faults. Having accurate and easy-to-use service documentation not only saves the technician's time, but it reduces customer downtime and improves brand quality.
Navistar's service organization understood engineering was transitioning to a new method of developing electrical data and those changes would affect service documentation. Given this transformational shift, the service organization sought new solutions. The process they were using was error-prone due to significant manual reentry and the redrawing of harness prints, which led to almost unusable service documentation.
In the old system, the engineering was harness-centric, but the service information required it to be system-centric. This meant a third party had to back engineer systems from a set of harnesses, often missing key content and connectivity. The third-party organization spent an average of over seven months preparing and cleaning the schematics for dealerships, and trying to update a design could take another six months. Navistar knew this process was unsustainable as most packages produced were unusable by service technicians as they did not always match or have complete information.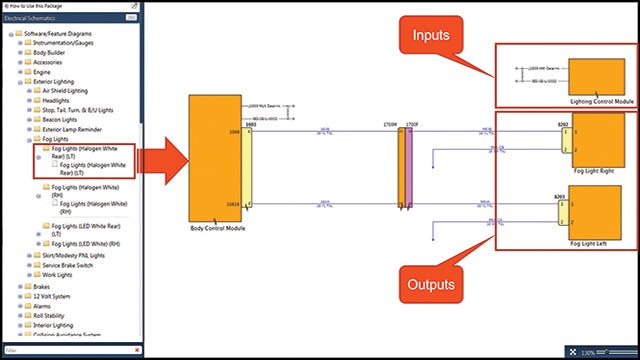 Taking a major step forward
For other processes, Navistar enjoyed success using solutions from Siemens EDA. Navistar was impressed with the capabilities of Siemens EDA Capital® software tool suite and decided to employ Capital Publisher™ software and Smart Client for this design challenge.
"We are always looking for ways to provide a better service experience to our customers," says Dominic Venice, service information manager, Navistar. "Commercial vehicles are valuable, hard-working assets, so everything that maximizes their uptime is important. By deploying Siemens EDA's technology to our dealership network, we have taken a major step forward in our customer service capabilities."
Venice added that Navistar's dealership network is already realizing the benefits of these enhanced schematics.
Navistar uses Capital Publisher to not only automate the creation of technical documentation, but to also provide a highly interactive environment for service technicians to quickly diagnose problems. Fully integrated with diagnostics systems, Capital Publisher can be used to display and seamlessly link assets, such as wiring schematics, connector face views, component locations and truck harness views. Technicians can explore intelligent electrical schematics, which are generated dynamically for specific vehicle configurations. These interactive data packages can be hosted from a website or delivered offline to portable devices such as tablets, making them suitable for both commercial and military applications.
Using Capital Publisher streamlines implementation
As part of the implementation, two processes were developed, one for current designs and one for the future. Both the engineering and technical publication teams had to learn a new process for linking circuits within current harness designs, and simultaneously launch a generative flow for future designs. It was important to understand source content, organize it logistically and publish correct schematics before creating service documentation.
The teams collaborated on matching wiring schematics to feature codes and developing a style guide for the schematics. They then co-developed a folder structure using feature codes as a base to match the way service technicians identify the systems in a truck, thus making it intuitive to navigate to the correct data. The naming structure was important, so Navistar used Capital Publisher to streamline the substitution of content terminology from engineering to after-sales names such as module, service and component.
"Navistar builds highly configurable trucks to meet our customers' needs," says Scott Sine, project manager for Smart Client, Navistar. "Siemens EDA's fully integrated schematics allow our dealerships to quickly find and understand the complex electrical system required for custom trucks. With this first release of integrated schematics to support our new lift tow (LT) platform, we have just started to utilize the potential of this new technology."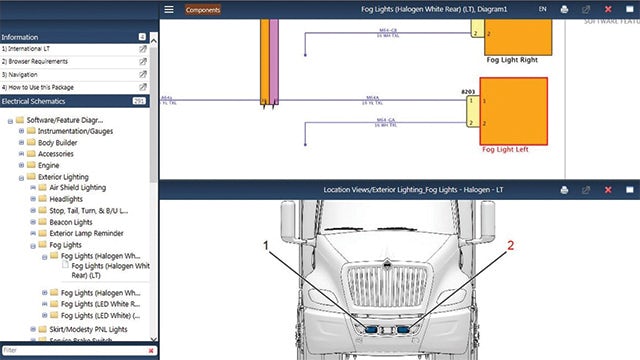 Transforming documentation and troubleshooting processes
Navistar saw dramatic results after implementing the new process. A complete supply chain had been eliminated, bringing a key competitive value-add back in-house. Service documentation went from taking over six months for initial creation to days. In addition, changes and updates can be made and published within minutes, and requires one person instead of an information technology (IT) department as was previously the case. The packages delivered were also more complete, included more organized data, easy navigation, and could be linked with schematic relationships and component location views. This is critical given there can be tens of millions of possible configurations to choose from, and a technician needs to quickly understand what kind of service the truck is receiving.
For example, to diagnose an issue for the fog lights, in the old process there were 13 pages that took over two hours to find. In the new process, a technician can click on the feature and see all the related information from within the schematic.
This is also true with things like connector views, location views, links to diagnostic procedures and links to the parts catalog. This can save valuable time and effort in maintaining the vehicle by reducing the time to diagnose a problem from hours to minutes.
With Siemens EDA Capital software, Navistar transformed the customer service documentation creation and service technician troubleshooting experience.