Case Study
Reducing the cost of airfreight with innovative designs
Siemens solutions help startup company develop airplanes that can reduce the cost of airfreight by 50 to 60 percent
Natilus
Natilus is a California-based startup working on creating drone aircraft. The company's goal is to reduce the cost of airfreight by 50 percent through thoughtful design and a smarter use of space.
https://www.natilus.co
Headquarters:

San Diego, California, United States

Products:

NX, Fibersim, Simcenter Products, Teamcenter

Industry Sector:

Aerospace & defense
Reducing the cost of air freight
Natilus is a California-based startup working on creating remotely controlled drone aircraft. The company's goal is to reduce the cost of airfreight by more than 50 percent through thoughtful design and a smarter use of space. The small and growing team of extremely passionate engineers is working on re-thinking the next generation of freight aircraft. The team includes builders and designers who have worked on more than 25 aircraft programs in general, commercial and military aviation.
"We believe that reducing the cost of airfreight by 50 percent or more will bring fresher produce into our stores, enable cross-border e-commerce to flourish and enable low infrastructure regions to develop," says Aleksey Matyushev, CEO and founder of Natilus. "To make that happen, we need a new type of vehicle and a different way of thinking."
"The problem we're trying to solve is that air freight is too expensive, but timely, and ocean freight is a commodity, but it's very untimely," Matyushev explains. "To give you a perspective, to bring goods via ocean from Asia to the United States can take up to a month, but it's very inexpensive. Air freight costs ten times as much but can be done in two to three days. Our solution is to bridge the gap and capture the timeliness of airfreight, but at a reduction in cost of 50 to 60 percent to get closer to the commodity pricing of ocean freight. When the industry goes green, whether through hydrogen fuels or electrification, specifically for the weight classes of our planes, air freight will be a commodity. Ocean freight could almost disappear – an interesting future that we think about every day."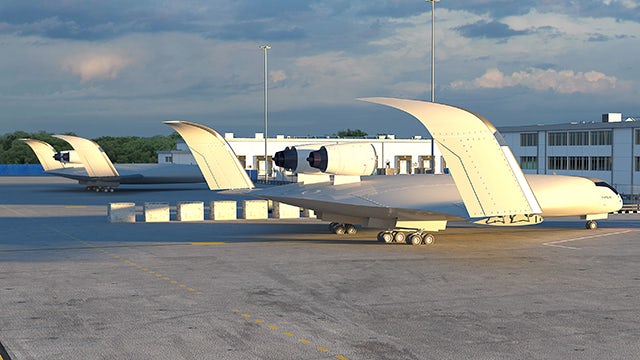 Finding traction in the air cargo industry
Natilus already has more than $6 billion in initial orders from major airlines and customers all over the world, with an order book of more than 400 airplanes. "From a business perspective, our solution has really found traction," says Matyushev. "Cargo airlines have small operating margins, three to four percent, and can turn a profit in a good year. If they replace their fleets of Boeing and Airbus planes with our solutions, that margin could go to 33 percent, which is an astronomical change for bottom-line performance."
Natilus solutions also address another industry challenge – the worldwide shortage of well-trained pilots. Passenger traffic is predicted to double by 2035, and pilots in the freight world are expected to help fill that gap. With remote piloting capabilities, Natilus solutions will enable a single pilot to command three aircraft at once. "One of our requirements is that there will be no pilots in the cockpit," says Matyushev. "We're helping to fill that void."
Natilus is currently developing three products, all with carbon-fiber composite airframes. The first is a 19,000-pound aircraft with a 90-foot wingspan, slated to begin production late in 2021. The second is a 60-ton aircraft, similar in size to a Boeing 767, targeted for domestic service in the U.S. but also capable of serving Europe and Asia. The flagship product is a 700-ton competitor to the Boeing 777 with 10 percent larger wingspan, capable of trans-Pacific flight.
Natilus' blended-wing body configuration is a first for cargo aircraft. "From a freight perspective, it makes a lot sense," Matyushev explains. "It has 50 percent more volume internally, so it doubles the amount of revenue cargo per flight. With conventional designs you start to run out volume before you maximize the takeoff weight of the airplane."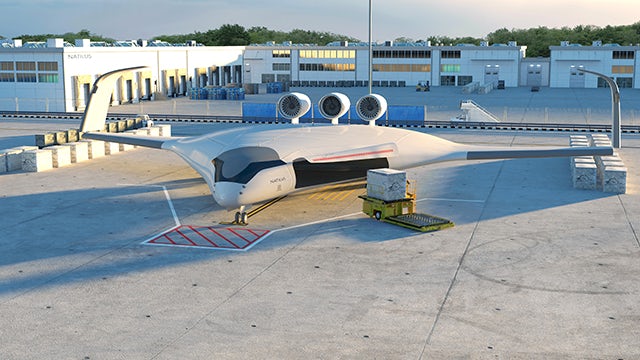 Advanced engineering tools for a bold vision
To develop its products, Natilus uses NX™ software for computer-aided design, part of the Siemens Xcelerator business platform of software, hardware and services.
Natilus had worked earlier with a popular mainstream CAD package that was attractively priced (always a consideration for startups) but lacked powerful surfacing, large assembly design and other capabilities needed for large aircraft development. That software proved incapable of evolving designs to the degree needed for suppliers to manufacture the production prototype. "We started to get into more complex surfacing, specifically with our blended-wing body design with a lot of curvatures and intricacies in the surfaces, and we could not get through the problems using the other software," Matyushev explains.
Siemens NX (and its predecessor, Unigraphics) has a long history as a workhorse in the aerospace industry that factored into Natilus' selection of a higher-performance CAD solution. "Two of our three co-founders were really influenced by NX when we were in industry," Matyushev relates. "We looked at other solutions, but NX is an incredible tool for us."
Another factor in the decision for Siemens solutions is a Siemens program for qualified startup companies that offers discounted pricing. The program recognizes the unique challenges of startups and helps entrepreneurs grow their business to full potential using cost-effective and high value-added software.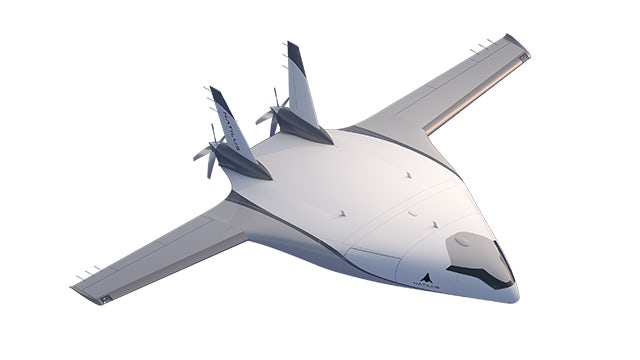 Assistance from an expert partner
Natilus is working with Saratech Inc., an engineering company and a Siemens Smart Expert solution partner, for delivery and implementation of the Siemens solution. With a large team of engineers and more than 1,000 customers, Saratech has the knowledge, technical expertise and resources to help customers like Natilus develop better products through better product development experiences.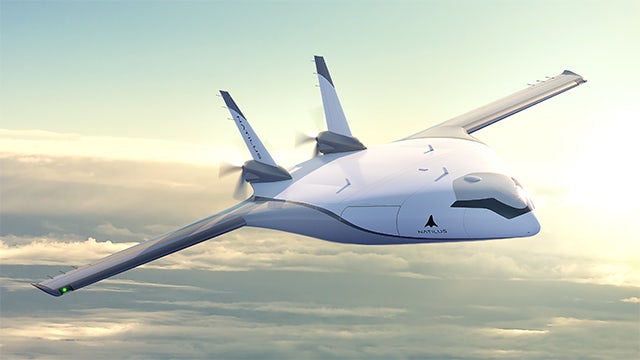 Collaboration and data management
Natilus is also working to implement Teamcenter™ software to provide collaboration and data management tools for its rapidly growing development team. For the next phase of development, Natilus also plans to use the Fibersim™ portfolio of software for composites engineering. "The airplane is in the detailed design stage – the bones of the airplane have been laid in but there is currently no core in terms of carbon fiber," says Matyushev. "Fibersim will be part of our daily workflow as we set up the plane for manufacturing, moving from a solid model to foam cores with ply schedules. The airframe structure is one of the longest leadtime items and our big push over the next six months."
The Natilus team is currently using NASAdeveloped digital simulation tools, specifically Nastran for stress analysis and FUN3D for computational fluid dynamics (CFD). The company is evaluating additional finite element analysis solutions from Siemens' Simcenter™ portfolio of simulation software for stress analysis.
Expanding the team
Currently, Natilus is expanding its development team, with a target of doubling headcount very quickly. The company is seeking dynamics engineers, composites experts, and electronics and propulsion engineers. "We're looking for 'the right stuff,'" Matyushev says. "We want people who are extremely passionate about aviation, people who have been in industry, like to work with their hands and are multidisciplinary. They will be stepping into an environment that works very fast." The expanded team will be onboarded quickly and collaborate on the development project using the Siemens solutions.
Leveling the playing field with aviation giants
"We're very excited to use Siemens solutions – they give us the capability and the technology of large aviation companies like Boeing or Airbus, at a cost that is very palatable to a startup," says Matyushev. "We can operate in an engineering environment that is on the same level as the big giants, essentially leveling the field with them. Siemens is almost a one-stop shop for core tools and technologies that work within the same environment, and that will help us get to where we need to go with our products to deliver solutions to our customers."