Case Study
Reducing costs by enabling in-house testing
Nari Technology uses Simcenter for simulation-based testing to realize time savings of 80 percent
Nari Technology
Nari Technology Co., Ltd. is a leading supplier of solutions for power and automation technologies in China. Its business covers the fields of power system automation, smart grid, renewable energy, railway automation, industrial control, energy conservation and environment protection, power plant auxiliary equipment
technology, etc.
http://www.naritech.cn/
Headquarters:

Nanjing, China

Products:

Simcenter 3D Software, Simcenter Micred Quality Tester

Industry Sector:

Electronics, Semiconductor devices
Nari Technology Co., Ltd. (Nari) is a semiconductor company operating as part of the Nari Group. The company adheres to the development concept of leadership through building positive customer relationships, driven by innovation with a focus on quality. Nari's main business involves the production, processing and manufacturing of high-power insulated-gate bipolar transistor (IGBT) modules for power electronics. These modules are an innovative and relatively unexplored field in Chinese manufacturing, with high requirements for power, current and voltage. Additionally, the modules must be reliable, with a high thermal dissipation capacity. This requires design details such as circuit design to be carefully monitored, which often results in slower, more costly design processes.
Identifying business goals
As a newcomer to the industry, Nari's IGBT module development facilities lacked the high-level software and hardware required for in-house testing. The company had to rely on third-party companies for outsourcing all testing in its research and development (R&D) processes. To grow its business, Nari identified three key goals – reduce product development time by improving design efficiency, increase product reliability and reduce trial-and-error costs.
The company had a longstanding relationship with Shanghai SimuCAD Information Technology (SimuCAD), a Siemens Expert Partner in Simcenter™ Simcenter Micred™ Quality Tester software. This software is part of the Siemens Xcelerator business platform of software, hardware and services. Siemens recognizes partners that exemplify advanced expertise and competency in a Siemens solution or industry. Siemens Expert Partners are validated by customers and Siemens for demonstrating their superior business and technical acumen.
As a Siemens Expert Partner, SimuCAD invited Nari to join technical seminars that introduced digitalization solutions such as Simcenter Micred and discussed relevant domestic and international business cases. Siemens experts attended the seminars and shared their knowledge about the software. Nari chose SimuCAD as the partner to help it achieve its business goals after learning about the efficacy of Simcenter Micred.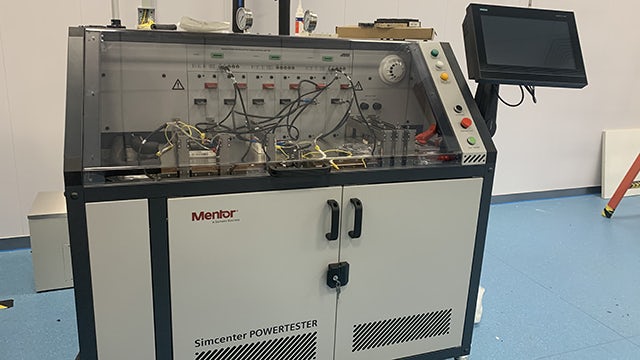 Implementing Simcenter Micred in the development process
SimuCAD recommended implementing Simcenter Micred to enable Nari to bring testing in-house, helping it reduce costs and development time. The Simcenter Micred power cycling and thermal testing platform enables users to quantify the aging and degradation of semiconductor devices during heat buildup. SimuCAD also provided additional custom development to target Nari's specific needs, including tooling fixtures and test benches.
"The power cycle thermal test system is easy to use and well integrated, so we don't need to connect any external subsystems," says Hu Xiaogang, reliability engineer at Nari. "The main system is powerful enough to meet the test requirements of various working conditions through its built-in software interface settings. With its experience and capacities, SimuCAD has provided the tooling, fixtures and other components that are needed in our product testing, which helps facilitate the entire testing process."
Additionally, Nari received hands-on training to show the company's R&D engineers how to use the testing equipment in conjunction with Simcenter Micred software. SimuCAD also offered remote technical support to Nari during the testing process.
Simcenter Micred was particularly useful for Nari as it enabled the company to test using a comprehensive digital twin, which reduced the need to produce expensive test products. Previously, Nari operated on a trial-and-error basis. However, leveraging the digital twin allowed the company to test product performance in various working conditions and analyze the root cause of any issues, implementing required countermeasures before manufacture.
"Siemens' power cycling thermal testing boasts unique advantages," says Dong Changcheng, department manager at Nari. "For instance, the thermal resistance of each layer of the product is tested during the power cycle of the IGBT module, which enables us to obtain experimental data during the design and development. We can also summarize the change trend of the product's thermal resistance in different power cycle stages so we can grasp product reliability and thermal characteristics to avoid design flaws."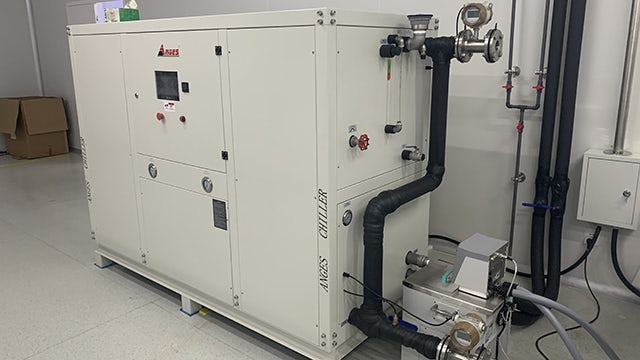 Simcenter Micred helps Nari improve heat dissipation capacity
The results of implementing Simcenter Micred in Nari's R&D processes were impressive. Testing using the digital twin enabled the company to realize time savings of 80 percent in the development and design process. The software helped the company reduce costs by almost 50 percent.
Product quality also improved as the heat dissipation capacity increased by 30 percent and product life was extended by 20 percent. These results are key in helping Nari remain competitive in its industry.
"Due to the Simcenter Micred power cycle thermal test system, we have established the reliability test and verification platform, which can be used to accurately perform qualitative and quantitative testing and analysis of our self-developed power electronics IGBT modules," states Lu Hongshui, vice general manager at Nari. "This enhances the reliability of our products."
With production moving more smoothly, Nari is looking to expand its testing capacity and implement enough testing equipment to enable larger scale manufacturing.