Case Study
Developing skills in advanced manufacturing technologies
Insights Hub adds IoT skills to the e-learning curriculum for advanced technologies training specialists
MTAB Technology Center
MTC is a leader in skill development and validation in advanced manufacturing technologies like CNC, robotics, automation and Industry 4.0. The company develops Abhyaz.com, an integrated solution that brings all components of robust learning and skill development onto one platform.
https://mtabtechnology.com/
Headquarters:

Chennai, Tamil Nadu, India

Products:

Insights Hub
Developing skills for Industry 4.0
India's growing technological prowess in the 1990s and 2000s as well as its global leadership in software services makes it clear that the next wave of growth for the country will come from high-tech manufacturing. However, there is a significant gap between skill sets available in India's manufacturing ecosystem and the knowledge base that will be required to equip, operate and maintain the high-tech machines used in modern factories.
To address these gaps, MTAB Technology Center (MTC) was established in 2011 to focus on skills development, training, upgrading and maintenance of advanced manufacturing technologies. The company aims to upskill the Indian engineering student base and workforce to prepare for Industry 4.0.
MTC develops Abhyaz - An integrated platform for Engineering projects, Skill Development, Knowledge Building across 13 engineering and manufacturing technologies. Abhyaz offer India's NEP-2020 alignment thru digital, online, inter, multi-disciplinary courses with regional language support. It delivers Outcome based education in your labs through data driven competency maps. The platform integrates 1000+ hours interactive e-learning on its Learning Management System (LMS) with a variety of engineering software and track outcomes, competencies, infrastructure utilization with its Analytics Dashboards.
Abhyaz Platform is a virtual lab environment for institutes and industries and offers a unique online experiential model to meet curriculum and extra curriculum needs across Industry 4.0, CNC, robotics and automation technologies. It offers its users assessments, virtual lab experiments, online lab examinations, workshops and projects and thus builds and maps manufacturing competencies based on application, job-role and technology.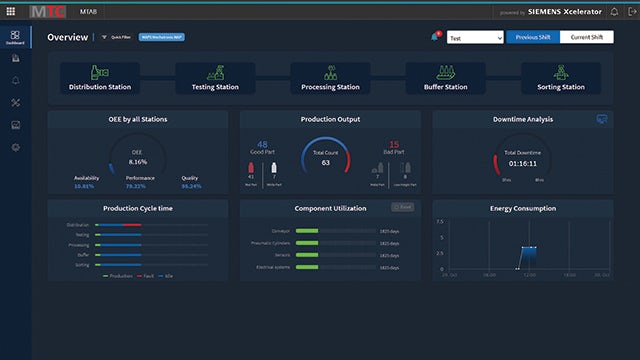 Powering Siemens Centers of Excellence
As a technical partner of Siemens, MTC already offers services to set up and operate Siemens Centers of Excellence laboratories in engineering universities. These state-of-the-art laboratories include the typical equipment and software that drive modern manufacturing. MTC helps plan, install, commission and operate these Centers of Excellence to offer high-tech skill training for the students and staff of the institution.
The Indian government began promoting the adoption of innovative and new technologies under the flagship initiative of the Ministry of Skill Development and Entrepreneurship (MSDE). Given MTC's strong platform and collaboration with Siemens, it is well-positioned to provide reliable and long-term solutions to address this current MSDE challenge.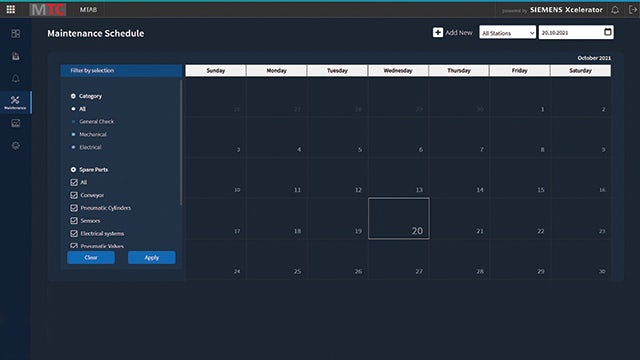 IoT: Competitive advantage for industry – and MTC
To bring more innovative and new technologies into the Siemens Centers of Excellence, MTC turned to the internet of things (IoT). The IoT is a diverse technology with unprecedented business opportunities and risks that is quickly changing the dynamics of industry. The IoT can quickly transform business operations; however, implementing IoT can be expensive and sometimes requires a decades-long strategy and lots of expertise to succeed. Students need to learn how it works and how to work with it.
MTC decided to help close the skills gap for IoT challenges, including sensors and networking; compatibility and systems integration; connectivity; data capture, handling and analytics; data security and privacy issues; and value delivery.
After evaluating various IoT solutions, MTC selected Insights Hub, the industrial IoT solution from Siemens for improved operational decision making, which is part of the Siemens Xcelerator business platform of software, hardware and services.
On the shop floor, MTC onboarded stations of mechatronic kits to transfer operational data to Insights Hub. From there, MTC used Insights Hub to develop a custom application to facilitate operational transparency. The application monitors key performance indicators (KPIs), maintenance schedules, alerts and energy consumption. The solution used with the actual machines is replicated in MTC's training kit and will help MTC train students in industrial IoT.