Case Study
Móveis Bartira deploys Siemens solution to improve scheduling and planning processes
Brazilian furniture manufacturer uses Opcenter APS to realize significant productivity gains
Móveis Bartira
With over 50 years of history, Indústria de Móveis Bartira, a furniture company belonging to the Via Varejo group, is the largest furniture factory in Latin America and the largest furniture supplier in Casas Bahia.
https://www.moveisbartira.com.br/
Headquarters:

São Paulo, Brazil, Brazil

Products:

Opcenter, Opcenter APS

Industry Sector:

Consumer products & retail
Indústria de Móveis Bartira (Móveis Bartira) is the largest furniture manufacturer in Latin America and the most prolific furniture supplier in Casas Bahia, Brazil. Móveis Bartira won the confidence of Brazilians through its 50-plus year history by making quality furniture accessible to everyone. With over 1,400 employees, the company produces 26,000 units of kitchen and bedroom products daily, serving all of Brazil.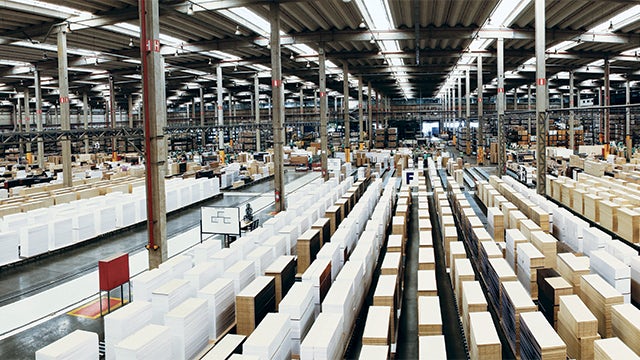 The challenge
Until the end of 2018, Móveis Bartira sequenced only bottlenecked resources, and even for these, the time to generate the list of operations was high, taking at least a week to complete the monthly plant production scheduling. The lack of dynamism in sequencing and rescheduling generated recurring delays at the end of each month. The Móveis Bartira team, 10 people at that time, used spreadsheets to manage their day-to-day operations: data collection of notes, management of production orders and sequencing of lines.
Facing these challenges, the company sought partner NEO to carry out its plant's detailed production scheduling project. They did this through the Opcenter™ Advanced Planning and Scheduling (APS) software. Opcenter is a part of the Siemens Xcelerator business platform of software, hardware and services.
The solution
Opcenter APS offers high-level digitalization that immediately brings production processes up-to-speed and helps manufacturers respond immediately to unexpected changes. Opcenter APS is specifically designed to meet this need, using advanced algorithms that balance demand and capacity to generate achievable production schedules.
Opcenter APS is parameterized to meet the scheduling needs of Móveis Bartira's sectors for edge gluing, drilling, painting, assembly and packaging. For each sector, the product's various characteristics are mapped and configured as setup attributes, among them: type of edge tape, product family, type of design and plate color.
Opcenter APS delivers a viable production plan that balances resources and reduces work-in-process (WIP) within the factory by synchronizing operations and respecting and minimizing the factory's proper setups and tooling restrictions. For each released schedule, Opcenter APS receives the production data entered in its manufacturing execution system (MES) and then updates the plan for those machines. From there, the schedulers reschedule all other operations with their proper priorities (normal order, service order, replacement order and re-work order).
Móveis Bartira also needed to analyze the factory's production capacity, labor, raw materials and other variables. Opcenter APS delivers a production simulation solution, making it possible to execute a production plan for months into the future.
With the plan ready and validated, the user then exports the production list of the machines directly to the enterprise resource planning (ERP) and MES. From the moment the sequencing is released, it is available at the machine terminals for operators to fulfill their shift sequencing. With locks on the machine terminals, operators cannot change the sequence suggested by Opcenter APS without supervisor authorization, making the work performed by the production planning and scheduling team to be accomplished on the factory floor.
The benefits
Soon after implementing the new scheduling system, work efficiency at Móveis Bartira skyrocketed. Using Opcenter APS, a job that previously took one week to complete is now finished in two hours by a four-person team. The vision of sequencing only the bottleneck resources changed to include every machine in the factory, giving the production, planning and scheduling department greater analytical power.
Before Opcenter APS, when scheduling only bottlenecks, Móveis Bartira's adherence between plan and execution was 60 percent. Six months after implementing the Siemens solution, adherence reached 100 percent. The production capacity, which used to be 24,000 units, increased to more than 26,000, a rise of nearly 10 percent, with all deliveries in advance. Part of this efficiency gain was due to data synchronism and improved work in all sectors.
The data previously collected from several spreadsheets is now extracted from the Opcenter APS database in just minutes.
The result of using Opcenter APS daily is significantly improved synchronization between the different processes. Team members can now participate in more strategic company activities, such as analyzing data and searching for the best solutions.
"Implementing Opcenter APS was a milestone for our company," says Fernando Canelas, head of the production planning and scheduling department, Móveis Bartira. "Without synchronizing all production steps, we would not be at our current delivery level. All companies should implement a finite production scheduling system to eliminate human interference in the scheduling process as much as possible."
One year after implementing Opcenter APS, Móveis Bartira continues to invest in new waves of the project, looking for new solutions, new reports and new personalized scheduling rules to automate routine tasks as much as possible.