Case Study
Leveraging Simcenter STAR-CCM+ to enhance innovation in the cloud environment
Siemens solution on the cloud enables Modine to reduce CAD cleanup time by 66 percent
Modine
Modine Manufacturing has led the way in thermal management since 1916. It designs, manufactures and tests heat transfer products for a wide variety of applications and markets, including automotive, HVAC, industrial machinery, data centers and refrigeration. The firm is headquartered in Racine, Wisconsin and employs 12,000.
http://www.modine.com
Headquarters:

Racine, Wisconsin, United States

Products:

Simcenter 3D Software, Simcenter STAR-CCM+

Industry Sector:

Automotive & transportation, Industrial machinery
Always innovating, always improving
Most of us use Modine products every day, perhaps without even realizing it. Its components can be found in all types of appliances from cars to refrigerators, home heating and cooling. The multi-billion dollar global company has been designing and manufacturing innovative thermal management products for over 100 years.
Modine's story began in 1916 when Arthur B. Modine first set up shop to produce components for the automotive industry. That year 3.6 million cars and trucks were manufactured in the United States and there was a clear need to find ways to build better and more reliable components to supply the booming market. Since then Modine has expanded its expertise and knowledge from automobile heat exchangers into a wide variety of applications and products. Today they produce parts for heating ventilation and cooling (HVAC) systems, data centers, off-highway vehicles, power generation and refrigeration.
Headquartered in Racine, Wisconsin, Modine employs over 12,000 staff and each one seeks to uphold the company's philosophy of "always innovating, always improving." These qualities are crucial for success in today's marketplace, which requires manufacturers to deliver ever greater energy efficiency, reliability and durability. In the case of thermal management components and systems, anything less than flawless performance can lead to unwelcome warranty costs and a loss of brand reputation.
"The customer expectations are significantly higher than ever," says Viswanath Setty, lead computational fluid dynamics (CFD) manager at Modine. "They always request more performance or better durability designs."
Over the past two decades, the Modine design team has increasingly relied on CFD simulation to supplement physical testing, with the insight gained from simulation becoming a critical factor in helping them to design better-performing products.
They saw the potential for simulation to have a far greater impact on the product design process if two challenges could be met: First, they needed to capture more realistic behavior in their simulations, allowing design decisions to be taken on the strength of virtual testing without a physical prototype. Second, they needed to run more simulations to explore different design options and find innovative solutions.
To meet these challenges, the design team selected CFD solution Simcenter™ STAR-CCM+™ software, which is part of the Siemens Xcelerator business platform of software, hardware and services. They found it offered high fidelity, fast turnaround and scope for the workflow automation they required.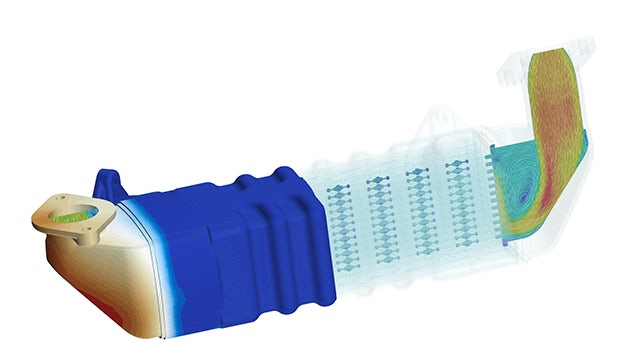 EGR cooler CHT analysis with 48M polyhedral cells. The temperature profile on the metal surface and the velocity profile of the coolant at a section inside the cooler.
Cut CAD cleanup time by 66 percent
The first step in any CFD analysis is to prepare the geometry for meshing. In the case of a complex component like a heat exchanger, the production assembly might contain over 100 individual parts, some of which are small, including thin-walled turbulators (irregularly shaped pipes).
Historically, preparing computer-aided design (CAD) geometry for simulation was a time-consuming process, taking several days to repair errors in the data, extract the required fluid and solid volumes and establish part-to-part contacts for accurate prediction of heat transfer.
An example that stands out for Modine was the exhaust gas recirculation (EGR) cooler that can be found on most modern diesel engines. With pressures created by global warming and subsequent legislation by governments, these components play a critical role in reducing nitrogen oxide (NOx) emissions and improving fuel economy by lowering combustion temperatures. For Modine to be successful they needed to develop a highly efficient product that rejects the required heat with low material content while avoiding boiling conditions and unacceptably high thermally induced stresses. To develop such a design, engineers rely on thermal transient CFD and finite element analysis (FEA) studies.
However, one of the difficulties when performing this type of simulation is that a direct contact is required for all connecting components. Any gaps that exist would reduce the level of heat transfer and could create an inaccurate assessment of the product performance.
"We decided that Simcenter STAR-CCM+ offered valuable and effortless preprocessing capabilities that cut engineering time significantly compared to other tools," says Pavan Kotrike, CFD engineer at Modine. "With the imprint CAD model feature and surface repair functionality that is integrated in Simcenter STAR-CCM+, we managed to reduce CAD cleanup time from three days to just one."
Modine takes advantage of the built-in surface repair tool in Simcenter STAR-CCM+ that can resolve errors in CAD data with just a few clicks. Next, the imprint CAD feature automatically finds parts that are in contact with each other, creating interfaces in the resulting mesh that enable thermal conduction between them. Being able to do this reliably and without manual intervention is critical to speeding up the geometry preparation step.
By reducing the time it takes to prepare simulations, the team was able to increase its throughput, allowing them to explore more design options and setting the stage for innovation.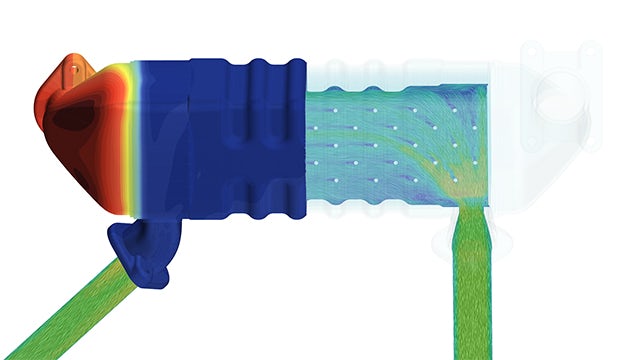 EGR cooler CHT analysis with 48M polyhedral cells. The temperature profile on the metal surface and the velocity profile of the coolant at a section inside the cooler.
Increase productivity with automation
With Modine focusing on innovation, they believe the route to product excellence goes through iteration and optimization. Designing a high-performance product requires continuously evaluating design variants so process automation and repeatability are key.
Creating an automated end-to-end workflow for CFD analysis presented a challenge to the simulation team at Modine: It was difficult to account for all of the various topologies, materials, operating points and sizing found across the full product range, which spans many different industries and functions. With this in mind, the team set about creating a versatile, semiautomated process using the simulation assistant – a powerful tool for building workflows that can be followed visually in the interface to guide users of any experience level through the analysis process while ensuring best practices are followed.
Behind the scenes, the simulation assistant leverages the deep automation available with Java macros in Simcenter STAR-CCM+, providing a high degree of customization and control of every step in the simulation from geometry definition to solution and postprocessing.
"Using the simulation assistant and built-in Java record function in Simcenter STAR-CCM+, we have developed a semi-automated process that accounts for up to 40 percent of our runs," says Kotrike, "Since no CFD experience is required, the application team can quickly obtain results such as pressure drop for simple problems."
Defining a simulation workflow and determining best practices usually involves a certain amount of trial-and-error to find the best fit. Modine was able to rely on its local Simcenter Customer Support Team for expert advice and industry experience to help them get up and running more rapidly.
Viswanath Setty explains: "We get very good support from our North American Simcenter Customer Support Team. The communication works really well and working together we solve any issues that arise, which makes it very easy to improve our existing processes and develop new methodologies."
Using the simple-to-use workflow developed by Modine's CFD team, design engineers are now able to leverage the simulation tool too, increasing the overall productivity of the team. Additionally, democratizing CFD in this way frees up engineering time for the experienced CFD engineers to set up and perform more complex analyses.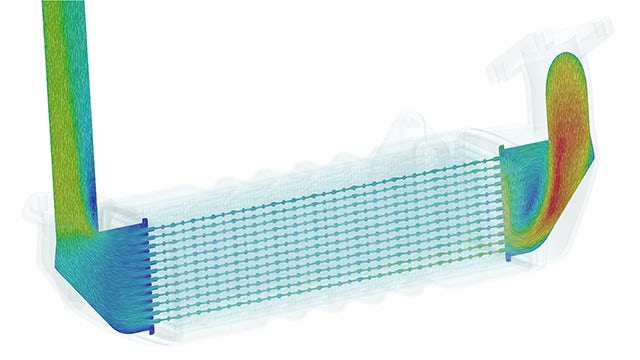 Velocity profiles of Exhaust gas at section inside EGR cooler.
Run complex transient simulations in days not weeks
Modine knew from the start that simulation was going to play an important role not only in the development of innovative products, but also in minimizing physical testing to verify product performance, saving considerable costs.
Predicting product performance with sufficient accuracy to confidently scale down physical testing demands a higher degree of fidelity in both the physics and geometrical detail modeled, resulting in longer calculations. Transient simulations are needed to accurately predict some of the more complex heat transfer phases such as boiling, warmup or heat soak conditions over a period of time. Unfortunately, these types of runs require significantly more computational power. The workstations the CFD team used were sufficient to turn around lowto medium-fidelity, steady-state simulations in a matter of hours. However, high-fidelity transient simulations on the same workstations could take months.
"Our inhouse hardware could not cope with running high-fidelity, multiphysics models. We needed Rescale Cloud Computing to generate more accurate results in a much faster time frame," says Setty.
In 2016 Modine decided to leverage cloud computing and with immediate access to unlimited compute resources, it enabled them to run highly complex transient simulations. Taking this step meant the team was then able to include all of the geometrical detail needed to capture the underlying physics in their models, eliminating approximation and guesswork from the process. They were also able to run more transient analyses, crucial for diagnosing issues, predicting failures in the field and comparing against physical test data.
"Typical models that we run on the cloud are transient conjugate heat transfer (CHT) models, which can often contain up to 50 million cells," explains Setty. "We can turn these cases around in a matter of days using 600 cores, as opposed to weeks on our workstation. When a customer expects fast results, our on-premise hardware is a limitation and this is where the cloud really excels."
Modine uses Onyx instances on the Rescale platform that provide the scalability and performance needed to run transient CHT simulations within a reasonable timeframe and at a modest cost. Leveraging the power of cloud computing has enabled the team to explore innovative ideas and investigate new technologies for its heat exchanger products in a cost-effective way, adding real value for their customers.
The reality of owning high-performance compute (HPC) resources on-premise requires a significant up-front investment, long term financial planning and internal expertise, as well as taking months to get up and running once a decision is taken. By using the Rescale platform instead, Modine can react much more quickly to its customers' needs, spinning up compute resources as and when needed, as well as taking advantage of the latest hardware.
"Rescale was chosen for a number of reasons," says Setty. "The graphic user interface is well organized and easy to get started even without any HPC knowledge. They also have a wide variety of hardware options and frequently communicate with us upgrades and recommendations."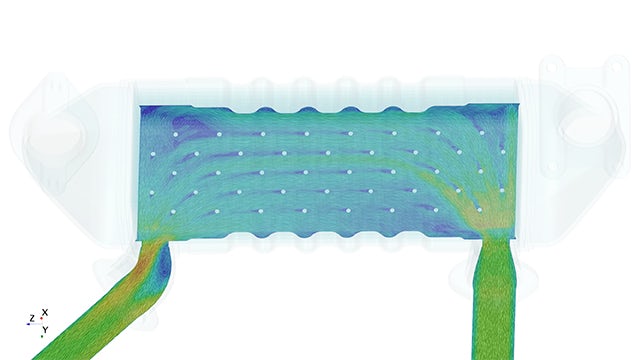 Velocity profiles of Coolant fluid at section inside EGR cooler.
Driving down development costs
"By running high-fidelity simulations, we can gain better insight into and accuracy of the performance of our products at a fraction of the time and cost of physical testing," says Setty. "It lets us on evaluate concepts much earlier in the process and filter out any inferior designs."
Modine continues to successfully launch new products thanks in part to its use of CFD simulation, which has played a crucial role in driving down product development costs while opening possibilities for greater innovation in a virtual environment. By expanding their simulation activities onto the Rescale platform, Modine's engineers have been able to focus on consistently delivering innovative, reliable and efficient products that exceed customers' expectations – and living up to their motto: always innovating, always improving.