Case Study
Matrix Tools and Solutions improves quality and reduces design time with Siemens' solutions
NX helps Matrix gain customer confidence in tooling made in India
One-stop product development
Matrix Tools and Solutions (Matrix) works with some of the world's largest original equipment manufacturers (OEMs) to develop products and tooling. Founded in 2002, Matrix is committed to helping its customers build products better and faster, and uses its extensive experience in building products to deliver right-the-first-time quality.
The company's products and services include product design, die casting dies, injection molds, thermoforming tools, compression molds and jigs, fixtures and trimming tools. Matrix is a one-stop shop for product development, handling all phases of the process, from concept to design and engineering, validation, manufacturing and production.
Headquartered in Pune, India, the company operates a design lab staffed by highly talented designers, and a mold and die manufacturing facility equipped with advanced machine tools for producing and assembly mold and die components. Matrix also offers batch and mass production of zinc and aluminum cast components, produced in two plants for cold- and hot-chamber processing.
Matrix serves customers in India, the Middle East and the United States, and its customer base includes world-renowned companies like Tata, Varroc, Huff India, John Deere, and Magneti Marelli. The company employs a staff of 150.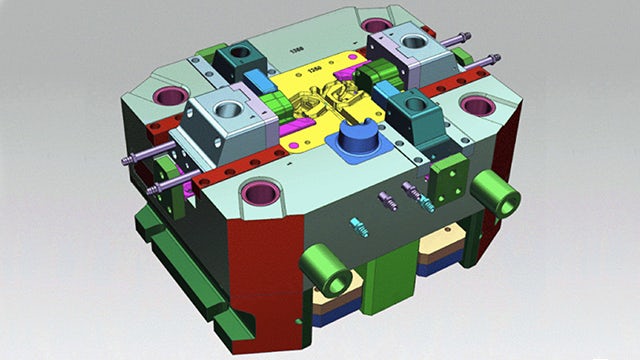 Improving efficiency and quality
"For quality tooling, companies have traditionally shopped outside of India," says Sajith Chenat, director at Matrix. "We wanted to build confidence among the industry for tooling made in India."
To achieve that goal, Matrix strived to improve tooling design and manufacturing efficiency, and to reliably deliver rightthe-first-time quality. Initially, Matrix was using 2D computeraided design (CAD) software for product design. With the 2D approach, it was difficult to re-use design data, even for minor changes, and there were many errors that required small but timeconsuming manual changes that could compromise quality and delivery schedules. To address these issues, Matrix sought a 3D CAD solution, evaluating and trying several alternative systems, but most lacked satisfactory capabilities for tool, mold and die design.
Finally, Matrix selected NX™ software from product lifecycle management (PLM) specialist Siemens Digital Industries software, based on its specialized highperformance tooling design capabilities. Matrix uses the complex surface design capabilities of NX extensively for mold core and cavity design. As a supplier to customers in a variety of industries, the company receives design data in various formats.
Matrix uses data conversion tools available with NX to import CAD models. As needed, the company uses synchronous technology to modify the imported CAD models. Matrix also uses the NX standard part library and creates designs from standard templates.
Starting with a single license of NX, Matrix became comfortable and proficient with the software within a year, and has added licenses incrementally as the business and the design team have grown.
"NX is user-friendly and powerful, and with it we can train new users quickly and easily and complete the product design stage significantly faster," says Chenat. "We have realized time savings and productivity gains of up to 50 percent compared to 2D methods, and similar quality improvements. Our use of NX has helped build the reputation of our research and development team, and attracted many new customers from overseas as a result."